The Taliban Takeover in Afghanistan and Militant Mergers Bolster Baluch Insurgents in Pakistan
Publication: Terrorism Monitor Volume: 20 Issue: 3
By: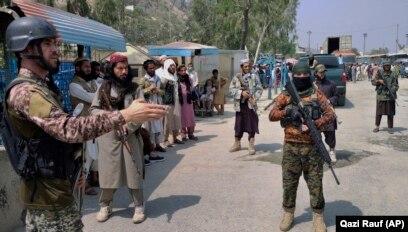 On January 20, a bomb blast at a crowded market killed three civilians and injured more than 25 others in Lahore. The attack was executed by the Baluch Nationalist Army (BNA), a newly formed Baluch ethno-separatist group, who made its presence known in Pakistan (Dawn, January 21). Although the attack was considered mainly as an "attention-grabbing" act, security analysts are investigating it in the broader context of the evolving security situation in the country. Pakistan's volatile environment primarily relates to the Afghan Taliban's takeover in neighboring Afghanistan in August 2021, which has emboldened Pakistani insurgencies, including both Islamist and ethno-separatist groups, to increase their attacks in Pakistan.
Besides the BNA, the Baluch Liberation Front (BLF), another major ethno-separatist group, killed 10 security forces personnel in an attack in Baluchistan's Kech district on January 25 (The News, January 28). Pakistan's military also claimed to have repelled nighttime assaults on February 2 on two army bases in the Panjgur and Noshki districts of Baluchistan, which killed around 15 soldiers and civilians, and 15 militants of Baluch Liberation Army (BLA), an ethno-separatist group (Urdu News, February 3). These onslaughts, which are among the deadliest on the Pakistani military in recent years, indicate the formidable challenge Pakistan faces in curbing a resurgent ethno-separatist insurgency in Baluchistan.
Rifts, Splintering, and Mergers among Baluch Insurgents
Since Pakistan's inception in 1947, Baluchistan has seen a succession of short-lived insurgencies against political centralization and resource exploitation. However, the fifth insurgency in the province that began in 2003-2004 has become the longest and most violent (Voice of America Urdu, July 9). Of the 77 militant groups banned by the Pakistani government, 14 are now ethno-separatists from Baluchistan that primarily seek independence from Pakistan and target state security forces.  Furthermore, they have targeted Chinese investments since the establishment of the China-Pakistan Economic Corridor (CPEC) in 2015, which is Beijing's Belt and Road Initiative (BRI)'s flagship project (Dawn, August 25, 2021).
From 2017 to 2019, most of the ethno-separatist militant groups in Pakistan faced internal rifts. Because of this, Baluchistan's insurgency, despite seeing sporadic attacks, endured a continuous operational decline (ACLED, September 4, 2020). Three major Baluch ethno-separatist groups Hyrbyair Marri-led BLA, Brahamdagh Bugti-led Baluch Republican Army (BRA), and Mehran Marri-led United Baluch Army (UBA), for example, fragmented after their field commanders, from the lower-middle classes, challenged the groups' heads, consisting of wealthy, traditional Baluch tribal chieftains living in Europe in self-exile. The differences led to new mergers and alliances. In 2017, Aslam Baluch, a field commander who masterminded the November 2018 attack on the Chinese consulate in Karachi, formed a new BLA faction while Gulzar Imam led his own faction of BRA from August 2018. [1]
After months of negotiations and cooperation, BLA's Aslam Baluch faction, BRA's Gulzar Imam faction, Allah Nazar-led BLF, and Bakhtiar Domki-led Baluch Republican Guards (BRG) announced their forming the Baluch Raji Ajoi Sangar (BRAS), an alliance aimed at targeting primarily Chinese interests (Terrorism Monitor, September 20, 2019). After the killing of Aslam Baluch in a suicide bombing in Kandahar, Afghanistan, Bashir Zaib became the BLA faction's new leader (MM News, June 30, 2020).
On January 11, Gulzar Imam and Sarfaraz Bangalzai, a UBA field commander, merged their factions to form BNA, and then announced their joining BRAS to further "expand the national resistance war and to unite the Baluch resistance forces against fascism of the Pakistani military" (Voice of America Urdu, January 20). Security officials, however, see BNA's creation as a further factionalization of the insurgency, and expect the Pakistani state to exploit it in order to convince more fighters to surrender. [2] In accordance with the government's February 2017 amnesty policy, such fighters would join 1,000 other Baluch ethno-separatist fighters who have surrendered in return for financial assistance (Express Tribune, October 30, 2021). However, BNA's formation and its inclusion in the BRAS is part of a Baluch ethno-separatist strategy whereby groups pool together human and financial resources to extend their geographical outreach, improve operational coordination, and diversify attack targets in the country. [3]
BRAS further formed an alliance with the Sindhudesh Revolutionary Army (SRA), an ethno-separatist group from Sindh, in July 2020. This suggests that Baluch ethno-separatist groups want to expand their operational areas to identify and attack new strategic targets. The attacks in Karachi that targeted the Chinese Consulate on November 23, 2018 and the Pakistan Stock Exchange building (whose 40 percent strategic shares are owned by a consortium of Chinese companies) on June 29, 2020, are key examples of BRAS' expanding attack portfolio (Dawn, June 30, 2020).
The Afghanistan Factor
Since the beginning of 2020, a significant rise in terror attacks from Baluch ethno-separatist groups has been observed. In 2021, for example, there were more acts of violence in Baluchistan compared to 2020, with the numbers of attacks increasing by 93 percent and civilian fatalities increasing by 43 percent (PIPS, January 4). This resurgence of Baluchistan's insurgency can be linked to the increasing pressure on Baluch ethno-separatist groups that were once sheltered in Afghanistan and since August 2021, have been forced by the Taliban to relocate across the border to Baluchistan in Pakistan. Following the Lahore attack on January 20, Pakistan's interior ministry admitted that incidents of terrorism in the country had increased by around 35 to 38 percent since the fall of Kabul on August 15, 2021 (Express Tribune, January 22).
As Ashraf Ghani's administration in Kabul had long been accused of hosting militants from Baluch ethno-separatists' groups who fled from Pakistan to escape crackdowns, Islamabad, as well as Beijing, have been optimistic that threats from the Baluch insurgency will subside once the Taliban consolidates control in Afghanistan. Indeed, as predicted, after the Taliban came to power in August 2021, it launched a crackdown on Baluch ethno-separatist groups in Kandahar and Nimroz, which are Afghanistan's two provinces that border Baluchistan. Several Baluch militants, along with their family members and properties, were seized (The Balochistan Post, October 6, 2021).
Conclusion
Merging or forming alliances among Baluch ethno-separatists, therefore, has been a part of their strategy to survive and sustain their insurgency in the new geopolitical situation. Whether this will succeed depends on Pakistan's counterterrorism and reconciliation strategy with the Baluch insurgents, and the political and security situation of Afghanistan in the near future.
Notes
[1] Telephonic interview with Kiyya Baluch, a journalist reporting insurgencies in Baluchistan, January 23, 2022.
[2] Telephonic interview with a law enforcement official posted in Baluchistan, January 23, 2022.
[3] Telephonic interview with Abdul Basit, a research fellow at the Rajaratnam School of International Studies, Singapore, January 23, 2022.
[4] Ibid.