BRIEFS
Publication: Terrorism Monitor Volume: 14 Issue: 10
By: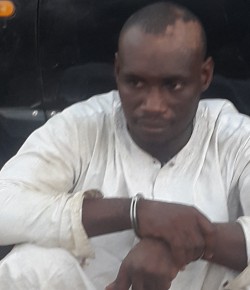 Nigeria: Another Small Victory Against Boko Haram
According to reports this month, Nigerian troops uncovered a Boko Haram bomb-making factory near the border town of Ngala, Borno State, Nigeria. Army spokesman Sani Kukasheka Usma, keen to promote the find as the latest success in Nigeria's campaign against the radical group, attributed the find to "efficient intelligence gathering" and the "resilience" of the Nigerian military (Leadership, Mary 2).
This discovery—albeit minor, as the troops appear only to have found gas cylinders, gunpowder, and some electrical wiring—is one of a string of recent successes, including the reported rescue of 1,000 hostages held by Boko Haram and the apprehension of four alleged female suicide bombers in an operation in the Sambisa Forest (Vanguard, May 2).
On May 1, the military also arrested two alleged Boko Haram commanders. Mohammed Sani Nafiu, one of the apprehended militants, is accused of killing General Mohammed Shuwa, a veteran of Nigeria's civil war who was murdered in 2012 (The Sun [Nigeria], May 3). Nafi denies any involvement and claims he has been framed by the military (Vanguard, May 3).
Even accounting for the Nigerian media's celebration over military victories against Boko Haram, Nigeria has kept up a successful counter-insurgency strategy against the group since the election of President Muhammadu Buhari in May of last year. But as Jamestown fellow Jacob Zenn explains in an article in this issue, the group may be down, but it is far from out, as evidenced by such major unresolved issues as the kidnapping of the Chibok schoolgirls.
Nigeria's military should maintain its campaign, but there is much that can be improved on a regional level to tackle a group that is now a regional problem. The Multinational Joint Task Force (MNJTF), for example, a coalition of West African forces, remains poorly coordinated and is largely a political showpiece.
Bangladesh: Recent Killings Raise Question of al-Qaeda Presence
Extremists in Bangladesh killed two gay rights activists in April, the latest in a spate of attacks on liberals and secularists. Xulhaz Mannan, a 35-year-old editor of Roopbaan, the country's only gay magazine, alongside actor and activist Mahbub Rabbi Tonoy, were hacked to death in Mannan's apartment in the Kalabagan neighborhood of Dhaka by a group of five men claiming to be delivery workers (The Daily Star [Bangladesh], April 26). A police officer and security guard were also injured in the attack.
Within hours, Ansar al-Islam, which purports to be the Bangladeshi branch of al-Qaeda in the Indian Subcontinent (AQIS), claimed responsibility for the killings. Later, the group released a gruesome video that included images of the bodies being dragged around the apartment (DNA India, April 30).
Some have characterized the attacks as an escalating competition between Islamic State (IS) and al-Qaeda for prominence in Bangladesh (NDTV, May 5). Bangladeshi authorities, however, deny the presence of al-Qaeda and IS in the country. Instead, they insist the recent series of killings is the work of local hardliners. When Nazimuddin Samad, a 26-year-old law student, was killed just days ahead of the aforementioned Mannan and Tonoy murders, the authorities attributed it to Ansarullah Bangla Team (ABT), dismissing claims by Ansar al-Islam that its members were behind the killing (Express Tribune, April 12).
Members of ABT, which has been outlawed since May 2015, have been arrested for similar kinds of killings in the past; last year, the group released a list of potential targets that included 14 secular writers (Dhaka Tribune, November 3, 2015). A similar document—containing no names but focusing on those who "promote" socially liberal ideas—was left by Mannan's killers (The Daily Star [Bangladesh], April 28).
As the authorities point out, Mannan's murder, which received a good deal of attention in the Western media in part because he was employed by USAID, is characteristic of the other ABT killings in that they were crudely carried out by individuals armed with machetes and meat cleavers (Terrorism Monitor, August 7, 2015).
The growing level of intolerance is a worrying development. Even if al-Qaeda and IS have no permanent presence in Bangladesh, recent events suggest their emissaries would have little trouble operating there.