How Islamic State Gained Ground in India Using Indigenous Militant Networks
Publication: Terrorism Monitor Volume: 14 Issue: 9
By: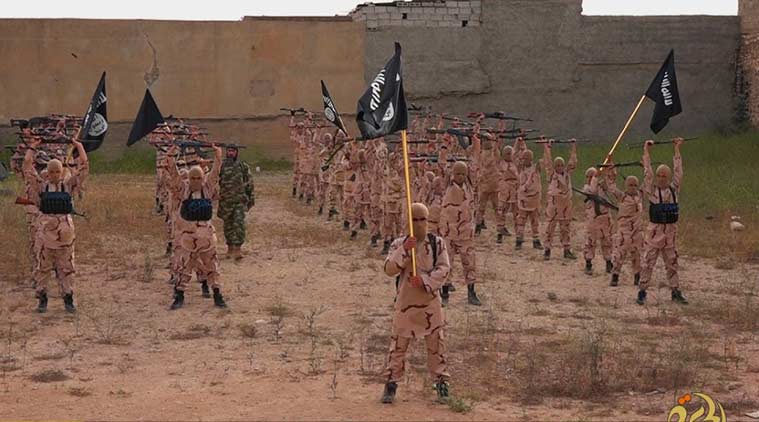 A series of arrests this year in India has highlighted how India has been unable to escape its overtures as Islamic State (IS) continues its attempts to expand its geographical and online reach beyond Iraq and Syria.
While IS propaganda has so far struck a chord with only a small number of India's Muslims, reports have emerged that the group's jihadist ideals spread via web forums and social media have inspired many individuals formerly affiliated with indigenous militant formations such as the Indian Mujahideen and the Student Islamic Movement of India.
Following sporadic incidents over the last couple of years—such as the appearance of IS graffiti and the group's black flag in Kashmir and Tamil Nadu, and even reports of masked men dressed in fatigues bearing IS insignia—India seems to be waking up to the reality that IS has made both a real and virtual footprint in the country (Daily Excelsior, June 18, 2015; The Hindu, August 7, 2014).
Radicalization
The call of IS has not only resonated with South Asia's myriad militant groups, but has also reached new individuals, galvanizing support and fomenting radicalization through effective use of social media such as Twitter and Facebook. The oft repeated exhortations of IS are based on the supposition that all "true Muslims" should be part of its brand of jihad and serve the Caliphate. This has resonated relatively well across South Asia, including India with its 170 million-strong Muslim population.
IS began its efforts to infiltrate India with the aim of acquiring resources and manpower. Several Muslim youths from India have reportedly traveled to fight under the IS banner in Iraq and Syria since June 2014. The official "guestimate" suggests that so far, over 25 young people of Indian origin have joined and fought alongside IS forces in Syria. Of those, seven fighters have been killed and a number of others have returned home and undergone rehabilitation (The Hindu, December 27, 2015). Overall, the statistics suggest a relatively poor performance by IS in India, but the interdiction of many young IS aspirants at the exit points of the country and the unearthing of the IS-inspired extremist network the Junud-ul-Khalifa-e-Hind (JKH, or Soldiers of the Caliph in India) in late January 2016 demand serious attention (DNA India, January 27).
India's National Investigating Agency (NIA) and Maharashtra State police, along with other domestic intelligence agencies, made a total of 14 arrests of JKH members in the final week of January 2016 (Asian Age, January 24). Among those arrested were Muddabir Mushtaq Sheikh (alias Abu Musab), the apparent leader of IS in India. He was apprehended in Thane in Maharashtra, while four followers were apprehended from Uttar Pradesh's Haridwar locality. The rest were apprehended from different parts of the country as a result of a nationwide search and sweep operation covering at least five states: Karnataka, Telangana, Andhra Pradesh, Maharashtra, and Uttar Pradesh. Muddabir's arrest brought IS and its systematic online recruitment drive in India into the limelight. As a result, it emerged that JKH was planning to carry out terror strikes at installations in major cities across India as part of an IS network, although the alleged plot appears to have only been in its early stages.
Army of the Caliph
The remnants of the indigenous Indian Mujahideen, which is now in disarray, have developed linkages with the IS leadership in Syria and Iraq. This can be seen in the establishment of Ansar-ut Tawhid fi Bilad al-Hind (AuT), an India-centric militant group based on the Afghanistan and Pakistan borders. Shafi Armar, a former Indian Mujahideen militant and one of the founders of AuT, along with his elder brother, Sultan Armar, were the first to pledge support to IS. By joining with IS and pledging bayat to its leader, Abu Bakr al-Baghdadi, they hoped to unite IM and sympathizers of the Students Islamic Movement of India (SIMI). The Armar brothers fled to Pakistan to set up AuT in the wake of the countrywide crackdown on the IM network in 2008. Via its media arm called al-Isabah Media, AuT has focused on recruiting Indian-origin fugitives in Pakistan to participate in fighting in both Syria and Afghanistan.
Sultan Armar died in March 2015 on the Syrian battlefields fighting alongside IS forces Indian Express, March 20, 2015). When his elder brother was killed in Kobani, Syria, Shafi Armar took the reins of the AuT and al-Isabah Media, with the intention of expanding the group's network inside India. He pumped money and online resources into recruiting operatives to form JKH, using internet chartrooms and messaging applications such as Trillian and Facebook to recruit mostly former IM cadres and members of SIMI. Before forming JKH, Safi Armar had attempted to raise another IS-linked unit. Known as the "Ratlam Module," it was led by an individual named Imran Khan Muhammad Sharif and four others in Madhya Pradesh, but all of its members were arrested in April 2015 (The Pioneer, May 7, 2015).
Shafi Armar is believed to have died in a U.S.-led drone strike against IS forces in Syria in late April 2016 (The Hindu, April 25).
Use of Online Resources
JKH's use of the internet was significant. Following the NIA-led raids in January, the intelligence agency confirmed that those arrested were connected online, and that their online involvement had led subsequently to physical meetings at different locations in Hyderabad, Bangalore, Tumkur, Saharanpur, Lucknow, and Pune. Nafees Khan of Hyderabad and Rizwan of Uttar Pradesh were recruited via Facebook and accessed bomb-making knowhow from publishing platforms like "justpaste.it" (The Quint, January 29). From the social media accounts of Obeidullah Khan of Hyderabad, investigating agencies found IS videos and images that were frequently shared by him with his followers. It is also clear the group's members used the internet to connect with Shafi Armar who was based in Syria at the time.
The last secret meeting of JKH, according to the NIA investigation, was held sometime in the first week of January. The arrested men were instructed not only to plan terror attacks in India, but also to recruit and strengthen the group's cadre base. Under the guidance of Shafi Armar in Syria and Mudabbir in India, JKH's objectives were to carry out attacks with the intention of establishing the rule of sharia in India and encouraging submission to the Islamic Caliphate. In addition, JKH has been working to spread IS propaganda and recruit young Indians to travel to Iraq and Syria (Indian Express, February 8; Economic Times, February 9).
While Mudabbir served as the chief of the JKH in India, he identified Rizwan Ahmed Ali (Khalid) of Uttar Pradesh as the group's deputy chief. Meanwhile, Najmal Huda, originally of Uttar Pradesh and later resettling in Karnataka (Mangalore), was identified as the military commander of the JKH. He acted as a recruiter for aspirant youths, communicating to them the activities and ideology of the IS. The Hyderabad-based Nafees Khan (also known as Abu Zarrar), originally from Mumbai, has been identified as JKH's logistics and finance chief (Economic Times, February 10).
Mudabbir and his lieutenants had amassed nearly INR 10 lakhs (approximately $15,000) in different banks. He received nearly INR 6.50 lakh ($9,000) through the hawala informal banking channels from Shafi Armar or Yousuf Al Hindi. Substantial amounts of those sums were distributed among the members of the group for planning and logistics purposes (Economic Times, February 9). Another concerning development was that the JKH leadership was planning to set up a central media wing with subsidiary units in almost all of India's major cities, including the capital of New Delhi and the financial capital of Mumbai.
JKH also made use of the teaching and sermons of senior Islamic scholars like Mufti Abdus Sami Qasmi, a resident of Delhi and an alumnus of the infamous Darul Uloom Deoband Islamic institution in Uattar Pradesh. As a preacher of the IS ideals, Qasmi often gave incendiary, anti-India sermons and lectures on Islamic affairs at madrasas across India (Indian Express, February 7). In addition, the group also engaged Mohammed Abdul Ahad (also known as Bada Ameer), a U.S.-educated computer professional who was deported from Turkey, along with his family; Turkish officials arrested them as they attempted to travel to Syria in January 2015. Ahad reportedly helped the group by sharing his knowledge of Syrian terrain and IS ideology (The Hindu, January 25).
The discovery of JKH and the arrests of its members in January have brought to light the threat of IS-inspired extremism in India. While the bulk of the Indian Muslim population has rejected the group's ideals, a small number of extremists were able to organize themselves to a worrying degree simply by using the internet and social media to tap into existing indigenous militant networks. Despite cracking down successfully on the Indian Mujahideen in 2008, the Indian authorities cannot afford to be complacent.
Animesh Roul is the Executive Director of Research at the New Delhi-based Society for the Study of Peace and Conflict (SSPC).