British Hostage Threatened with Death Unless Abu Qatada is Released from British Prison
Publication: Terrorism Monitor Volume: 7 Issue: 13
By: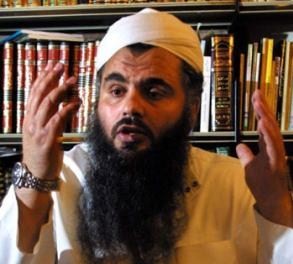 Warnings continue to come from Al-Qaeda in the Islamic Maghreb (AQIM) that time is running out for the British government if it wants to obtain the release of a kidnapped British tourist by freeing imprisoned al-Qaeda ideologue Abu Qatada al-Filistini (Ennahar [Algiers], May 2). While Austrian and Canadian hostages were recently released, AQIM issued a statement on April 27 giving the UK government 20 days to release Abu Qatada before their British captive is killed (Guardian, April 27; BBC, April 27). Abu Qatada is currently awaiting possible deportation to Jordan, where he faces a variety of terrorism-related charges (see Terrorism Monitor, July 11, 2008).

Despite being imprisoned, Abu Qatada appears to still propagate global jihad. In late March, a lengthy presentation emerged on extremist websites purporting to have come from Abu Qatada in his current home at Long Lartin prison (Al-Quds al-Arabi, March 23). The article was not the first piece to emerge from the incarcerated cleric (previous articles have emerged commenting on Palestine and an interview with a fellow prisoner praising al-Qaeda), and questions have been raised about how effective his imprisonment has been in shutting him off from proselytizing to the outside world (Daily Telegraph, April 5). The Palestinian cleric was, until earlier this year, under highly restrictive house arrest, but following the emergence of unrevealed evidence which may have suggested he was about to flee the country, British police re-arrested him.

Though the origin of the letter and previous statements cannot be confirmed, the Palestinian cleric has not denied them and the texts appear to be consistent with his previous writings. This is also not the first time that letters from jailed extremists in the UK have reached the public domain – most prominently, both Dhiren Barot (a.k.a. Essa el-Britani who features in the 9/11 Commission report as an al-Qaeda planner) and Omar Khyam (head of the 2004 UK "fertilizer plot") have had their voices heard beyond prison walls (www.al-istiqamah.com). Unlike these other men, Qatada is being held in part as a consequence of his pro-jihad sermons, rather than his active participation in jihad.

The tract opens with Abu Qatada giving thanks to Allah for providing him with the opportunity to achieve so many things while he has been incarcerated these last six years. As he puts it, "had I spent all of my life outside of the prison, I would not have attained them." He goes on to enumerate these achievements, including memorizing the Quran, writing two books, named Fann al-Qira'ah (The Art of Reading) and Limatha Intarsarna? (Why Were We Victorious?), a number of papers, "tens of poems" and filling a number of notebooks with his musings and memories on a variety of "introspective" religious topics and one he kept "hidden" about his long suffering wife. In addition, he expresses gratitude to Allah for helping him lose "more than 25 kilograms," and praises the prison's salutary impact upon him in helping cure him from his diabetes and "severe back pain."

Much of the rest of the piece, which takes the form of a long letter to the umma, dissects the British legal system, making numerous accusations of racism against it. However, the letter for the most part tries to paint these as victories for extremists, proving just how unfair and anti-Muslim the UK is, thus vindicating the extremists' cause. Abu Qatada boldly asserts that "we have defeated the British government" and that British values no longer hold sway for the new generation of British Muslim youth raised in the shadow of "Britain's Guantanamo," Belmarsh Prison. In fact, for these youths, "especially those from the Indian subcontinent…they know [Britain's] enmity towards them, so they have become enemies towards it as well."

The imprisoned cleric describes dark deals between the British government and those of Jordan and Libya, "through which the rendition of Muslims to their (original) countries takes place." He also highlights the British government's belief that "there is justice in Jordan" and that torture in that country is something that the British judicial system feels it is able "to work around." The British government has in fact for the most part been unable to actually utilize the deportation agreements that it has signed with Jordan and Libya because of these issues, leading to the very legal limbo in which individuals like Abu Qatada find themselves.

Qatada refers in passing to a number of other extremists he has come across while inside, including Barbar Ahmed (whom the U.S. government is trying to extradite on charges of running extremist websites), radical preacher Abu Hamza al-Masri, Haroon Rashid Aswat (Abu Hamza's deputy, wanted by the United States on charges of trying to establish a terrorist training camp in Bly, Oregon) and numerous others. Most interesting, however, are the cleric's alleged interactions with Dr. Mohammed Asha and Dr. Bilal Abdullah, the two men tried for the 2007 attempted car bombings in London and Glasgow. Dr Asha was acquitted, but is facing possible deportation for visa issues, while Dr Abdullah was found guilty and given a 32-year sentence (Times, December 17, 2008). Abu Qatada reports that he was very impressed by Dr Abdullah, saying, "a man from the men of Islam, in knowledge, action, steadfastness and manhood," before whom he "felt insignificant," especially when he heard Abdullah say he had been influenced by Qatada's tapes.

The underlying point of much of Qatada's statement is to highlight the inequalities of the British legal system and the targeting of Muslim prisoners in particular. "I admit that despite the fact that I am Palestinian, and was born in Palestine and despite my knowledge of the history of the British Government in its crimes in general, and in its crime in Palestine in particular, I was ignorant of this hatred and malice harbored by these British Governments against Islam, the Muslims, and the Arabs… I wish that all the Muslims in Britain would be imprisoned for a period that is not less than one year so that they would see with their own eyes the truth of what I am saying" (Al-Quds al-Arabi, March 23).

Finally, the letter also highlights a number of serious problems within the British legal system – such as the inability of the British government to either convict or deport Abu Qatada (Jordan Times, February 22). This legal limbo provides ideological sustenance to those who claim British anti-terrorism policy is anti-Muslim. Unable so far to send Abu Qatada to Jordan, where he faces life imprisonment, the fate of a British citizen is now apparently tied to that of Abu Qatada and Britain's demands for the hostage's unconditional release.