Hizb-ut Towhid Adds to the Jihadi Conundrum in Bangladesh
Publication: Terrorism Monitor Volume: 7 Issue: 13
By: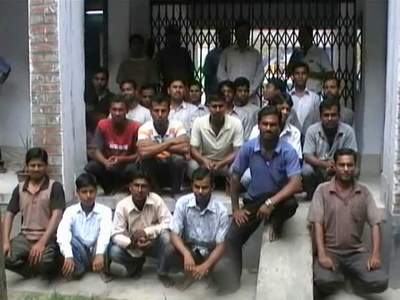 An Islamist group blending unorthodox religious practices with a belief that Muslims form a military caste dedicated to jihad is the latest in a series of Islamist militant groups to emerge as a security threat in Bangladesh. Thirty-one members of Hizb-ut Towhid (The Party of Monotheism – HuT) were arrested on April 18 in Kushtia district (100 kms from the capital of Dhaka) for planning to carry out terrorist attacks (Daily Star [Dhaka], April 19). Police seized jihadi books, leaflets, gunpowder and bomb-making materials from the group's office, which is used for training its recruits. Although HuT is one of 29 organizations listed by Bangladesh intelligence agencies for their involvement in militancy, police officials believe that the group is not yet ready to take on the state (Daily Star, April 19).

The group's agenda, however, is quite clear. It promotes jihad to establish the rule of Islam through literature, training and indoctrination. An HuT book entitled "Islamer Prokrito Salah" (Real Prayer of Islam) states: "[if anyone] leaves jihad or armed struggle, they shall not be accepted by Allah." The book also says that Muslims as a whole are a military nation. "The whole nation is a military force, each and every Muslim is a soldier, a mujahid and a warrior" (Daily Star, April 18). HuT members have a number of unusual beliefs that set them apart from other Muslims. They do not exchange the customary formula of Islamic greetings, do not pray in mosques and refer to the call to prayer as the "barking of dogs" (Daily Star, August 28, 2005).

There are signs HuT is preparing a terrorist offensive. Moulana Mahbub, the HuT chief in Kushtia district (where the recent arrests were made), trained and fought in Afghanistan and was planning to carry out an attack when he was arrested last month. In 2007, the police arrested a dozen HuT members from Chandpur district who were suspected of being aligned with Jamaat-ul Mujahideen (JMB), an extremist group involved in several terrorist incidents in Bangladesh and considered to be heavily influenced by al-Qaeda. More recent evidence is found in the group's establishment of ties with some Kashmiri militant groups in India with the objective of supplying weapons and raising funds for jihad in Kashmir. HuT views India as the "enemy of Islam" (Weekly Blitz [Dhaka], April 22).

The group was set up from 1995-1996 by Bayejid Khan Ponni (a.k.a. Selim Ponni) who left Bangladesh immediately after independence and returned in the 1980s to preach a radical version of Islam (Daily Star, April 19). He is a cousin of the former Deputy Speaker of Parliament, Humayun Khan Panni (bangladeshnews.com, August 13, 2006). Ponni, by some media accounts, has written a total of eight books on jihad which are widely circulated through dedicated outlets across the country (bangladeshnews.com, August 8, 2007). His first book, A Islam Islam Noi (This Islam is Not Real Islam) was heavily criticized and eventually banned by the Awami League government (Daily Star, September 28, 2003). Ponni's second book, Islamer Prokito Roop Rekha (Main Policies of Islam) argued that if democracy was not replaced with Shari'a rule in any society, armed struggle should be continued until Shari'a was implemented. A third book, Dazzal, called Jews and Christians "evil." Ponni has called upon his followers, who consider him an imam, to migrate to foreign countries to continue jihad against Jews and Christians. A large number of HuT militants have gone abroad after indoctrination (Weekly Blitz, April 22).

HuT has deliberately kept away from the limelight by confining itself to spreading the message of their leader through leaflets and street corner meetings. Working under the guise of the generally non-militant Tabilighi Jamaat missionary organization, HuT has been campaigning in smaller towns and villages in central and south Bangladesh for several years (see Terrorism Focus, February 13, 2008). These campaigns are aimed at recruiting men and women to the group's cause. The recruits are indoctrinated at several offices run by the group across Bangladesh. Recruitment efforts are part of the phased growth of HuT. "We are now at a primary level of jihad and limit our work to awareness building and seeking new mujahideen," a HuT leader told a newspaper in 2005 (The Daily Star). This recruitment drive was low key until 2003, when the group became more open and aggressive. The leaders talked openly about Islamic revolution and doled out money and gifts such as mobile phones to attract young men and women from poor families. By most accounts, the group has a strength of 1,200, with a women's wing and a publicity division (The Daily Star, April 19). Several recruits have been trained in suicide missions (Weekly Blitz, April 22).

A Dhaka weekly has suggested that the unorthodox HuT is a counter-intelligence creation designed to discredit Muslim fighters. "The game is a familiar one in which foreign intelligence outfits create fake Islamist groups within Muslim nations of strategic importance while their media outlets serve to publicize the Islamist militancy phobia in order to justify political, economic and military interventions" (Holiday Online [Dhaka], May 7).

Nevertheless, there are fears in Bangladesh that if smaller groups like HuT are allowed to operate freely, there is a real possibility they may facilitate the operations of other Islamist militant groups, including those aligned with al-Qaeda.