Bulgaria Considers Joining Gazprom's South Stream While Seeking Alternative Options
Publication: Eurasia Daily Monitor Volume: 9 Issue: 69
By: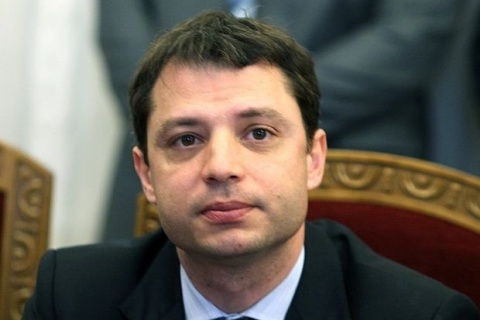 On March 30 on his maiden visit to Moscow, Bulgarian Economy and Energy Minister Delyan Dobrev struck a poor deal with Russia. Under imperative instructions from his prime minister, Boyko Borissov, Dobrev tentatively promised a final investment decision by November 15, 2012 regarding the Bulgarian section of Gazprom's South Stream project. In return, Gazprom CEO Aleksei Miller and Russian Energy Minister Sergei Shmatko agreed to an 11 percent discount on the price of Russian gas for Bulgaria, valid from April 1 until December 31, 2012 only. Holding a monopoly on gas supplies to Bulgaria, Gazprom can dictate the price and extort concessions in return for discounts.

According to Dobrev's immediate predecessor, Traycho Traikov (dismissed by Borissov two weeks earlier, seemingly on a whim), Bulgaria pays almost $600 per one thousand cubic meters of Russian gas. If Traikov's stunning disclosure is accurate (and there seems to be no reason to doubt it), Bulgaria probably pays the highest price among all of Gazprom's European customers, with no commercial justification for such extortion. By comparison, Ukraine currently pays some $520 for Russian gas, believes that price to be the highest in Europe and describes it as "enslaving." In Bulgaria, the import price is being cut to $534 per one thousand cubic meters for the period from April 1 onward. And when the import price discount expires at the year's end, Moscow will probably demand a Bulgarian binding commitment to South Stream in return for extending the discount for the next year.

From Bulgaria's standpoint, the existing price is so inordinately high that an 11 percent discount cannot bring it to a commercially justifiable level. Moreover, according to CEO Dimitar Gogov of Bulgargaz (main importer of Russian gas), this temporary discount on the import price is being offset by the 13 percent hike in the retail price, recently approved by Bulgarian regulatory authorities for gas delivered to Bulgarian consumers. The import price discount not only falls short of mitigating the extortion, but will give Russia an additional card to play in the follow-up negotiations. Moscow can alternately offer to prolong the discount or threaten to terminate it, depending on Sofia's decisions on South Stream (BTA, Novinite, March 31-April 2; EurActiv, April 2).

Borissov acted under multiple pressures and constraints when authorizing the March 30 Moscow agreement. In February, public prejudice against shale gas exploration swayed the Bulgarian parliament into declaring a temporary moratorium on such exploration, thereby postponing this alternative option for Bulgaria. The Greece-Bulgaria and Turkey-Bulgaria gas interconnector projects hit snags at the same time. Greece offered its national gas pipeline company for sale, Gazprom being among the bidders; and work on the Turkish interconnector marked time, as Borissov ascertained during his early March visit to that country. Meanwhile, Moscow linked the issue of gas supplies to Bulgaria with the issue of the country's accession to South Stream.

In mid-March, Borissov impulsively ousted Traikov, a leading proponent of supply diversification, from the government (see above). The dismissal sparked an outcry from the government's supporters, prompting Borissov to cancel the Russo-Bulgarian nuclear power plant project at Belene. The prime minister had already considered scrapping this project, due to its prohibitive costs; he precipitated the cancelation by way of appeasing his supporters after the Traikov dismissal. The United States (an active participant in Bulgarian energy policy debates) was disappointed by Bulgaria's shale gas moratorium but congratulated the country for terminating the Belene nuclear project. In turn, the Russia-friendly Socialist opposition and ultranationalist Ataka party threatened calling a referendum in support of the Belene project, and a parliamentary no-confidence vote against the government. In lieu of Belene, the government examined the option of a gas-fired power plant at the same location, presupposing additional volumes of exorbitantly priced Russian gas (see EDM, April 2).

Such were the constraints and pressures buffeting the Bulgarian government when it struck the March 30 deal in Moscow. Bulgaria's accession to South Stream could theoretically involve either constructing a new transit pipeline, or dedicating existing pipeline capacities to Gazprom's project. Either option would put the pipeline under Gazprom's control, violating the European Union's energy market legislation, and potentially setting a precedent for similar violations in other EU countries.

The Moscow agreement's saving grace is the non-binding nature of Bulgaria's promise to join South Stream by November 15. Presumably, Borissov has played for time and will be looking for a way out. On April 4, the Bulgarian government declared the Nabucco pipeline project an "object of national importance," with priority status. This status facilitates and accelerates the permitting and licensing procedures for building this pipeline on Bulgarian territory. The state-owned Bulgarian Energy Holding is one of Nabucco's six shareholders, which own equal stakes of 16.67 percent each. Undoubtedly, this decision refers to "Nabucco-West," conceived to run from the Turkish-Bulgarian border to Vienna, as a European continuation of the Azerbaijani-Turkish Trans-Anatolia pipeline, which is planned to run to the Turkish-Bulgarian border and link up with a continuation pipeline into Europe (Novinite, BTA, Trend, April 4).