Police Attacked in Kabardino-Balkaria and Ingushetia
Publication: Eurasia Daily Monitor Volume: 9 Issue: 69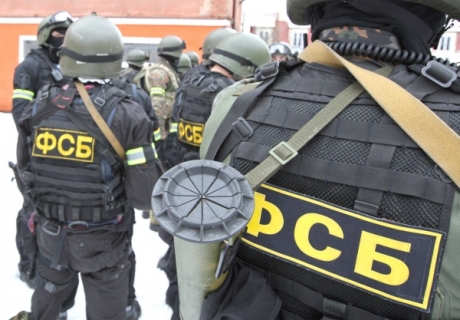 Suspected militants have attacked police in Kabardino-Balkaria and Ingushetia, with the latter republic experiencing a recent uptick in insurgency-related violence.
In Kabardino-Balkaria today (April 6), two suspected rebels who attacked a police officer were killed in a special operation in Nalchik. According to local authorities, the two suspects attacked a police lieutenant yesterday evening. The officer received knife wounds in the neck, rib cage and abdomen, but still was able to prevent his attackers from seizing his sidearm and managed to call for backup. The lieutenant was hospitalized in critical condition. Several hours later, the two suspects were located in an apartment in the city. Other apartment buildings in the area were evacuated, and a pregnant woman who was in the apartment with the suspects was taken off its balcony by firefighters. The authorities said they tried to negotiate with the suspects, who were killed after they hurled grenades at security forces. The slain men were identified as Alibek Pshigaushev and Azamat Kansaev (www.kavkaz-uzel.ru, April 6).
A large rebel weapons cache was discovered yesterday (April 5) in Kabardino-Balkaria's capital Nalchik. Among the items found in the weapons cache were four sticks of dynamite and two improvised explosive devices containing ammonium nitrate, aluminum powder and metal casters to serve as shrapnel, each device equal to three kilograms of TNT in explosive power.
On April 4, four suspected rebels were killed in a special operation in the village of Khasanya, a suburb of Nalchik. One law-enforcement officer was slightly wounded in the special operation. The suspects were reportedly hiding in two houses in the village. The four were identified as 42-year-old Akhmadya Malkarov, reportedly on the international wanted list; the brothers Timur and Murat Khamukov, reportedly on the federal wanted list; and Artur Ulbashev, a 29-year-old accomplice. A variety of weapons, explosives and bomb components was found in the homes. According to the NAK, the four suspects were involved in the murders of police Colonel Vadim Sultanov in December 2011 and Khasanya administration head Ramzan Friev in February 2011, the murder of nine hunters and park rangers in November 2007, and the 2005 rebel attack on Nalchik (www.kavkaz-uzel.ru, April 4).
On April 3, two gunmen shot and killed a police second lieutenant in the village of Islamei in Kabardino-Balkaria's Baksan district. The 33-year-old officer was sitting in his car talking to friends when the two attackers ran up to the car and opened fire with automatic weapons. No one else was hurt in the incident (www.kavkaz-uzel.ru, April 3).
On March 30, a suspected rebel was killed in Nalchik when members of a special unit of Kabardino-Balkaria's Interior Ministry stopped his car and he opened fire with a pistol. The suspect was killed by return fire (www.kavkaz-uzel.ru, March 31).
In Ingushetia, four policemen were wounded in the city of Malgobek yesterday (April 5) when their patrol car was hit by a roadside bomb. All four were hospitalized, one of them in critical condition. The incident took place around 3:50 p.m., local time. According to a source in the Russian Investigative Committee's branch in Ingushetia, the explosive device detonated with the force of 20 kilograms of TNT, leaving a crater a meter deep and two and a half meters in diameter. The source said that while the blast seriously damaged the armored UAZ police car, the fact that it was armored saved the lives of the four policemen (www.newsru.com, www.ria.ru, April 5).
On April 3, five suspected militants were killed in a special operation conducted in Ingushetia's main city, Nazran. According to Russia's National Anti-Terrorist Committee (NAK), the special operation was launched after authorities received information that rebels planned to carry out a suicide bombing. Personnel from the Ingush Interior Ministry and Federal Security Service (FSB) branch then stopped a car being driven by the suspects, who allegedly opened fire. The five suspected rebels were killed in the ensuing shootout. The NAK reported that one of the dead suspected rebels was wearing a mask while two others – a man and a woman – were wearing suicide belts that together contained explosives equivalent to five kilograms of TNT in explosive force. One of them was identified as Salman Gardanov, a member of the so-called Nazran rebel group (www.newsru.com, April 3). The car reportedly later blew up while it was being cleared of explosives (www.kavkaz-uzel.ru, April 3).
On March 31, an explosion took place in Nazran when a bomb detonated as a convoy of police cars were passing by. Shrapnel from the bomb hit several of the vehicles, but no one was hurt (www.kavkaz-uzel.ru, March 31).
Two suspected rebels were killed on March 30 during a special operation in Ingushetia's Nazran district. The incident took place when security personnel tried to stop a car and those inside opened fire and were killed by return fire. The two dead suspected rebels were identified by their last names – Astemirov and Muzhukhoev (www.kavkaz-uzel.ru, March 30).