Bulgaria Quits Belene Nuclear Power Plant, Open Doors to South Stream
Publication: Eurasia Daily Monitor Volume: 9 Issue: 65
By: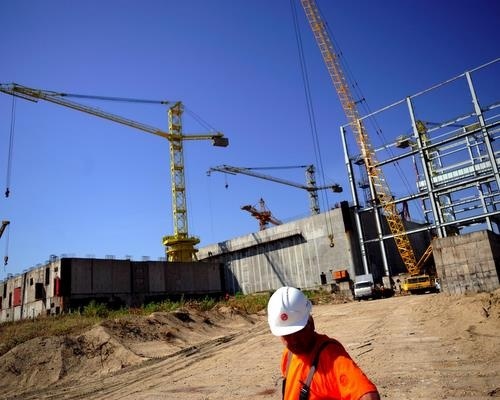 Bulgaria scrapped plans to build its second 2,000-megawatt Belene nuclear power plant (Belene NPP) on the Danube River (Trud, Capital, Dnevnik, BNT, March 28). The Belene NPP is the second Bulgarian-Russian energy project that Sofia quit in the last four months. In December 2011, Sofia withdrew from the Russian-led Burgas-Alexandroupolis oil pipeline project (EDM, December 16, 2011). Since coming to power in 2009, Bulgarian Prime Minister Boyko Borissov has vowed to review all Russian energy projects and assess their economic sustainability. After almost three years and many conflicting statements, on March 26 Borissov finally informed his Russian counterpart Vladimir Putin about Bulgaria's decision on Belene NPP. The project had started as a purely Bulgarian undertaking in 1981 and went through several phases and potential investors until its current demise.
Bulgaria's President Rosen Plevneliev told the Italian Corriere della Sera on April 1 that Bulgaria would rely less on Russian energy. He said that the decision to quit Belene NPP was "very brave, but it was the right one." Speaking at a conference in Sofia on April 2, he said that Bulgaria's third priority after building new infrastructure and securing fiscal stability would be energy efficiency and diversification (novinite.com, April 2). US Secretary of State Hillary Clinton welcomed Sofia's decision during a meeting with the Bulgarian Foreign Minister Nikolay Mladenov in Istanbul on April 1, saying that the decision, although difficult, was a "logical and pragmatic one" (Dnevnik, April 1).
The main reason for Sofia's verdict was the high cost of the project, its inability to attract a big Western investor in order to reduce Bulgaria's dependence on Russia, and the unwillingness of the Russian side to share the financial risks of the project. Since 2006, the projected price of the two nuclear reactors given by Russia's Atomstroyexport has jumped from €3.9 billion to €6.3 billion ($5.2 billion to $8.4 billion) (Capital, March 31). The Russian side did not accept Sofia's proposal for €4.6 billion ($6.1 billion) for the equipment. One of the nuclear reactors is already built and Bulgaria has paid for most of its expenses. The reactor may be installed at the existing nuclear power plant at Kozloduy, although this can happen in several years and the equipment will be technologically old and possibly damaged from storage. Experts recommend that the reactor be immediately sold and plans for building one or two more reactors at Kozloduy start anew with Western partners (BNT, March 29). Spending over €1.4 billion ($1.9 billion) on the Belene NPP has made quitting the project extremely difficult for the government.
The opposition Socialist party called the announcement a betrayal of Bulgarian national interests and started consultations for a non-confidence vote of the government for its "energy policy failure" (24 Chasa, March 31). Former President Georgy Parvanov declared that a future Socialist government would revise the current decision on Belene and make the nuclear plant its energy policy priority. He also insisted on a popular referendum for the project. He blamed the Socialist-led coalition of Prime-Minister Sergey Stanishev (2005-2009) for not making the project irreversible by failing to sign several more agreements with Russia (BNT, March 30).
The Bulgarian government said it would build a thermo-power plant operating on gas at the Belene nuclear power plant side. Russia has already expressed desire to participate in a potential gas thermo-power plant. This raised questions about furthering dependence on Russian gas since the country currently relies on Gazprom almost entirely. Former Minister of Economy and Energy Traicho Traikov, an avid opponent of monopolistic Russian energy interests in Bulgaria, pointed out that the electricity produced by a gas-operated thermo-power plant would be very expensive since Russia sells gas to Bulgaria at the exorbitant price of almost $600 per 1,000 cubic meters. Bulgaria would have to either sell electricity externally at a very high price, or the domestic consumer would have to subsidize the price difference, which would make the project as financially onerous as the Belene NPP (author's interview). Traikov's dismissal as government minister in mid-March was met with criticism by the public and sparked a wide debate about the country's energy dependence on Russia. Observers believe that public criticism eventually swayed Borissov in favor of cancelling the Belene project (BNT, March 29).
Moscow's reaction to Bulgaria's decision on Belene was fairly mild on the surface. The two governments are likely to resolve any outstanding disputes, including the two ongoing lawsuits in Paris and Geneva between Atomstroyexport and the Bulgarian National Electric Company. Moreover, Gazprom agreed to temporarily reduce its gas prices for Bulgaria by 11 percent for the rest of the year. A new contract will be negotiated this summer and kick in from January 2013.
The real reason for this restrained Russian reaction, however, is Moscow's interest in speeding up the South Stream gas pipeline, which will bring gas through the Black Sea to Bulgaria and countries further west. Bulgaria and Russia have agreed that a final investment decision on South Stream will be taken by November 15. The announcement was made following a meeting between the newly appointed Bulgarian Minister of Economy and Energy, Delyan Dobrev, and the head of Gazprom, Alexey Miller, in Moscow on March 30. Prime Minister Borissov has admitted that Gazprom's condition for giving Bulgaria a gas price discount was Bulgaria's "full cooperation" in the South Stream project (Darik Radio, April 2).
Russia is in a hurry to start building South Stream by the end of the year before new EU energy directives regulating supply and distribution of energy by non-EU countries, such as Russia, come into effect in March 2013. If the Russia-Bulgaria South Stream agreement is signed before that date, it will allow Russia not to open the South Stream pipes to other operators. The Bulgarian center-right opposition has accused the government in Sofia of helping Russia circumvent EU rules (novinite.com, April 2).