BULGARIA SEDUCED BY SOUTH STREAM GAS PROJECT?
Publication: Eurasia Daily Monitor Volume: 4 Issue: 170
By: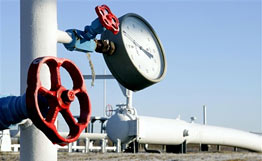 Bulgarian authorities seem to regard Russia's South Stream project for gas transport to Europe as a great opportunity for the designated transit country, Bulgaria. The South Stream pipeline would run from Russia's Black Sea coast on the seabed to Bulgaria and from there to Italy. Two options are under consideration for the Bulgaria-Italy route: through Greece and the Adriatic seabed to southern Italy and/or through Romania, Hungary, and Slovenia to northern Italy. In either case, Bulgaria would become the linchpin country for this project, with a planned volume of 30 billion cubic meters annually.
Should it materialize, Bulgaria's opportunity would be a loss for a number of countries: mainly those involved with Bulgaria in the Nabucco project, but also Ukraine and, ultimately, European consumers at the downstream end of an exorbitantly expensive project.
Gazprom conceived this project to carry Russian and Central Asian gas to Europe across Bulgaria and enlisted Italy's ENI in South Stream on a parity basis. ENI offers the end destination market and has the capability to lay pipeline on the deep seabed of the Black Sea. The pipeline would bypass Turkey — thus shelving Gazprom's earlier plan, Blue Stream Two, to reach Europe through Turkey — and would divert some gas volumes away from Ukraine's transit system into South Stream via Bulgaria.
South Stream is a rival to the Nabucco project, both for gas resources in Central Asia and for markets in Southern and Central Europe. According to Gazprom and ENI, the cost of the pipeline's seabed section would drive up the price of South Stream natural gas to the high price level of liquefied gas. Apparently, Russia reckons to maintain its monopoly on the transit of Central Asian gas, denying access to potential competitors and distorting the markets in the European downstream.
Bulgaria's state pipeline company, Bulgargaz, is a partner in the Nabucco consortium (alongside Turkey's Botas, Romania's Romgaz, Hungary's MOL, and Austria's OMV). However, the Bulgarian government feels tempted by South Stream as well. In the first week of September, Bulgarian Minister of Foreign Affairs Ivailo Kalfin discussed this issue "in great detail" while visiting Turkmenistan and Kazakhstan — the first such visit by a senior Bulgarian official in more than a decade. Kalfin made presentations of both the Nabucco and the South Stream projects to the governments in Ashgabat and Astana.
Unsurprisingly, Kalfin discovered that most of the gas volumes earmarked for South Stream would originate in Turkmenistan but would be marketed by Gazprom. It is Ashgabat's traditional policy to sell its gas at the border directly to the Russian monopoly, which then uses it or resells it on its own behalf. Turkmenistan does not deal with end-user entities beyond its border and does not make arrangements with transit countries. If Russia has its way, it would use Turkmen gas for South Stream in this same manner. However, Turkmenistan's new president, Gurbanguly Berdimukhamedov, could begin questioning and challenging those inherited arrangements.
In the wake of Kalfin's visit, Bulgargaz CEO Lyubomir Denchev feels "very pleased that Gazprom has clearly decided that the pipeline would run through Bulgaria. We can only be happy, because several months ago the southern gate [for Russian gas to Europe] was Turkey, not Bulgaria." The Bulgarian government hopes for a 50% stake in the South Stream pipeline's stretch on Bulgarian territory. However, Gazprom offers only minority stakes to countries along the South Stream route in their respective territories. It rules out transit deals with such minority partners, limiting the arrangements with them to the operation of the respective pipeline sections. Gazprom and ENI would retain the overall ownership and operating rights for the project.
Russian President Vladimir Putin announced the South Stream project with maximum publicity during a Southeast European "energy summit" on June 24 (see EDM, June 25). Bulgarian President Giorgi Parvanov declared on the spot that his country was keen to join South Stream. By contrast, Romanian President Traian Basescu, attending the same event, underscored his country's choice of Nabucco, declaring: "The Nabucco project would decisively contribute to Europe's energy security and supply diversification."
Russia's announcement of South Stream is partly designed to entice countries away from Nabucco and exploit apprehensions that Nabucco might not materialize after all. To that extent and at least at this juncture, publicity about South Stream might involve elements of bluff. According to Turkish Botas CEO Hussein Saltik Duzyol, South Stream cannot pose a commercially competitive threat to Nabucco because South Stream is simply too expensive and Gazprom would have to pass on the project's costs to end consumers (Platts Commodity News, September 5). Moreover, the elements of bluff in South Stream are about to lose persuasiveness as a result of the September 14-15 Budapest conference of Nabucco partners including Bulgaria, which is reaffirming their and the European Union's commitment to this project.
(BTA, September 3, 5, 10, 11; Turkish Daily News, September 12)