Bulgaria Suspends South Stream as the Ruling Coalition Falls Apart
Publication: Eurasia Daily Monitor Volume: 11 Issue: 103
By: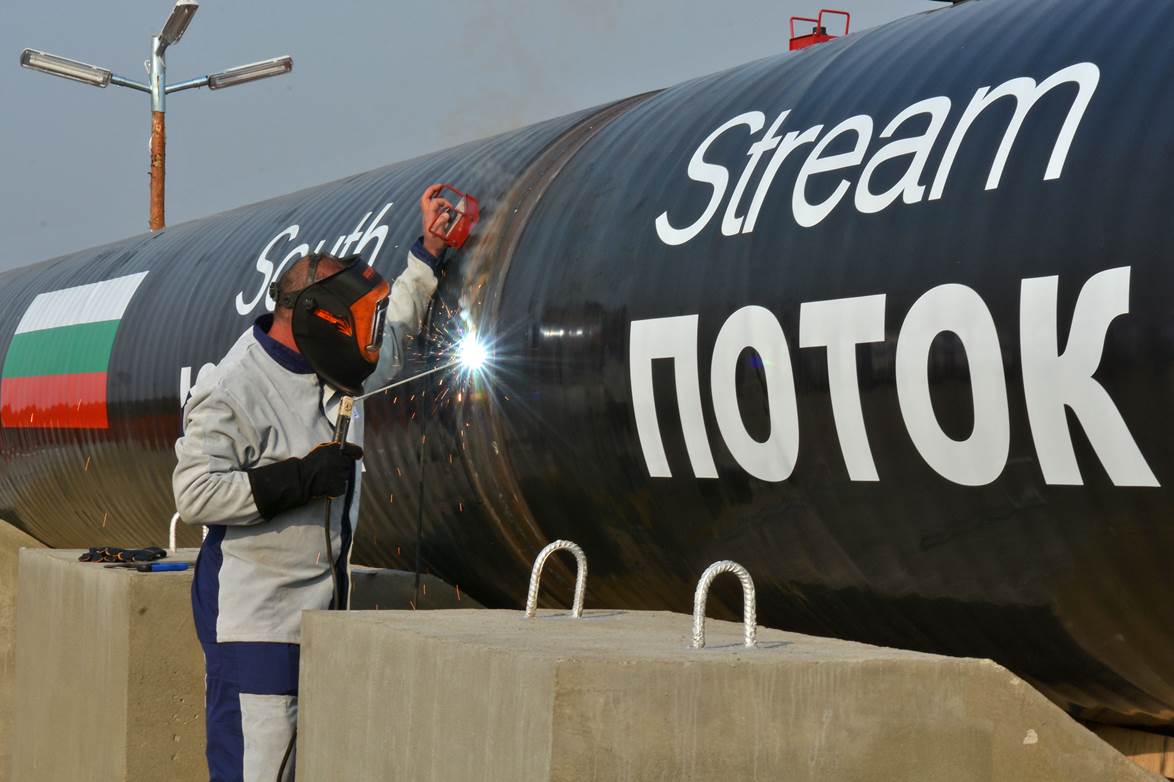 Bulgarian Prime Minister Plamen Oresharski has suspended all activities related to the disputed South Stream natural gas pipeline project until his government reaches an agreement with Brussels that would be compliant with European Union laws. The Russian-led pipeline project is designed to bypass Ukraine as a transit country and consolidate Russia's energy grip on Europe. Oresharski announced the decision on June 8 in Sofia after meeting with United States Senators John McCain, Chris Murphy and Ron Johnson, who were visiting Bulgaria as part of a European tour to consolidate Transatlantic relations in the wake of Russia's attack on Ukraine (Darik Radio, BTA, Troud, Standart, June 8).
Oresharski assured the three US lawmakers that Bulgarian participation in the project would only continue after the country addresses all of Brussels' concerns. He also informed them about Bulgaria's efforts to diversify gas sources and routes, adding that Sofia is giving priority to the Southern Gas Corridor, which will deliver Caspian gas from Azerbaijan to the Balkans while bypassing Russian territory (novinite.com, Capital Online, June 8).
Pressure on Sofia to comply with EU laws and halt the construction of South Stream has been mounting in recent weeks. Sofia was the most stalwart supporter of the Gazprom-led South Stream project and perceived by many as Moscow's pawn in Europe at the time when the US and EU are imposing sanctions against Russia for the annexation of Crimea. The culmination came last week when the European Commission started an infringement procedure against Bulgaria over South Stream and suspended nearly 2 billion euros ($2.6 billion) of EU funds for several major programs—although the postponed payments were not related to the pipeline project, but were triggered by Sofia's mismanagement of EU funds (Capital Online, bTV, June 3).
The same week, US Ambassador Marcie Ries warned that Bulgarian companies working with Russian entities on the US sanctions list could also be sanctioned. The company South Stream Bulgaria announced officially on May 27 that Stroytransgaz Holding has won a contract for the Bulgarian portion of the pipeline. A major shareholder (63 percent) in Stroytransgaz is Volga Group, owned by Gennady Timchenko, who was placed on the US sanctions list on March 20. Timchenko is a close ally of Russian President Vladimir Putin and Russia's sixth richest man, according to Forbes Magazine. His Volga Group and another ten related entities, including Stroytransgaz Holding, were also sanctioned by the US Treasury Department on April 28 (Novinite.com, May 27; see EDM, May 22).
"This is not the right moment to work with Russia in the usual way… Companies or physical entities, who provide material support to Stroytransgaz can also be subjected to US sanctions, which are part of the wider efforts of the international community to hold Russia responsible for violating the territorial integrity and sovereignty of Ukraine," Ambassador Ries told Dnevnik Daily in an exclusive interview published on June 6.
The visit by the three US senators further increased the pressure on South Stream, but the nail in the coffin for the project was hammered in by the Bulgarian Turkish party (the Movement for Rights and Freedoms, MRF), the junior coalition partner in the Socialist-led government. On June 5, the Turkish party demanded early parliamentary elections to be held by the end of the year, thus effectively announcing a pending collapse of the government. The Socialist Party will not be able to form another cabinet given the legislature's current composition (BTA, BNT, bTV, June 5).
The Turkish party has expressed explicit disagreement with the Socialists over South Stream. Its parliamentary members refused to support a controversial amendment of the Energy Act that would exempt a part of South Stream from the EU's Third Energy Package—namely the undersea section of the pipeline in Bulgarian territorial waters and two kilometers onshore. Experts of the EU Energy Commission are due to arrive in Bulgaria on June 13 to discuss these legal changes allegedly drafted under Gazprom dictation (Bulgarian National Radio, June 8).
The Turkish party has been an outspoken critic against any attempts to change Bulgaria's European orientation as well as against those Socialist and nationalist circles that have supported Russia in its actions regarding Ukraine and South Stream. The Bulgarian Turks suffered forced assimilation in Bulgaria in the 1980s, which was only rectified after the Communist regime fell and Bulgaria moved in a pro-European direction.
During his press conference on June 5, Turkish party leader Lyutvi Mestan asserted: "As leader of the most consistently Euro-Atlantic party in Bulgaria, I state that Bulgaria should not do anything despite Brussels, but should pursue its national interests on big energy projects in a constant dialogue with Brussels. Bulgaria cannot have it any other way, and we hold a very categorical position on that" (https://www.dps.bg/news/events/3515/preskonferentsiya-na-dps–05-yuni-2014-g—video-.aspx).
The Bulgarian Socialist party claimed to be surprised by Prime Minister Oresharski's decision to suspend South Stream and blamed it on Western pressure. But the real surprise came from former Prime Minister Boyko Borisov, who despite Russia's aggression against Ukraine still seems to be a supporter of the doomed pipeline. "I have always said that in their attempts to mislead everyone—Brussels, Moscow and Washington—Oresharski and company will shipwreck this project… This is why Bulgaria suffered yet another humiliation today for the government's inability to deal with the situation around South Stream," Borisov told Focus News Agency in Washington, where he is meeting with US officials and members of Congress (Focus News Agency, June 8).
Following Bulgaria, Serbia also stopped the construction of South Stream. "Bulgaria is in the center of this project. Until Bulgaria concludes negotiations with Brussels and Russia, the project is stopped," Deputy Prime Minister Zorana Mihajlovic told the Serbian Blitz newspaper on June 8.
According to Valeriy Yazev, Deputy Chairman of Russia's parliamentary commission on natural resources, the decision to suspend South Stream is political and lacks common sense and economic logic (ITAR-TASS, June 8). The Russian media commented that against the background of the conflict between Moscow and Kyiv, Bulgaria is risking leaving itself and the rest of Southeast Europe without gas (Vzglyad, June 8).
Russia's Kommersant commented that Bulgaria's decision to suspend South Stream will mean that Moscow cannot bypass Ukraine in supplying a large portion of its natural gas to Europe. Therefore, the predictability of supplies will continue to depend on relations between Moscow and Kyiv (Kommersant, June 9).