CCP Stealth War 143; Feature: China Launches Information Offensive Against the US Following ASEAN Ministerial Meeting
By: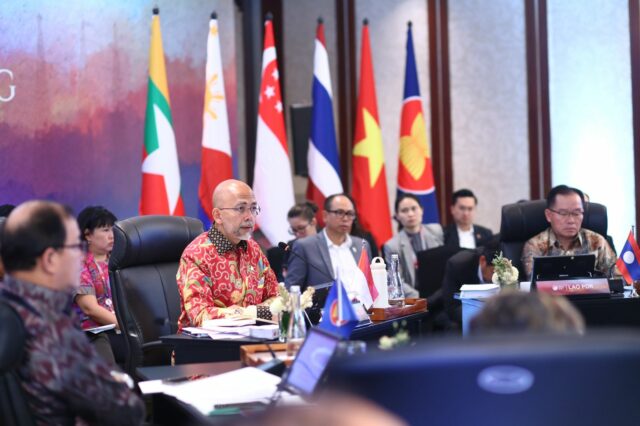 This Week:
* Germany Identifies China as "Systemic Rival" in New Policy Paper
* Targeting China, United Kingdom Forces Foreign Agents to Register with the Government
* Tensions Rise as Japan Joins US-Led Efforts to Curb China's Advanced Chip Development
* PRC's Attempt to Acquire Afghan Lithium Continues to Be Stalled
* Feature: China Launches Information Offensive Against the US Following ASEAN Ministerial Meeting
---
Germany Identifies China as "Systemic Rival" in New Policy Paper
In July, Germany released a robust policy paper laying out the nation's "China Strategy." The 61-page report identified Beijing as a "systemic rival" and emphasized the need for Germany—Europe's leading economy—to reduce its dependency on China, its largest trade partner. The strategy reflects a compromise between Germany's three ruling coalition parties, and a departure from Chancellor Olaf Scholz's typically conciliatory approach to conducting business with the PRC.
When Scholz took office, the new German government pledged to substantially revise Berlin's China strategy. However, in the eyes of Germany's relatively hawkish Green ministers, Chancellor Scholz's policy towards China failed to reflect a meaningful departure from that of the Merkel administration. After Xi Jinping tightened his grip on power during last year's 20th Party Congress, Scholz subsequently accompanied a business delegation to Beijing and promised to maintain strong economic ties with the PRC. Furthermore, he disregarded the national security concerns of several ministers in his cabinet and proceeded to authorize a deal to sell parts of a Hamburg port terminal to COSCO, a Chinese shipping firm. More recently, Scholz downplayed the need for Germany to "de-risk" from China, arguing that many German enterprises were already diversifying their supply chains.
Against this backdrop, the German government published its very first policy paper on its "China strategy." Numerous analysts have highlighted the document's strong language towards Beijing. The "International Cooperation" section emphasized the need for European states to stand up to Chinese pressure, noting that "China is leveraging the political, military, and economic weight it has gained to pursue its interests on all continents and in international organizations, and it is working to reshape the existing rules-based international order according to its preferences." Moreover, this section highlighted the need for maintaining the status quo in the Taiwan Strait and contended that an Indo-Pacific security crisis would also implicate the EU, stating that "security in the Taiwan Strait is of crucial importance for peace and stability in the region and far beyond." In the "Strengthening Germany and the EU" section, the document laid out a road map for diversifying Germany's supply chains, enhancing oversight over the screening of investments, and tackling Chinese disinformation. Notably, the principal position of Germany's "China Strategy" is almost explicitly at odds with Scholz's previous remarks, as it emphatically warns the country that "de-risking is urgently needed."
Despite the strongly worded tone of the document, some members of the German political establishment likely share Scholz's views. Many political elites are no doubt considering the state of the German economy—which entered a recession in the first quarter of this year—and the continued energy prices imposed by the loss of cheap energy imports from Russia. These recent setbacks make de-risking with China a costly and potentially painful economic maneuver. Whether Germany's new strategy will result in concrete changes in Berlin's policies towards China or will largely amount to rhetoric is still unknown. Nonetheless, this policy paper marks a noteworthy shift in the prevailing viewpoint of Germany's political elites. Moving forward, the themes of de-risking and reducing supply chain vulnerabilities from China will play an increasingly prominent role in Germany's political discourse.
---
Targeting China, United Kingdom Forces Foreign Agents to Register with the Government
On July 13, the United Kingdom's Intelligence and Security Committee of Parliament published a scathing review of the UK's ability to resist China's aggressive actions abroad. The Committee states that China's size, ambition, and capability have enabled it to successfully penetrate every sector of the UK's economy while the government fails to recognize the gravity of the issues involved. United Kingdom Prime Minister Rishi Sunak has gone on record, stating that "China represents the biggest state threat to our economic interests, for sure. And it's a systemic challenge for the world order."
He has also expressed a belief that there remains a constructive path forward for the two nations. In response to the Committee's findings, the Prime Minister stated that his government is "keenly aware" of the problems that China represents and that China poses "an epoch-defining challenge to the international order." In response to China's continued aggression, the UK passed the Foreign Influence Registration Scheme (FIRS) on July 11, taking after the long-standing United States Foreign Agents Registration Act (FARA), which deems that "any political activity undertaken at the direction of a foreign power registerable." The act also includes provisions for an "enhanced tier," for specific agents representing countries that pose a direct threat to the UK, requiring them to "register arrangements that are entered into with a specified foreign power, or entity controlled by a foreign power." For enforcement, the act declares that a "[f]ailure to register when required will be a criminal offence."
This is the first act passed by the UK Parliament that makes foreign interference a prosecutable offense, and is made in an attempt to limit China's ability to subvert British interests in its quest to reshape the international order. As the West attempts to contain China's geopolitical rise, acts such as the UK's FIRS and the US's FARA will continue to be revisited, as countries try to quell the subversion that arises from China's large economic reach.
---
Tensions Rise as Japan Joins US-Led Efforts to Curb China's Advanced Chip Development
On July 23, Japan implemented export restrictions on advanced chip-manufacturing equipment, following US-led efforts to curb China's ability to develop high-end semiconductors for military purposes. Although China was not explicitly mentioned as the target of these export controls, it has triggered a backlash from China, leading Beijing to announce restrictions on the export of essential rare earth metals used in chip production. This refers mostly to gallium and germanium, of which China produces 80 percent and 60 percent of the global supply, respectively.
In October 2022, the United States introduced comprehensive export controls on certain high-end chips to prevent China from using them for military modernization and AI training. Along with imposing a curb on Chinese chip access, the Biden administration further broadened controls to include chip design and manufacturing tools. In addition, the US encouraged its partner countries to follow suit. The Netherlands, following the lead of the United States, was one of the first to announce new export controls on advanced chip manufacturing equipment. Beijing has widely criticized these measures, claiming that these decisions highlight ​​"an abuse of export control measures and [has] seriously disrupted free trade and international trade rules." Japan has also now implemented the export restrictions in an attempt to curb Chinese technological development.
Foreign Ministry spokesperson, Mao Ning, responded negatively, urging Japan to "prevent relevant measures from interfering with the normal semiconductor industry cooperation between the two countries." The Japanese restrictions limit Chinese access to tools needed for producing advanced chips, impacting end-uses like smartphones and AI development. The Chinese Communist Party (CCP) has invested heavily in chip plants, but relies on Western and Japanese technology for the most advanced chips, posing a threat to Beijing's chips industry development.
However, Japan's decision to impose export controls on chip-making tools to align with the United States policy is causing concern in Tokyo, both domestically and on an international level. While Japan and the US share concerns about China's technological advancements, influence in military warfare capabilities, and AI training, the differences in chip-making equipment controls may disrupt the careful balancing act between addressing security concerns and maintaining unity between the strategic partner countries involved in the chip industry.
Japan has, at the same time, made the decision to refuse the US's standard in these matters (a "presumption of denial," requiring special exemption for any exceptions) and has also decided against restrictions on specific tools. This has led to worries about insufficient coordination between the Tokyo and Washington. This suggests that Japan fears retaliation from China, such as a possible ban on the Japanese electric car industry, and thus prefers to emphasize the need to avoid unnecessary provocations or assumptions. On the domestic front, few Japanese companies involved in manufacturing semiconductor equipment are expected to be impacted, but the Minister of Economy, Trade, and Industry believes the impact on Japanese companies will be limited as the export controls target highly advanced technology.
---
PRC's Attempt to Acquire Afghan Lithium Continue to Stall
China is currently struggling to acquire the right to extract lithium in Afghanistan. A $10 billion lithium mine deal offered to the Taliban government's Ministry of Mines and Petroleum on April 13 by Gochin Company (referred to as a Chinese enterprise) has still not received an official answer. If such a deal is made, it would represent a reversal of the Taliban's ban placed on the extraction and sale of lithium after the group's seizure of Afghanistan in August 2021. Afghan lithium reserves are estimated at $1 trillion, potentially rivalling Bolivia's in size.
The investment offered by Gochin drew disbelief, as it promised much in the way of additional infrastructural investment: promised projects include the construction of roads and tunnels, a hydroelectric dam, and the establishment of factories for the processing of lithium and the manufacturing of batteries. Interestingly, questions have been raised about the Chinese business involved, as the "Gochin" company listed in the official press release appears to have no digital presence, unusual for the kind of international mining conglomerate that would ordinarily be involved in such projects.
Gochin aside, China undertook the first major international investment in Afghanistan since the Taliban took over last January, when Xinjiang Central Asia Petroleum and Gas Company acquired 25 years of oil extraction rights for a field in northern Afghanistan. The deal requires the Chinese enterprise to invest $150 million into Afghanistan annually (to be expanded to $540 million after three years), in exchange for 80 percent control of the project.
While the lithium deal may remain on hold for now, the arrangement appears to suit both the Taliban government and China: a pending large-scale project signals confidence to other Chinese investors—who may recall with chagrin Beijing's ill-fated attempts to develop a $3 billion copper mine near Kabul in 2008. With Afghanistan thought to hold vast reserves of mineral wealth (to include gold and rare earth elements) and few other potential international investors, China may obtain these resources before anyone else. Alternatively, Beijing is able to lock down the extraction rights for the most lucrative projects in Afghanistan before others can, preventing Western companies (who had expressed interest in developing Afghanistan's mineral wealth before the Taliban's takeover) from doing the same.
---
Feature: China Launches Information Offensive Against the US Following ASEAN Ministerial Meeting
Joe Cacese
On July 14, the 56th ASEAN Ministerial Meeting-Post Ministerial Conference (AMM-PMC) concluded in Jakarta, Indonesia. The AMM-PMC meeting represents the highest gathering of ASEAN diplomats to discuss regional foreign policy issues. The meeting was attended by 29 nations and more than 1,100 delegates. In recent decades ASEAN has grown to become one of the most economically and politically important trade blocs in the world, representing 7 percent of global GDP and 9 percent of global GDP growth (MFA of Indonesia, July 10).
ASEAN continues to be a strategic and economically important part of the global trade network. Over 16 million barrels of oil and gas pass through the Straits of Malacca each day, most heading for China, Japan, and South Korea (Warsaw Institute, February 28, 2021). Recent discoveries of 26.8 billion tons of oil and natural gas in the South China Sea have incentivized Chinese aggression in the area (CIIS, May 11, 2015). While China accuses the US of attempting to divide and bully ASEAN nations, recent and past Chinese actions are the just the opposite.
Immediately following the AMM-PMC meeting, the Chinese English-language media ramped up its targeting of US diplomacy, claiming that US efforts to improve ties with Southeast Asia are meant to "sabotage" and "[sow] discord," particularly between Vietnam and China (Global Times, July 16; June 26). The Chinese media focused on the benefits that China brings ASEAN members economically, as well as Beijing's commitment to member states' neutrality and the regional stability. Chinese state media claims that recent US actions are endangering the peace and security of the Southeast Asian region while the US, on the other hand, is accused of using states like Vietnam as "chess pieces," attempting to force ASEAN to take a side in global geopolitics (China Daily, June 28).
Vietnam plays a major role in future ASEAN strategy; ASEAN Secretary-General Kao Kim Hourn has recently praised Vietnam for their contributions to ASEAN, and has one of the strongest projections for economic growth in the region (Viet Nam News, May 8). China undoubtedly stands as ASEAN's largest trade partner and has invested greatly into the development of ASEAN nations, particularly in Laos and Cambodia—two of the first nations to be linked to the Belt and Road Initiative (BRI) through industrial and tourist investment (ASEAN). But Chinese actions in the South China Sea over the past decade have forced China to paint the US in a negative light as ASEAN nations are reacting more significantly to Chinese aggression than in past years (Jakarta Post, May 3).
Chinese domestic media took an even more belligerent tone against the US in recent publications. An article published by Xinhua accused US officials of instigating the current strain between China and ASEAN and threatening regional peace. The publication also utilizes anti-US views expressed by Indonesia's Center for Strategic and International Studies (CSIS), citing Veronika Sarswati, who claims that recent US and Western nation's actions have divided ASEAN. This, she argues, threatens stability, concluding that ASEAN nations should rely less on the West for their national defense (Xinhua, July 16). Another article highlights recent joint search and rescue training and patrols performed by the Chinese and Vietnamese navies in the South China Sea as evidence that US efforts to "exploit Vietnam" have failed (Sohu, July 2). One article even evokes the memory of the Vietnam War, focusing on damages inflicted in the past rather than the progress made in the present (Xinhua, July 17). China has attempted to use ideology to draw closer to Vietnam as well, pointing to their respective states as examples of the few successful post-Soviet communist countries left in the world (see China Brief, July 21; People's Daily, November 1, 2022; People's Daily, July 27)
Despite Chinese attempts to paint the US as a driving force of instability in the ASEAN region, recent trends prove otherwise. US and ASEAN officials met in March to celebrate and reiterate their commitment to improving relations between the two, with the US pledging to help combat crime across key areas, support maritime cooperation, and promote financial stability (ASEAN, March 7).
Chinese actions, on the other hand, have caused significant tension between ASEAN member states and China. Confrontation erupted between Vietnamese and Chinese ships in the South China Sea in May after Vietnam attempted to expand oil drilling operations in a part of its economic exclusive zone also claimed by China (SCMP, May 14). The long-standing rivalry between the two countries has only grown deeper as China seeks to push deeper and deeper into international waters (those that lie within its "Nine-Dash" line), claiming them as their own (SCMP, May 22, 2018). Vietnam has continued to reaffirm its sovereignty over these waters, as well as maintain its commitment to international maritime stability (Nhan Dan, April 26, 2013; Nhan Dan, June 17).
Meanwhile, the Indonesian military announced that ASEAN members will host joint exercises in September near contested waters in the South China Sea. Two ASEAN members, Cambodia and Myanmar, have refused to participate in the exercise (AP, June 20). The divide between certain ASEAN states over China comes as no surprise as Beijing strengthens its grip over two of ASEAN's poorest members: Myanmar and Cambodia. China remains a stalwart ally of the military government (Tatmadaw) of Myanmar, despite continued atrocities throughout the country. Chinese media portrays the Tatmadaw in favorable terms, focusing on their behavior in areas that are felt to strengthen regional stability, such as through the elimination of drugs (People's Daily, June 27).
In recent years Cambodia has become deeply dependent on Chinese aid and trade, with China heavily influencing its economy through foreign investment. The Council for the Development of Cambodia (CDC) approved 113 investment and expansion projects, which comprised $1.1 billion in the first half of 2023, with nearly 65 percent coming from Chinese investors (Khmer Times, July 14). Chinese influence over these two countries and the ongoing tension with Vietnam indicate that ASEAN will continue to be a focal point of Chinese attention as it seeks to use its growing regional influence to divide the long standing trade bloc.
Joe Cacese is a graduate of Michigan University, and specializes in Chinese foreign policy and trade through the Belt and Road Initiative.