Central Asian Countries React to Latest US Overtures in Security Sphere
Publication: Eurasia Daily Monitor Volume: 12 Issue: 217
By: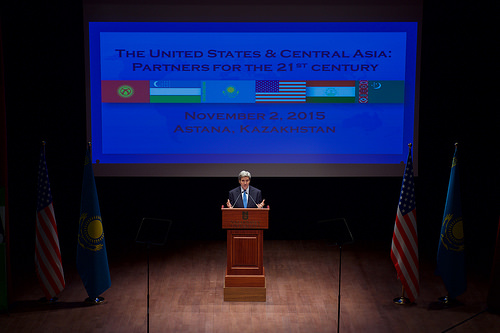 In early November 2015, US Secretary of State John Kerry toured all five former Soviet republics in Central Asia. It was the first such visit by a top United States diplomat to the region, long regarded by Russia as its backyard and "sphere of privileged interest." Kerry's regional tour was also marked by the launch of a comprehensive C5+1 dialogue format between the United States and Central Asian countries, at the foreign ministers level (Uza.uz, November 1; see EDM, November 30).
According to US Ambassador to Uzbekistan Pamela L. Spratlen, the Secretary of State's visit to Central Asia pursued four main objectives: 1) pledging strong support and commitment to the sovereignty and territorial integrity of the Central Asian countries; 2) exchanging views on the situation in Afghanistan, the threat posed by the Islamic State and other regional security-related challenges; 3) facilitating all-around cooperation among the Central Asian countries; and 4) sharing their governments' positions on the latest global developments of common interest (Ozodlik.org, November 25).
Undoubtedly, Afghanistan and issues related to regional security dominated bilateral talks, especially in Uzbekistan, Tajikistan and Turkmenistan, three countries that share a border with Afghanistan (Gulf-times.com, November 3). After the brief fall of Kunduz—a strategic northern Afghan city located less than 100 kilometers from Afghanistan's border with Tajikistan and Uzbekistan—to the Taliban in late September, Central Asian leaders' fears over the Afghan government's capabilities have increased (Ca-news.org, October 7; see EDM, October 22).
On October 8, at a press conference in Tashkent with the visiting leader of Turkmenistan, Gurbanguly Berdimuhamedov, Uzbekistan's President Islam Karimov expressed strong dismay over what he called "the total failure and absence of coordination" among Afghan authorities in handling the Taliban attack on Kunduz (Uzbekistan TV, October 8). On many past occasions, Karimov called plans to withdraw International Security Assistance Forces (ISAF) from Afghanistan premature and expressed his concern that the withdrawal of ISAF troops could lead to a situation similar to the one in Iraq after the withdrawal of US troops (Uzdaily.uz, July 10).
Secretary Kerry's assurances to Central Asian leaders of continuing US security cooperation with the region as well as US President Barack Obama's earlier decision to prolong the deployment of US troops in Afghanistan beyond the previously set deadlines were definitely welcome news for the governments of neighboring Tajikistan, Uzbekistan and Turkmenistan. Moreover, these US gestures and pledges will help the Central Asian countries preserve some level of freedom of action in the face of increasing pressure from the Kremlin to accept Moscow's military dominance in the region (Profile.ru, October 26).
In Tajikistan's case, measures to reinforce Russian military bases in the country by deploying additional military-transport helicopters met no resistance. Additionally, Russian generals made repeated, albeit unsuccessful, requests to authorities in Dushanbe to allow Russian troops to once again take control of the Central Asian republic's 1,300-kilometer-long border with Afghanistan, which Russia ceded to Tajikistan's army in 2005 (Timesca.com, October 4).
The Kremlin has also long been irritated by the governments of Uzbekistan and Turkmenistan, which refuse to become party to any collective approaches offered by Russia to contain potential threats to regional security. Instead, Tashkent and Ashgabat have generally chosen to rely solely on their own strength (Fergananews.com, March 18).
The fact that Secretary Kerry's November 2015 visit occurred amidst rising tensions between the United States and Russia could not have been overlooked by regional observers. Despite Kerry's claims that his tour of the region was devoid of any "political intrigue" and that his country is "ready to cooperate with any other nation far or near […] for the benefit of Central Asia," most of the Russian analysts described the visit as part of Washington's efforts to check Russian influence in the region (Oko-planet.su, November 4).
Notably, US pronouncements on the threats emanating from Afghanistan to Central Asia sharply differ from Russia's alarmist rhetoric. While US officials have a vested interest in playing down the "imminent nature" of the threat to Central Asia from Afghan-based militant groups, Russian officials have recently increased their self-serving declarations on Afghan threats in order to bolster Russia's position in the region (Profile.ru, October 26).
As a matter of fact, over the last 15 years, through its direct military presence in Afghanistan, the United States has slowly emerged as a potential security provider to Central Asian countries, though Washington still does not openly acknowledge this reality. As long as the US takes responsibility for security and stability in Afghanistan, Central Asia countries—notwithstanding some of them being members of the Moscow-led Collective Security Treaty Organization—will not be forced to rely quite so heavily on Russia, which likes to posture itself as the sole security guarantor for the region (Sputniknews.com, September 7).
Recent actions by Ashgabat hint at further evidence of the US's implied role as a security provider to Central Asia. Indeed, immediately after the Secretary of State's visit, and perhaps emboldened by the US assurances Kerry had expressed, the government of Turkmenistan announced its plans to start the construction of the long-delayed Turkmenistan–Afghanistan–Pakistan–India natural gas pipeline. The ground-laying ceremony in the Turkmenistani capital, on December 13, will also be attended by the Afghan president (Gundogar-news.com, November 7).
Yet, in the wider context, if Secretary Kerry's November tour of Central Asia truly leads to the strengthening of US standing to the detriment of Russia's position in the realm of regional security, it will have more to do with the Kremlin's own missteps rather than any serious love for America or US values by the region's leadership. Moscow is in danger of overplaying its heavy-handed and increasingly aggressive attempts to make regional countries submit to its will. On the other hand, the authoritarian Central Asian leaders may ultimately turn out to be as suspicious of the US agenda as they are fearful of Russia's imperial irredentism in the wake of the latter's belligerent actions in Ukraine and aggressive demonstrations of military prowess in the Caspian Sea (Rus.ozodi.org, September 2, 2014; see EDM, May 5, 2014; October 10, 2014; October 26, 2015).
US officials are currently trying to assure Central Asian countries of the strength of their ties to Washington. But the fact remains that rare visits by high-ranking US officials to Central Asia and even rarer meetings of Central Asian leaders with US presidents cannot and will not replace or undermine Central Asian ties with Russia in the near term (Vof.kg, November 25).