Russia's Syria Intervention and the Implications for the South Caucasus
Publication: Eurasia Daily Monitor Volume: 12 Issue: 193
By: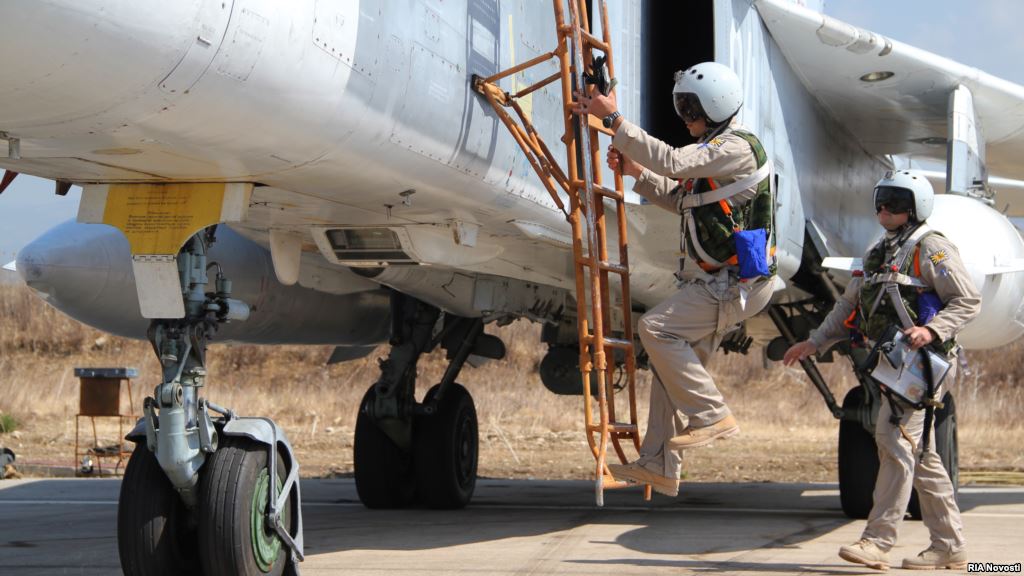 The wider South Caucasus region is conspicuously located between the battlefields of Syria and the Caspian Sea. Therefore, Russia's use of cruise missiles, launched (on October 7) by ships belonging to its Caspian Flotilla, to hit targets in Syria had inadvertently put the region briefly under the media spotlight. Early reports suggested that the flight path of at least some of these missiles may have violated Azerbaijani airspace. But this information was subsequently proven to be false when the Russian Ministry of Defense demonstrated that the 26 fired Kalibr-class cruise missiles crossed Iranian and Iraqi airspace en route to Syria (TASS, October 7); meaning, pre-strike approval was not needed from Baku.
To date, there has been no significant response from the leaders of the Caspian countries regarding Russia's cruise missile launch or its wider military campaign in Syria. As for the South Caucasus countries, the only related public statement came from Armenia, which claimed that, on October 6–7, in connection with Russia's Syrian operation, Turkish military helicopters violated the state border of Armenia (Regnum, October 10). Yerevan alleges this represented Ankara's indirect response to Russia's violation of Turkish airspace several times since Russian airstrikes started (see EDM, October 9).
Russia clearly used the Caspian Flotilla cruise missile launch as a means of sending the West a message, but this action was likely intended to be a signal to the South Caucasus countries as well. First, Moscow wanted to openly demonstrate Russian defense capabilities. President Vladimir Putin, for example, noted that "weapons launched from the Caspian Sea's waters, around 1,500 kilometers away, and [the fact that] all of the planned targets were destroyed is evidence of our defense industry's good preparation" (Kremlin.ru, October 7). Thus, together, the show of force and Putin's remarks played up the market value of Russian military equipment, which is regularly purchased by Caspian-region countries. As Azerbaijani military expert Reshad Karimov has pointed out, the Su-34 strike fighter as well as the rockets, bombs and Kalibr-class cruise missiles used by Russia in its Syrian operations are all on sale and ready for export (Facebook.com/reshad.karimov, October 8)
Second, since the start of Russia's aerial campaign over Syria, the Russian media has repeatedly suggested that jihadists fighting in the conflict could pose a growing threat of religious extremism to nearby states such as Azerbaijan (Azeridaily.com, October 18). Such rhetoric is seen as a pretext for Russia to reinvigorate the Commonwealth of Independent States (CIS) Anti-Terrorism Center (ATC) as a means of uniting the intelligence and information-gathering services of all CIS member states—but notably under Moscow's guidance. Upon joining the CIS ATC, Azerbaijan signed a document, in 2000, agreeing to participate in all the Center's activities; but these had to be information/analysis-based and strictly advisory in nature. Specifically, the agreement establishing the ATC excludes any information gathering or other activities by the Center on Azerbaijani territory. However, Russia apparently now wants to remove this limitation, and the Syrian operation provides Moscow with such an opportunity. Indeed, at the October 16 CIS summit, Putin elucidated this very link between the spread of religious extremism connected to the Syrian civil war and the need for joint intelligence gathering in the former Soviet space (Kremlin.ru, October 16). Immediately after this meeting, the Azerbaijani government sacked its security minister, Eldar Mahmudov—whose powerful ministry is, in part, tasked with fighting religious extremism (Azadliq.info, October 17). At least in part, Mahmudov's dismissal may imply Baku's growing concern that the ministry is failing to fulfil its duty, as the initial investigation indicates that numerous officials were involved in corruption deals (Milli.az, October 24). The ministry will have to be strengthened and reformed, though it is still uncertain whether or not this will play to Russian interests with regard to Moscow's deep intelligence proposals, as voiced at the CIS summit.
But what impact will Russia's Syrian airstrikes ultimately have on jihadist activities in the Caucasus, and what are the wider security implications for the South Caucasus countries?
For now, it may be far too early to even consider the defeat of the Islamic State (IS). Nonetheless, as Kamal Gasimov, an expert at the Baku-based Center for Strategic Studies argues, it is important to remember that if this militant group is weakening, most of its mujahedeen will travel to other locations where the jihadist movement remains alive (Author's interview, October 16). At the same time, for transnational jihadists, the South Caucasus is a hub and a transit corridor, providing access to and from the North Caucasus as well as a route for jihadists through Turkey. Since Islamist militant groups fighting in the Syrian civil war are constantly looking to recruit more jihadists from the region, they are unlikely to begin fighting in this transit corridor, at least in the near future. Moreover, both al-Qaeda and Islamic State affiliates are currently engaged in major fighting in Syria and Iraq, so their resources are needed there rather than to be diverted to the Caucasus region. Taken together, this reduces the short-term security threats to Azerbaijan and Georgia—after all, a sudden wave of terrorist attacks in these countries could lead to a tightening of border controls as well as increased focus by security forces on local jihadist cells.
In summary, for now the only visible negative implication of Moscow's Syria intervention for the South Caucasus countries has been commercial. Specifically, some international airlines are altering their flight routes over the Caspian Sea after Russian missiles launches from the sea created an unpredictable security situation in these air corridors (EurasiaNet, October 16). This could be a short-term security concern for international business circles, but it could just as easily become a long-term issue. The driving factors will ultimately depend on the scale and duration of Russia's military involvement in Syria as well as on whether Moscow again flexes its Caspian Sea–based military capabilities.