Strategic Assessment: Central Asia's Political Ground Continues to Shift
Publication: Eurasia Daily Monitor Volume: 13 Issue: 177
By: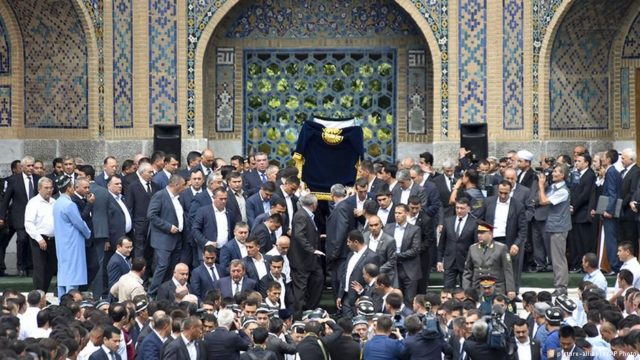 The following political landscape piece is a part of Eurasia Daily Monitor's special quarterly series of strategic assessments of developments across Eurasia. These pieces examine recent important developments and trends in the region, particularly since this past summer, and anticipate where those trend lines may lead over the coming months.
The past several months brought more change to the political landscape of Central Asia than has been the case in years. The most significant event was arguably the death, on September 2, of Uzbekistan's president, Islam Karimov, 78, who had ruled the country unchallenged since the spring of 1990. The last time he was re-elected to the presidency was in March 2015 when Karimov officially attained more than 90.3 percent of the vote. Although its economy is smaller than that of neighboring Kazakhstan—with nominal GDP equal to $66.7 billion in 2015 (World Bank), in contrast with the latter's $184.4 billion—Uzbekistan invariably remains the strategic heartland of Central Asia. It is the region's most populous country (31.6 million inhabitants, or 45.7 percent of the five-country total, in 2016), has the strongest standing army, and constitutes a geographic link between Central and South Asia.
Uzbekistan's domestic stability has long been considered essential for wider regional stability: the country serves as a natural buffer against various extremist and militant organizations based in Afghanistan and Pakistan. The rise of the Islamic State group in Iraq and Syria, and its expansion to adjacent territories, has been a forceful reminder of Uzbekistan's central location and role in combating international terrorism. Security and stability in the densely populated Ferghana Valley, which is shared by Uzbekistan, Kyrgyzstan and Tajikistan, largely depended on Islam Karimov's ability to adroitly manoeuver among internal tribal lines and to leverage his personal influence over key interest groups. The current caretaker president, Shavkat Mirziyaev, has been the prime minister since December 2003. He was one of Karimov's closest aides, not least because of his affiliation with the deceased ruler's Samarkand clan.
By most accounts, Mirziyaev is poised to win the December 4 early presidential election and to become the new president of Uzbekistan until 2022. Under his rule, the country may experience greater exposure to external influences, mainly economic ones, as Tashkent seeks to attract new foreign direct investments and modernize industrial production. While he is part and parcel of the decades-old Karimov system in which there is hardly any place for genuine democracy and full-fledged political liberalization, a President Mirziyaev will likely try to usher in a new chapter in Uzbekistan's external policy. Improving Tashkent's relationship with the West, after years of recurring criticism over human rights violations, including the use of child labor, could be a unique opportunity for Uzbekistan at a time when it is free of major obligations to either Russia or China. In 2012, Karimov withdrew the country from the Moscow-dominated Collective Security Treaty Organization (CSTO) while refusing to have it join the Eurasian Economic Union (EEU) in 2014.
Presidential succession is a burning issue in Kazakhstan as well. President Nursultan Nazarbayev, 76, carried out a significant reshuffle at the top in September 2016. He changed the prime minister, appointed the former premier, Karim Massimov, as head of the National Security Committee (KNB), and shook up the whole government. Interestingly, the president's elder daughter and deputy prime minister, Dariga Nazarbayeva, was appointed to the Senate, where she now chairs the permanent committee on international affairs and defense. She is actually one small step short of speakership of the upper chamber of parliament, a key post in the event of an unscheduled presidential succession scenario. Under the Kazakhstani Constitution, the president's powers shall pass, in the event of resignation or death, first to the speaker of the Senate, then to the speaker of the Mazhilis (lower chamber) and lastly to the prime minister. At present, it seems that Nazarbayev is still holding the cards open for any succession scenario. But the latest reshuffle may already presage his daughter as the successor.
Whatever his thinking on the subject, and against the backdrop of mounting security concerns, Nazarbayev might well decide to accelerate the transition, based on the—thus far—smooth experience of Uzbekistan. In early June 2016, a group of heavily armed men raided two gun stores in the center of Aktobe, in western Kazakhstan, and later used stolen weapons to stage an attack on a peripheral military facility operated by the elite National Guard. The incident was qualified by the government as an act of terrorism, a first in almost four years. Four civilians and three soldiers lost their lives in the shootings. The next month saw more violence in the former capital of Almaty, in the country's south, where a lone wolf gunman shot dead eight people.
Then, in August 2016, the KNB made public the dismantling of three terrorist cells, with dozens of arrests and large-scale police searches. One of these cells was reportedly planning to hijack a plane at the airport in Taldykorgan, a regional capital. According to the KNB, the plan had been to choose a symbolic target, such as a well-known high-rise building, and crash the plane into it at full speed—similarly to the September 11, 2001, attacks in New York City and Washington, DC. The Kazakhstani authorities believe that the main source of threat is homegrown Salafi radicals who are particularly active in western and southern provinces but are also increasingly being captured in central Kazakhstan. An eventual connection to the Islamic State remains a cause for concern, which warrants further investigation. Meanwhile, the full-blown economic crisis the oil-rich country has been facing since mid-2014 only contributes to the radicalization of many unemployed, poorly educated youths.
In contrast, the political situation looks much more predictable in both Turkmenistan and Tajikistan, whose leaders have been gradually tightening their grip on power. In the former, President Gurbanguly Berdimuhamedov, 59, is already preparing for the next presidential election, due in February 2017. This electoral contest will, no doubt, end in a landslide victory for him—just like in 2007 and, again, in 2012. In September 2016, the Council of Elders, a consultative body under the presidency, approved a new constitution that extends the president's term in office from five to seven years and lifts the age limit (70) on future candidates. Earlier this year, Tajikistani President Emomali Rahmon's constitutional amendments had won a nationwide referendum, thus enabling the incumbent to stay in power for an unlimited number of terms while allowing his elder son, Rustam, to run for president any time after 2017. In fact, Tajikistan's revised constitution has reduced the minimum age limit from 35 to 30 years old. One more novelty is the permanent ban on faith-based political groups, which has meant the effective outlawing of the Islamic Renaissance Party, heretofore the principal opposition force.
Yet, this stability is nothing but an optical illusion because both countries are facing a unique set of structural difficulties. Turkmenistan's hydrocarbon-dependent economy has been hard-hit by a decline in the oil price since 2014; whereas Tajikistan is saddled with a combination of economic and security challenges. In late October 2016, almost 90 percent of Tajikistan's territory was left without electricity following a major outage, highlighting the dire lack of investments into local power generation. At the same time, chronic poverty and high unemployment are widely deemed to be key factors behind the massive departure of hundreds if not thousands of young Tajikistanis for Syria and Iraq, where they join the Islamic State and other terrorist groups. Their potential return is a real headache for the Rahmon regime, whose constitutional authoritarianism is seriously challenged by the harsh socioeconomic reality.
Neighboring Kyrgyzstan, meanwhile, is potentially facing even more volatile political shifts as the country prepares for a constitutional referendum on December 11. Voters are being asked whether or not to endow the prime minister with wider authority over the cabinet and regional administrations; however, this is a country where heads of government rarely last for more than two years. The previous prime minister, Temir Sariyev, resigned in April 2016, after accusations of graft and favoritism concerning the construction of a strategic highway. His successor, Sooronbay Jeenbekov, is now also facing the prospect of resignation given that the ruling coalition, in which the presidential Social-Democratic Party (SDPK) had been playing first fiddle, expectedly collapsed on October 24. All in all, Central Asia's political ground is shifting fast, for better or for worse.