Strategic Assessment: Security Concerns Dominate South Caucasus, While Regional Governments Consolidate Power
Publication: Eurasia Daily Monitor Volume: 13 Issue: 177
By: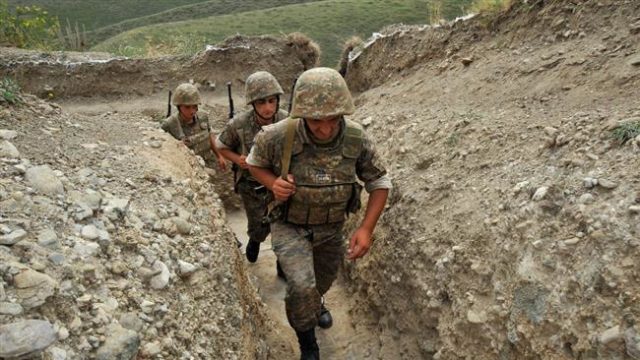 The following political landscape piece is a part of Eurasia Daily Monitor's special quarterly series of strategic assessments of developments across Eurasia. These pieces examine recent important developments and trends in the region, particularly since this past summer, and anticipate where those trend lines may lead over the coming months.
Security concerns have been dominating the agenda of governments in the South Caucasus since summer 2016, particularly shaped by expectations regarding the Karabakh conflict. The April "four-day war" revitalized negotiations between Azerbaijan and Armenia, although these remained limited in depth. Other key developments in the region over the past several months have included the meeting between the presidents of Russia, Iran, and Azerbaijan; regional countries' reflections on the North Atlantic Treaty Organization's (NATO) Warsaw Summit; and on the domestic level, parliamentary elections in Georgia and the constitutional referendum in Azerbaijan.
Looking at the Karabakh conflict, the intensification of high-level negotiations saw Vladimir Putin host Azerbaijan and Armenia in St. Petersburg, on June 20, 2016. At the time, observers assumed that Russian Foreign Minister Sergei Lavrov, who played the role of background facilitator since mid-2015, must have made some progress in narrowing the scope of disagreement between the conflicting sides. However, at the aforementioned St. Petersburg meeting, it was clear that Moscow's plan for Armenian forces to de-occupy the five regions surrounding Karabakh will not be easy to be achieve. Azerbaijan's assumption that Russia can ensure Armenia's agreement and compliance is not as realistic as it once was.
The Armenian public and political establishment began to question Russia's "strategic ally status" after the April war, attributing their losses to Moscow's weapons sales to Baku. This stance reflected a lack of public trust in the Yerevan government, which escalated in July, when a small-scale hostage crisis became a larger anti-government protest (Al-Jazeera, July 21). Significantly, the anti-government demonstration was influenced by the developments in Karabakh. Ultimately, the confrontation resulted in the resignation of Prime Minister Hovik Abrahamyan in September, to be replaced by Karen Karapetyan. The harsh public rhetoric against any concessions on Karabakh influenced the calculations of President Serzh Sargsyan, who must worry about losing political capital at home.
Meanwhile, Moscow has been further increasing its influence over Armenia in other ways. Illustratively, it extended a $200 million loan to its South Caucasus ally to finance deliveries of new weapons. In September, Armenia celebrated its 25th year of independence by showcasing new Russian-made Iskander theater ballistic missiles in a military parade, along with other advanced offensive weapons. Officials also announced work to modernize dozens of Armenian T-72 battle tanks as part of a joint program with Russia (Izvestia, October 27). In delivering the short-range ballistic missiles, Russia went far beyond expectations. Armenia's acquisition of the Iskanders led to discussions about type (range). It was later revealed by the Armenian Ministry of Defense that Yerevan was now in possession of the "M" version, with a range of 500 km (News.am, October 21). This means that the ballistic missile can reach any location in Azerbaijan—a posture that Baku considers not deterrence but escalation. As such, Armenia's possession of Iskanders serves to intensify the arms race with Azerbaijan, which will seek counter-measures. Although there have not been radical changes in the military balance in terms of Armenia's weapons capabilities, this development demonstrates the Janus-faced approach of Russia: playing a role in conflict resolution at the same time as it arms the two opposing sides to an increasingly devastating potential.
The implications of these developments came with Putin's statement in August that Russia can be the guarantor if "Azerbaijan and Armenia will be able to reach a compromise settlement of the existing conflict" (Vestnik Kavkaza, August 10). In the short term, Moscow's brinkmanship will not lead to a significance change of pace in the negotiations. However, Russia will probably play a role in preventing future hostilities from turning into larger-scale violent clashes as in April.
Unresolved concerns over the Karabakh peace process were not an obstacle to the high-level meeting, in early August, of the presidents of Russia, Azerbaijan and Iran, however. In this newly set up trilateral format, the parties discussed the North-South transport corridor, which will link up several heretofore separate sections of railway line in order to create a single transport corridor from Iran to Azerbaijan and Russia. The economic significance of the project for Azerbaijan cannot be underestimated. The North-South corridor could serve as an alternative route for international transport from Asia to Russia and Europe. From Baku's perspective, this would eliminate the potential opening of the Georgia–Abkhazia railway to link Iran and Russia via Armenia. Some observers perceive the planned North-South transit corridor as emblematic of a "geopolitical change" in the region. Aleksandr Dugin, the leader of the so-called "Eurasianist" movement and an unofficial Kremlin mouthpiece, sees the formation of an "axis of Russia, Iran and Azerbaijan." At the same time, this position does not hide the main aim of Russia, i.e. to eliminate "the West's freedom of maneuver and [the West's] ability to generate provocations […] in the region" (YouTube, August 8). Despite the importance of the August Russian-Azerbaijani-Iranian meeting's agenda, the agreed-upon trilateral railway project is not enough to crystalize a new and durable geopolitical axis in the region. This is due to these countries' ongoing disagreements on a number of issues, including the legal status of the Caspian Sea.
Another new trilateral format is also under consideration for the near future—an intergovernmental meeting including Turkey, Azerbaijan and Russia. But such an arrangement raises questions about whether a common agenda could actually be agreed upon, since these three actors currently have more disagreement than agreements. It will be interesting to watch as post-coup Ankara seeks to develop relations with Russia, especially regarding the signing of an agreement on the Turkish Stream natural gas pipeline. When Turkish-Russian relations grew frigid, following the downing of a Russian bomber over the Syrian-Turkish border, Ankara reversed its support for Turkish Stream. Ankara acknowledged at that point, that this project stood in opposition to the Trans-Anatolian Gas Pipeline (TANAP) and Trans-Adriatic Pipeline (TAP). These two gas transit lines, currently under development, comprise the Azerbaijani-championed Southern Gas Corridor. Although Baku has not publicly rebuked Turkish Stream as a direct competitor to the Southern Gas Corridor, Azerbaijan is by no means happy that Turkish Stream intends to export Russian gas to the same European and Turkish markets. Azerbaijan President Ilham Aliyev hinted at this in the Russian media: without mentioning Turkish Stream, he stated, "no other regional energy projects objectively compete with TAP, because we have already sold this gas to [consumers]" (RIA Novosti, October 18).
Another development that had an impact on the South Caucasus was NATO's summit in Warsaw (July 8–9). Though not crucially important for either Azerbaijan or Armenia, the Warsaw Summit declaration represented a significant achievement for the Georgian government in advance of the country's October 2016 parliamentary elections. Even before the summit, it became clear to authorities in Tbilisi that they were unlikely to receive a Membership Action Plan (MAP) in Warsaw. Nevertheless, the summit concluded by offering Tbilisi a substantial package of security-related cooperation measures, including enhanced joint military training and closer defense capacity building (including via the NATO-Georgian Joint Training Center, located in Krtsanisi). Georgia also reached bilateral defense-sector deals with several important NATO members, particularly the United States and France (see EDM, August 1).
Ahead of the October elections, some pro-Western Georgian politicians publicly offered an unorthodox means for the country to eventually join NATO. In particular, Republican Party leader David Usupashvili suggested "hosting a US or other NATO member country's military base, until the country becomes a full member" (Dfwatch.net, 7 September). The possibility of either NATO or the US agreeing to this proposal is questionable; many Alliance members remain highly concerned about not antagonizing Russia. The Republican Party, which was the strongest pro-Western faction within the ruling Georgian Dream coalition and a strong proponent of NATO integration, is no longer inside the government; and none of its members were elected to the national legislature in October.
Over the past several months, the authorities in all three South Caucasus countries succeeded in further consolidating their power—albeit in different ways. Armenia's cabinet reshuffle in September and the Georgian parliamentary elections have strengthened both previously ruling governments. Similarly, the constitutional referendum in Azerbaijan (September 26) has increased the power of the presidency. The newly adopted amendments included extending the presidential term from five to seven years as well as the introduction of the position of the vice president. The person ultimately appointed to this new position will be the key to understanding the design and purpose of Azerbaijan's constitutional changes. Though more secure in power, it remains to be seen how these three countries' governments will continue to weather both external shocks to their authority as well as domestic challenges to their rule.