Challenges Are Mounting for Fragile Belarusian Statehood
Publication: Eurasia Daily Monitor Volume: 19 Issue: 167
By: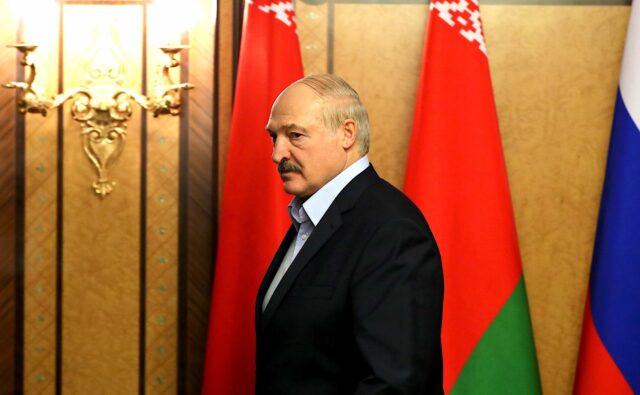 Dmitry Gurnevich of Radio Free Europe/Radio Liberty (RFE/RL) analyzed the biographies of Belarus's top-ranking military officers and concluded that many of them were either born in Russia, graduated from Russian military academies, or both (Svaboda, November 3). Specifically, out of the nine top military leaders, only two were born in Belarus.
Current Belarusian Minister of Defense Victor Khrenin is one such Belarusian native, but he moved to Russia's Far East when he was 2 years old and attended a military academy in the city of Omsk in Western Siberia. The other, Viktor Gulevich, is chief of the General Staff of the Belarusian Armed Forces. He was educated in Moscow and served both in East Germany and the Soviet Union's Transcaucasus Military District. Of the remaining seven military leaders, four were born in Russia, one in Crimea, one in Georgia and one in Hungary, born into a family with a legacy of Soviet military service.
Valery Karbalevich, also of RFE/RL, attributes the preponderance of high-ranking Belarusian military officers not being born in the country to several factors. These include what he calls the "janissary phenomenon," whereby military officials without roots in their current country of service are more committed to that country's ruler than to the country itself, as well as these officers' constitutionally guaranteed inability to run for president due to being born outside Belarus. A brief analysis of these officers' statements regarding the annexation of Crimea and Russia's current "special military operation" display greater loyalty to Russia than to Belarusian President Alyaksandr Lukashenka (Svaboda, November 3).
In all fairness though, Lukashenka is also perceived as doing Russia's bidding with increasing passion. For example, on October 28, at the extraordinary session of the Collective Security Treaty Organization (CSTO)—conducted via videoconference—Lukashenka yelled at Armenian President Nikol Pashinyan in response to his appeal to help Yerevan sustain its territorial integrity following the Azerbaijani artillery attacks on several Armenian towns in mid-September 2022 (YouTube, October 28). Azerbaijan, predictably, denied the unprovoked nature of these attacks (Mind.ua, September 16).
The gist of Lukashenka's emotional speech was the rejection of the idea that, since Azerbaijan is not a member of the CSTO, whereas Armenia is, the former ought to be treated as a hostile nation (YouTube, October 28). Also, he placed the recent conflagration between the two countries in the South Caucasus in the context of the West's alleged attempt to ensure that Russia's entire perimeter is on fire, arguing that by undoing Moscow's diminished role in resolving the Armenian-Azerbaijani conflict, regional peace was at stake too.
In 2015, Lukashenka famously denied Moscow's request to establish a Russian airbase in Belarus, and he has insisted on the lack of necessity for such infrastructure ever since. However, developments around one of two joint Russian-Belarusian combat training centers in Ziabrovka, Gomel Oblast, in Belarus suggest that the center may have begun functioning as a de facto Russian airbase as Belarusian law enforcement is reportedly not welcome at the facility. Currently, legal documentation is being compiled for such combat training centers, and it remains to be seen which of the two countries will reserve primary jurisdiction over such centers (Gazetaby, November 1).
Maxim Samorukov of the Carnegie Endowment for International Peace offered a blistering analysis of Minsk's sovereignty concessions to the Kremlin. For example, ever since Belarusian refineries lost access to the European and Ukrainian markets, they have only been able to sell refined oil to Russia. Although Moscow finally agreed to extend the damper to Belarus's refineries starting next year—that is, the Kremlin agreed to put them on a level playing field with Russian refineries—"the price of its consent was high. Belarus had to sign a new tax agreement with Russia, obliging it to coordinate changes in indirect taxes and excise duties with Moscow."
As for Belarusian potassium, until recently accounting for 15 percent of the global output, it now can only be exported via Russian ports. Moreover, while "Russia secured sanctions relief for Russian fertilizers in return for unblocking the export of Ukrainian grain through the Black Sea, the deal made no mention of Belarusian producers still saddled with the full pack of Western restrictions." Samorukov's overarching conclusion is that Belarusian mid- and high-level officials are now deprived of their usual rents. This, in turn, opens their patriotism to a test they may not be able to pass, particularly considering that many of them do not have a clear understanding of what sets them apart from Russians; thus, such a line of reasoning makes formally joining Russia more appealing (Carnegieendowment.org, November 3).
Viewed against the backdrop of these threats to sovereignty, developments within the Belarusian opposition seem to be unfolding in a parallel world. The most abundantly discussed issue by the opposition-minded media is the resignation of 28-year-old Tatyana Zaretskaya from her position as representative for finance and the economy in the "transition cabinet" headed by Svetlana Tikhanovskaya, the leader of the Belarusian opposition in exile. This cabinet was set up in August 2022 (see EDM, August 17).
It appears that Zaretskaya's resignation was motivated by threats that she and her loved ones had recently received. However, the opinion that quickly became dominant suggests that this young entrepreneur, who emigrated from Belarus to Estonia after graduating from Belarusian State University, was just a con artist, which cannot help but cast a shadow on Tikhanovskaya and her entourage (NashaNiva, November 3; Svaboda, November 4).
A somewhat more grounded analysis may be drawn from the discussion of the Belarusian opposition's prospects in the article, "Can 2020 Repeat Itself in Belarus?" (Svaboda, November 4). Both participants of that discussion, the Belarusian sociologist Ryhor Astapenia of Chatham House and Chair of the Belarusian Helsinki Committee (a human rights watchdog) Aleg Gulak, agreed that radicalization of the opposition's rhetoric only leads to more repression inside the country. Astapenia repeated his earlier thesis that the opposition's theories of political change in Belarus by way of Western sanctions and by way of setting up a government-in-exile "have no connection to reality." Gulak, for his part, suggested that Belarusians working for the regime do not have a sense of the niche offered to them by the opposition's position, and "this is our fault, not that of the regime itself." In summary, the current developments in and around Belarus leave little ground for optimism.