Changing Face of Governance in Dagestan or New Security Challenge for Moscow and the Region?
Publication: Eurasia Daily Monitor Volume: 14 Issue: 129
By: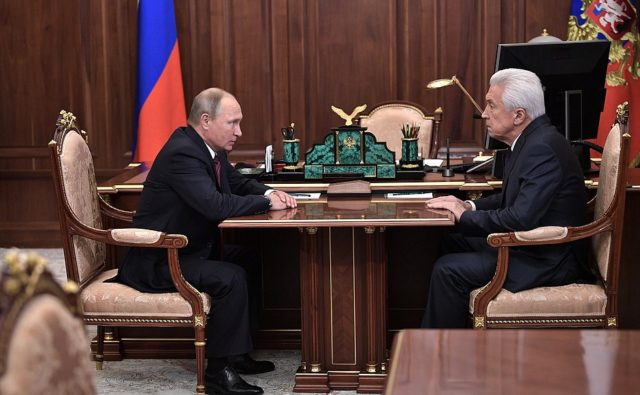 Russian President Vladimir Putin named Vladimir Vasilyev acting head of the Republic of Dagestan, on October 3, replacing Ramazan Abdulatipov, who had resigned a week earlier (Kremlin.ru, October 3). Until now, Vasiliyev served as the deputy head of the State Duma and was the parliamentary leader of the ruling United Russia party. Since the 2000s, the Kremlin has habitually replaced the heads of Russian regions just before or after elections (the upcoming presidential election is scheduled for March 2018). Yet, Dagestan's strategic geographic location, multi-ethnic society, clan system, and the presence of radical religious movements there heavily complicates the issue for Moscow and for the broader Caucasus region. Moreover, since the 1940s until Vasilyev's appointment, the top post in Dagestan had never been held by a non-representative of a local ethnic group or by a non-Muslim.
Although Abdulatipov linked his resignation to his advanced age, he later alluded to "people in Moscow" sometimes imposing "not very popular decisions on the president" (Budkav.ru, September 28). Most probably, his low approval rating, numerous conflicts with local clans and continued high levels of corruption in Dagestan contributed to his replacement.
After Abdulatibov resigned on September 27, tensions between local political and oligarchic groups for the vacant position grew (Govorit Moskva, September 27). Several factions in Moscow also wanted to gain the vacant post for their protégés. Meanwhile, the delay in the new appointment compounded the uncertain situation (Tvrain.ru, October 3). A number of candidate names began appearing in the media (RBC, September 27). But ultimately, Putin's nominee was unexpected (Kremlin.ru, October 3). The decision to go with Vasiliyev was attributed to Putin's distrust of local Dagestani elites (Kavpolit.com, Kavkazr.com, October 4). The Kremlin may have focused on Vasilyev in order to try to establish some sort of equilibrium among local groups in Dagestan. The new acting head has no strong ties to any ethnic group or clan in the republic and this facet might help him to maneuver between those local groups. However, the success of his governance will directly hinge on how he manages his relations with these groups. This will clearly be a difficult political task in a Russian region as multi-ethnic and clan-dominated as Dagestan. On the other hand, the nomination of Vasilyev might mean Moscow is planning to further ramp up its anti-terrorist efforts in Dagestan. The North Caucasus republic's large unemployed young population and persistent economic problems mean there is a large pool of potential recruits for radical Islamist and militant groups to draw from. Vasiliyev who has professional experience in security and anti-terrorism efforts might be tasked with prioritizing terrorism prevention above all other governing tasks (President.e-dag.ru, Riaderbent.ru, October 7).
Earlier this year, the Russian authorities officially confirmed that more than 1,000 Dagestanis have joined the ranks of the Islamic State in the Middle East (Interfax, January 31). Although the number of terrorist attacks decreased during Abdulatipov's term as republic head, most likely this was mainly thanks to many of those local radicals traveling to Syria. But after the Islamic State is entirely defeated in Iraq and Syria, many of those fighters might return to Russia, which could trigger a hazardous situation in Dagestan (see EDM, January 29, 2015). Such developments might threaten security in the South Caucasus, too. A number of ethnic groups in Dagestan straddle international border areas with Azerbaijan and Georgia. As a result, an increase in militant activity in Dagestan could easily leap across state boundaries, as has happened before. Indeed, Azerbaijan and Russia have specifically established cooperation in anti-terrorism and border security. Although the full demarcation of the state border between Azerbaijan and Russia is yet to be completed, cooperation between the two country's border services is already in place (Fsb.ru; Dsx.gov.az, August 12, 2017; 1news.az, July 28, 2014). Moreover, Russia and Azerbaijan's security organizations cooperate in the fight against terrorism (Haqqin.az, January 18, 2016).
Azerbaijan has strong historical, cultural and economic relations with Dagestan. An ethnic-Azerbaijani population exists in Dagestan, and various communities of Dagestani ethnic groups reside in Azerbaijan. Even before the establishment of the Dagestan Autonomous Soviet Socialist Republic (ASSR) in 1921, mutual relations between Dagestan's and Azerbaijan's elites and peoples already existed. Later, between 1942 and 1948, Aziz Aliyev, the grandfather of Azerbaijan's incumbent president, Ilham Aliyev, served as the first secretary of the Dagestan Regional Committee of the Communist Party. Since 1991, relations between the governments of the two republics have played an essential role in developing bilateral affairs. Although Baku did not welcome Abdulatipov's participation in the so called "Union of Billionaires," which was established in Russia to influence the 2013 presidential election in Azerbaijan, relations between the Azerbaijani government and Abdulatipov's administration were normalized in subsequent years (Kavkazsky Uzel, November 22, 2012; Sputnik.az, December 26, 2016). The appointment of a new head of Dagestan and whatever his attitude toward the Azerbaijani minority in the republic turns out to be are obviously important issues for Baku. However, Moscow will almost certainly continue to play a leading role in shaping future relations between Azerbaijan and Dagestan.
Another issue with strategic importance for the Russian government in Dagestan is the realization of the Avar–Kakheti road project, linking Dagestan to eastern Georgia (see EDM, July 27). Although Georgian officials refuse this project, most likely Russia will continue to press Tbilisi for realization of the Avar–Kakheti highway (Apsny.ge, July 17). Obviously, the new head of Dagestan can be expected to support Moscow in its efforts to achieve this goal.
If Vasilyev fails to pacify tensions among Dagestan's clans and cannot normalize the economic conditions in the republic, the situation there will continue to deteriorate. The implications of this could trigger security threats not only in Dagestan, but also across the wider region—both north and south of the Caucasus Mountains. Vasilyev can always be replaced. But in fact, this outsider may have been chosen precisely as a temporary place holder, to be supplanted by a native Dagestani candidate after some period. Whatever the Kremlin ultimately decides to do, clearly a new political experiment has begun in one of the most volatile regions in Russia. And the results—positive or negative—could impact the security situation far beyond Dagestan's borders.