CHENEY VISIT SPOTLIGHTS KAZAKHSTAN'S PIVOTAL ROLE
Publication: Eurasia Daily Monitor Volume: 3 Issue: 89
By: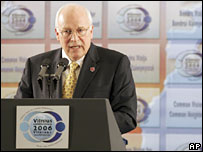 U.S. Vice President Richard Cheney's May 5-6 visit to Astana — and an overlapping visit by European Union Energy Commissioner Andris Piebalgs there — achieved a long-overdue rebalancing of Western policy priorities regarding Kazakhstan and, by implication, the region as a whole. At the joint news conference with Kazakh President Nursultan Nazarbayev, Cheney described Kazakhstan as a "key strategic partner of the United States" in terms of energy supply projects and anti-terrorism efforts.
Cheney's visit increased the impetus toward the creation of a trans-Caspian oil transport system that would enable Kazakhstan to export its oil through the Baku-Tbilisi-Ceyhan pipeline. Discussions on that project had marked time for several years, largely because of Russia's monopolization of oil transit from Kazakhstan. U.S. Energy Secretary Samuel Bodman urged Nazarbayev in Astana in March to expedite the signing of the relevant agreements on the trans-Caspian project (see EDM, March 16). On the second day of Cheney's Astana visit, Kazakh Prime Minister Daniyal Akhmetov promptly announced in Baku that Kazakhstan is ready to sign those agreements next month.
Moreover, Cheney's visit jump-started discussions over a trans-Caspian gas pipeline from Kazakhstan via Azerbaijan, Georgia, and Turkey to Europe. That pipeline would follow the Baku-Tbilisi-Erzurum (Turkey), where two options are available: either to Greece and Italy, or to Bulgaria, Romania, Hungary, and Austria. The Kazakh energy and mineral resources minister, Baktykozha Izmukhambetov, announced at the conclusion of Cheney's visit that Kazakhstan intends to request the European Commission (the EU's executive arm) to undertake a technical and feasibility study for the construction of a trans-Caspian gas pipeline. Kazakhstan will discuss joining the gas project to Erzurum at an expanded meeting with the participation of European customers. If, however, Astana insists on Iran's participation in that meeting, the project might bog down in political complications.
Piebalgs also discussed the gas project on May 3-4 with Nazarbayev, conveying the interest of certain large European companies in gas supplies from Kazakhstan. The Baku-Tbilisi-Erzurum pipeline, with a projected capacity of up to 30 billion cubic meters, can combine gas volumes from Azerbaijan's Shah-Deniz offshore field (to which that pipeline is dedicated) with volumes from Kazakhstan. In addition, Piebalgs proposed that Kazakhstan speed up the signing of an agreement with the EU's Atomic Energy Community (Euratom) on deliveries of uranium from Kazakhstan.
Any trans-Caspian project would, however, be commercially limited without inputs from Turkmenistan. Politically, moreover, Kazakhstan would be better placed to withstand Russia's opposition to the project, if the other eastern Caspian country participates as well. As the Hudson Institute's Zeyno Baran remarked on this occasion: If the United States continues to balk at dealing with leaders of energy-producing countries because of democracy concerns, then "Soon there won't be any more democracies in the region to participate with. You can say all you want about how we will not take part in these great games, but Russia and China are taking part in them, and the United States risks losing out" (Western news agencies cited by Moscow Times, May 5).
On the anti-terrorism front, Cheney's visit highlighted Kazakhstan's contribution to American-led efforts in Afghanistan and Iraq. In the latter country, Kazakh military engineers and sappers form one of the exceedingly few units from predominantly Muslim countries (the other such contributing country is Azerbaijan). From October 2001 through April 2006, more that 3,000 flights of the United States and its NATO allies passed through Kazakhstan's air space on missions in Central Asia and Afghanistan, and 360 planes made emergency or refueling stops at two airfields made available by Kazakhstan for those purposes. In September this year, Kazakhstan will host the Steppe Eagle 2006 international military exercise with the participation of the United States, Britain, and Turkey under NATO's Partnership for Peace program.
In Astana, Cheney stated that the United States favors a diplomatic solution to the Iran nuclear problem. He held up Kazakhstan as an outstanding example for Iran to follow in this regard: Following the Soviet Union's breakup, Kazakhstan renounced the inventory of nuclear weapons and infrastructure situated on its territory and fully cooperated with international organizations, Russia, and the United States in ridding the country of nuclear weapons components and materials.
(Khabar news agency and Television, Interfax, May 5, 6)