China and Pakistan: Strains in the All-Weather Partnership?
Publication: China Brief Volume: 22 Issue: 3
By: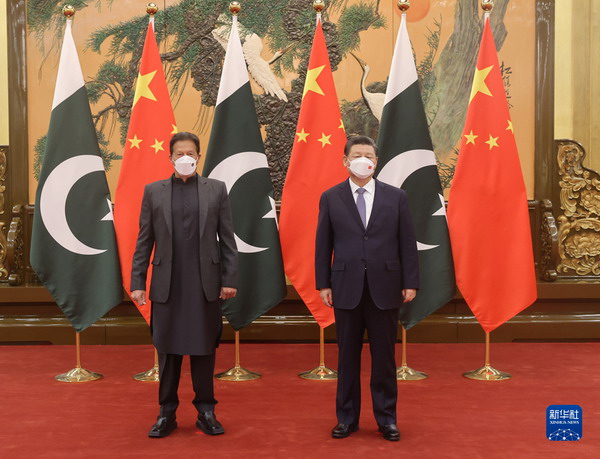 Introduction
China and Pakistan have formally launched Phase II of the China Pakistan Economic Corridor (CPEC), a flagship venture in China's ambitious Belt and Road Initiative (BRI). During Pakistani Prime Minister Imran Khan's visit to Beijing on February 3-6 for the Winter Olympics, the two sides signed a Framework Agreement on Industrial Cooperation to kick off the second phase of CPEC, which will focus on the development and industrialization of special economic zones (SEZs) (Pakistan Today, February 4). The joint statement issued at the end of Khan's visit noted that "the two sides signed or concluded a number of agreements / MoUs, covering bilateral cooperation in areas of economic and technical, industry, investment, infrastructure, space, vaccine, digitalization, standardization, disaster management, culture, sports, and vocational education" (for the full text of the China-Pakistan joint statement see People's Republic of China, Ministry of Foreign Affairs, February 6).
According to Pakistan's Special Assistant to the Prime Minister (SAPM) on CPEC Affairs Khalid Mansoor, CPEC's second phase will attract multi-billion dollar investments to Pakistan. Representatives of around 500 Chinese companies met with Khan in Beijing, and per the Prime Minister's remarks to Pakistani media following the visit, expressed interest in investing in industry, agriculture, information technology, infrastructure, housing and construction, mining and oil refining (Business Recorder, February 8). The big question, however, is whether this ostensible interest from Chinese businesses will translate into hard cash commitments. China is concerned over the deteriorating security situation in Pakistan. In the run-up to Khan's visit, Pakistani militants carried out several major attacks in the country. On January 17, the Tehreek-e-Taliban (TTP), also known as Pakistani Taliban, opened fire on a security checkpoint in Islamabad (Dawn, January 19). A few days later, the newly formed Baluch Nationalist Army (BNA) carried out a bomb attack in a busy market in Lahore (Express Tribune, January 20). Hours before Khan left for China, Baluch militants struck again, this time attacking security forces' camps in Panjgur and Naushki in  Baluchistan province in southwestern Pakistan (Dawn, February 2). Then on February 5, the TTP killed five Frontier Corps personnel  at a security checkpoint in Pakistan's Khyber Pakhtunkhwa province (Dawn, February 7).
Last year, Pakistan suffered 207 terrorist attacks, a 42% increase over 2020, according to a study by the Pakistan Institute of Peace Studies, an independent think-tank based in Islamabad. Fatalities from terror attacks increased by 51% over the previous year. [1] Worryingly for Beijing, Pakistani militant groups have increasingly threatened Chinese nationals. Four of the attacks in 2021 targeted Chinese nationals and at least 17 Chinese workers were killed in these attacks. As China and Pakistan move into Phase II of CPEC, the safety of Chinese projects and personnel in Pakistan will be a key concern. 
Attacks on Chinese Nationals
In August 2021, the Chinese Embassy in Islamabad described the security situation in Pakistan as "severe." This assessment was prompted by "several terrorist attacks in succession" on Chinese nationals in the country.[2] On March 9, a Chinese national was injured in a "targeted attack" by the Baluchistan Liberation Front in Karachi (The News, March 9, 2021). The TTP carried out a car bomb attack at the Serena Hotel in Quetta, Baluchistan on April 21 targeting the Chinese ambassador to Pakistan Nong Rong and other Chinese officials staying in the hotel (Dawn, April 23, 2021). Then, on July 14, a bus carrying 30 workers to the Dasu hydropower plant, a CPEC project in the Upper Kohistan district of Khyber Pakhtunkhwa, was attacked, killing 13 people including nine Chinese nationals. No group claimed responsibility, but Chinese sources identified the TTP and the East Turkistan Islamic Movement (ETIM)- a purported Uighur separatist group, as possible culprits (Global Times, July 16, 2021). Five weeks later, a motorcade carrying Chinese personnel working at the East Bay Expressway project in Gwadar was hit by a suicide bomber and two Chinese workers were injured. The Baluch Liberation Army (BLA) claimed credit for the attack (Dawn, July 29, 2021).
Heightened Chinese Concern
Attacks targeting CPEC and Chinese nationals in Pakistan are not new (Terrorism Monitor, February 8, 2018). However, previous strikes on Chinese interests have not been as deadly as those of the past year.  In previous years, the main threat to Chinese interests in Southwest Pakistan was posed by Baluch militants, who are strongly opposed to CPEC. While Baluch militant groups continued to target Chinese nationals and projects in 2021, the TTP also emerged as a serious threat to CPEC.
A TTP faction killed a Chinese national in Peshawar in 2012, but thereafter, the group refrained from targeting Chinese workers or projects  (Express Tribune, March 2, 2012).  However, the TTP changed course in April 2021, when it targeted the Chinese ambassador in Quetta. The Quetta attack signaled that the TTP has shifted back to targeting China. The group can be expected to step up attacks on Chinese nationals and CPEC projects as a way to undermine the Pakistani state and economy (Terrorism Monitor, May 7, 2021).
In the past, Uyghur fighters were known to be sheltering in TTP bases in Khyber-Pakhtunkhwa (Dawn, September 2, 2015). Now they appear to be collaborating with the TTP to target CPEC projects such as the Dasu hydropower construction. The TTP is also said to have collaborated with Baluch militants to carry out the Quetta attack (Terrorism Monitor, May 7, 2021). Tactical ties between a resurgent TTP (especially in the context of the support it is likely to be getting from the Taliban in Afghanistan) and Baluch groups would put CPEC projects in the crosshairs of an array of formidable militant and terror groups.
While not new, China's concern over the security situation in Pakistan was expressed more strongly and openly in 2021. Differences between Pakistani and Chinese officials played out in the media following the July 14 attack on the Dasu hydropower project in Khyber Pakhtunkhwa. While Pakistani officials described the incident as an accident caused by a gas leak, Chinese media reports asserted that it was terrorism (Gandhara, July 14, 2021). China sent officials to Pakistan to probe the attack (Times of India, July 18, 2021). Work on the project was suspended and China Gezhouba Group Company (CGGC), which was undertaking the Dasu project, terminated the employment of Pakistani workers. The Chinese government also demanded restitution payments of $38 million to the kin of those killed as a condition for the project's resumption (Business Standard, October 16, 2021). Senior Chinese officials told their Pakistani counterparts at the 10th CPEC Joint Cooperation Committee (JCC) meeting on September 23 that high-level development of CPEC projects needed "high-level" security guarantees (Global Times, September 23, 2021).
Chinese or Baluch Concerns?
For years, Beijing has pressed Islamabad on the question of securing Chinese nationals and CPEC projects. Successive governments have heeded Chinese demands on security. In 2016, Pakistan set up a Special Security Division comprising 9,000 soldiers and 6,000 paramilitary personnel to secure CPEC projects (Dawn, August 12, 2016). Baluchistan has been a major focus of these efforts. Security forces and checkpoints are ubiquitous in the province and Gwadar, the site of a deep-sea port that is the gateway to CPEC, is heavily fortified.
In November-December last year, tens of thousands of Baluch women and men participated in mass sit-ins  in Gwadar (see China Brief, January 28)  . While they did not protest against CPEC per se, they put forward demands reflecting their deep anger with being excluded from the benefits of CPEC's development that have long been promised by Islamabad. Among the demonstrators' grievances were "unnecessary check posts on major roads." In order to defuse the protest, Prime Minister Khan acceded to protesters' demands, including the removal of checkpoints (Dawn, December 6, 2021).  If, as expected, the Chinese press for more security forces and checkpoints in Gwadar, where they have invested many millions of dollars and propose to bring in around 500,000 Chinese nationals to work on projects, whose demand will Khan heed? That of China or the Baluch?
Delays in Project Implementation
Delays in CPEC project implementation are another issue of concern in China-Pakistan relations. "The Chinese are not happy with the current progress of CPEC projects," the Chairman of Pakistan's Senate Standing Committee on Planning, Development, and Special Initiatives Committee, Saleem H Mandviwala said last September (Express Tribune, September 17, 2021). Chinese officials complain that bureaucratic red tape is delaying decisions with matters that require a month to be finalized taking around four months. Additionally, basic amenities are lacking at project sites. For example, the Rashakai SEZ located in Khyber Pakhtunkhwa was not provided with electricity or water, which delayed the start of the project (Karachi Chamber of Commerce and Industry, September 14, 2019).
A major reason for CPEC's recent slowdown has been the COVID-19 pandemic, which has had "a particularly adverse impact" on the construction of SEZs in Pakistan (China Brief, July 29, 2020).  "The lack of a uniform policy framework" is also to blame for "delay in CPEC projects, particularly in the power sector," observed noted Pakistani journalist Syed Fazl-e-Haider. [3]
CPEC projects have been caught in Pakistan's domestic politics too. When in opposition, the ruling Pakistan Tehreek-e-Insaaf (PTI) opposed CPEC. The PTI "stalled several projects" and accused the then ruling Pakistan Muslim League-Nawaz (PML-N) of corruption. Upon coming to power in 2018, Prime Minister Imran Khan in a bid to "unearth corruption by PML-N politicians sought to audit and review projects, several of which were overpriced." These audit processes delayed several projects. However, when Khan sought to accelerate projects, the PML-N provincial government in Punjab has stood in his way, according to a Pakistani entrepreneur with interests in the Faisalabad SEZ. [4] In particular, CPEC agriculture projects have experienced lengthy delays (The News, August 31, 2021).
Declining Investment, Difficult Terms
Many in Pakistan also have concerns with the present situation. Chinese investment in Pakistan is declining. According to the State Bank of Pakistan, Chinese Foreign Direct Investment in July-October 2021 was just $116 million, compared with $399 million in the same period the previous year (The News, November 18, 2021). The COVID-19 pandemic, which has hit economies worldwide is partly to blame. Chinese overseas investment fell drastically in 2020, although the decline was somewhat less in BRI countries. While it fell by 70% in non-BRI countries between 2019 and 2020, Beijing's investment in BRI partners declined 54.5% in that period (Observer Research Foundation, September 3, 2021). China's pullback in Pakistan is also driven by political unrest, terrorism and violence as well as corruption, which deters Chinese companies from making investments in CPEC projects. [5]
China's reluctance to finance projects of crucial importance has evoked some resentment in Pakistan, Furthermore, Pakistan has not always unconditionally accepted China's investment terms. For example, China's conditions to finance the Diamer Bhasha Dam project included Chinese ownership of the project. Pakistani officials felt the conditions were "not doable and against our interests," concerns that culminated in the withdrawal of the CPEC framework in 2017 (Express Tribune, November 15, 2017). China is reportedly reluctant to finance the ML-1 railway project and has stalled approval for around four years. The two sides differ on the cost of the project. Pakistan pegs the project at US$ 6.8 billion, but China estimates it will cost between $9.2 billion and $9.5 billion (Global Times, November 29, 2021). Financing terms have been a source of differences as well with Pakistan favoring concessional loans from China at low-interest rates.
Upgrading the Karachi-Peshawar ML-1 line will modernize Pakistan's dilapidated rail network and is key to improving connectivity and trade. China is aware of the project's importance to Pakistan; its "seeming reluctance to finance the project is aimed at getting Pakistan to accept its terms," said the Pakistani entrepreneur interviewed by the author. [6] The joint statement issued after Khan's visit was silent on the ML-1 project.
Going Forward
Pakistan has taken several steps to revive Chinese investment interest. Chinese investors will not have to secure approvals from Pakistan to invest in the country. Instead, they will have to only agree to comply with Pakistani rules (Business Recorder, February 8). In order to mollify Beijing over attacks on Chinese personnel, Islamabad announced a payment of $11.6 million as "a goodwill gesture" to compensate Chinese victims of the attack on the Dasu project (Express Tribune, January 19).
As CPEC moves into its second phase, the Khan government will need to act robustly to improve the security situation in Pakistan. Beijing and Islamabad can be expected to press ahead with their military approach to securing CPEC. Both countries have conveyed "a loud and clear message" to the Taliban to sever ties with the TTP; and on the Taliban's suggestion, Pakistan even started talks with the TTP, which ended in failure in December. Since then, Pakistan has expedited its counterterrorism operations against the TTP, which was Beijing's preferred approach to begin with, said Haider. [7]
As in Khyber Pakhtunkhwa, the Pakistan government, contrary to its pledge to the leaders of the recent protests in Gwadar, will increase its military presence and activity in Baluchistan. This is bound to increase Baluch disaffection and fuel the anti-Pakistan/ China militancy underway there. China can expect more attacks on its nationals from the TTP, Baluch and other militant groups.
Pakistani leaders and officials often tout CPEC as a "game changer" and the initiative has several achievements to its credit. Energy projects have been successful in addressing Pakistan's severe power shortages, and road infrastructure in rural and urban Pakistan has also improved. However, CPEC projects are also benefitting Chinese banks, companies and labor. In Southwestern Pakistan, the people of Baluchistan have yet to gain from the promised 'development'. Indeed, the Baluch people have suffered on its account, whether due to the heavy military presence to secure CPEC projects, or the diversion of basic amenities like water to project sites.
Pakistan is the weaker partner in CPEC and is at a distinct disadvantage when it comes to negotiating project terms. However, it is in Islamabad's interests to press the Chinese to employ Pakistani workers on projects in Pakistan. This will not only address an important grievance of groups such as those of the Baluch, but will also contribute to the security of CPEC.
Dr. Sudha Ramachandran is an independent researcher and journalist based in Bangalore, India. She has written extensively on South Asian peace and conflict, political and security issues for The Diplomat, Asian Affairs, and the Jamestown Foundation's Terrorism Monitor and Militant Leadership Monitor. She can be contacted at sudha.ramachandran@live.in
Notes
[1] Pakistan Institute for Peace Studies, Pakistan Security Report 2021, Conflict and Peace Studies, volume 14, number 1, January-June 2022. https://www.pakpips.com/web/wp-content/uploads/2022/01/Sr2021FinalWithTitles.pdf
[2] Embassy of the People's Republic of China in the Islamic Republic of Pakistan, Statement by the Chinese Embassy in Pakistan on the Suicide Attack on the Gwadar Eastbay Expressway Project, August 20, 2021. https://www.mfa.gov.cn/ce/cepk/eng/zbgx/t1900950.htm
[3] Author's Interview. Pakistani journalist Syed Fazl-e-Haider, Lahore, January 16, 2022.
[4] Author's Interview, Pakistani entrepreneur with interests in the Faisalabad SEZ in the Punjab Province, Lahore, January 18, 2022.
[5] Ibid.
[6] Ibid.
[7] Author's Interview, Syed Fazl-e-Haider.