China, Belarus Deepen Ties
Publication: Eurasia Daily Monitor Volume: 12 Issue: 164
By: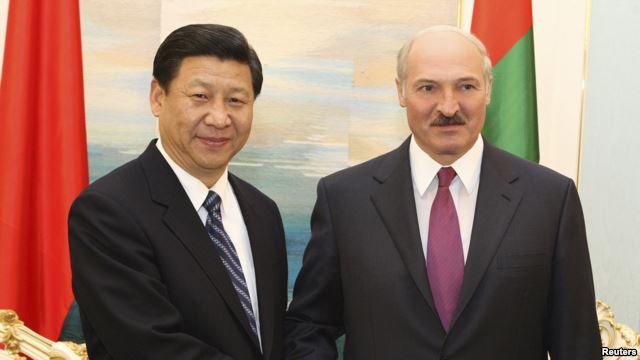 Two countries on opposite ends of Eurasia are drawing closer, courtesy of the skein of railways slowly snaking across this massive region in the form of an evolving "Iron Silk Road." While attending Chinese commemorations of the end of World War II in the Pacific, Belarus's President Alyaksandr Lukashenka held bilateral talks with his counterpart, Xi Jinping. The Belarusian leader expressed his gratitude for Chinese investments and loans directed toward major infrastructure projects in his country. The Chinese financial inflow comes at a difficult time for the Belarusian economy, which has been hard hit by a recent downturn (Ctv.by, September 2).
Since China and Belarus established diplomatic relations 23 years ago, bilateral trade has risen from $40 million to nearly $4 billion in 2014, a hundredfold increase (Cntv.cn, May 11). In July 2013, Presidents Xi and Lukashenka, jointly announced, in Beijing, that bilateral relations would be promoted to a comprehensive strategic partnership, taking bilateral ties into a new era. Two years later, at the invitation of President Lukashenka, President Xi paid a state visit to Belarus on May 10–12, the first by a Chinese head of state to Belarus in 14 years. Xi's visit resulted in more than 45 agreements and memorandums of cooperation worth a total of $3.5 billion. Additionally, China pledged to provide $7 billion in loans to Belarus, including $3 billion in low-interest loans. (BelaPAN, September 1).
In the latest sign of solidarity, on September 3, Belarusian servicemen took part in China's Victory Over Japan (VJ) parade in Beijing, alongside units from Russia, Kyrgyzstan, Mongolia, Tajikistan, Pakistan, Cuba, Mexico, Serbia and Egypt.(Interfax, September 3). At the invitation of the General Staff of China's People's Liberation Army (PLA), a Belarusian military delegation headed by Defense Minister Andrey Rawkow and including Deputy Defense Minister Aleh Belakonew, chief of the Armed Forces' General Staff, accompanied the Belarusian Armed Forces' honor guard company that participated in the parade (Vaiar, September 3).
While geography widely separates the pair, they in fact have common economic interests. For Belarus, its interest is access to Chinese funding and technology; for China, Belarus is both a transit country for reaching the lucrative common market of the European Union as well as a point of entry into the Russia-led Eurasian Economic Union (EEU), which became operational on January 1, 2015, and of which Belarus is a co-founding member.
Belarus, located in the eastern region of the East European Plain, borders Russia in the east and EU members Lithuania and Poland in the west. In the south, it connects with the Black Sea via Ukraine, making it an important Eurasian transport and logistics hub. With trans-regional railways, highways and oil pipelines, communication systems, waterway and air transport links, Belarus provides China with the westernmost connection to both the EEU and the EU. Consequently, this unique geographical location makes Belarus an essential partner for China in constructing its Silk Road Economic Belt, linking Asia and Europe, first enunciated by Xi in September 2013 (see China Brief, March 19, 2015).
China's interest in shipping high-value, low volume goods such as electronics via rail across Eurasia is explained by the fact that even though maritime transport is cheaper, the distance between the Far East and Western Europe through the Eurasian land bridge is 5,000 miles shorter than through the Suez Canal, 6,800 miles shorter than through the Panama Canal, and 9,300 miles shorter than around the Cape of Good Hope, making time a factor in transporting high-tech items such as computers—which, considering the fast pace of modern technological innovation, can quickly become obsolete.
China, accordingly, is investing in upgrading Belarus's transport infrastructure. Since 2010, China has provided $63.9 million in funding for the electrification of the main railway line leading southeast from Minsk toward the borders of Russia and Ukraine (Railway Gazette International, May 21)
On June 25, 2015, freight train service between China's northeastern port city of Yingkou and Belarus was launched, thus opening another new trade route between China and Europe. The train's cargo consisted of 50 containers of mechanical equipment worth $6 million destined for Tsentrolit, in Belarus, after a ten-day passage. Future Yingkou–Belarus trains will be dispatched once a week (Xinhua, June 25).
Belarus is interested in increasing its trade with China. At the 21st China Lanzhou Investment and Trade Fair, in northwest China's Gansu Province, Belarus was the fair's main guest of honor and was allocated a special exhibition area for its agricultural machinery and other high-tech equipment. Belarusian Deputy Prime Minister Anatoly Kalinin, who led a delegation of entrepreneurs and officials, said, "We hope international cargo trains, which depart from Lanzhou, can run to Belarus" (Xinhua, July 8).
Plans to harmonize the EEU with China's Silk Road Economic Belt have the potential to transform Eurasia. On September 4, speaking at the Eastern Economic Forum (EEF) in Vladivostok, Russian Deputy Foreign Minister Igor Morgulov observed, "The projects we are talking about today, namely projects intended for alignment of the Eurasian Economic Union (EEU) development and the Silk Road Economic Belt construction, are viewed as a large-scale and long-term strategic task that I believe will reshape the entire Eurasian region when implemented" (TASS, September 4).
China has become the fifth-largest trading partner of Belarus and its largest trading partner in Asia. Given the recent moribund economic performance of both Russia and the EEU, Belarusian interest in deeper relations with China can only grow. Before leaving for Beijing, on August 31, Lukashenka signed a presidential directive on the further development of relations with China in key areas, including high-level visits, regular exchanges of staff, and the implementation of the Silk Road Economic Belt project. China has the funding, Belarus has access: it is that simple.