The Logic of Lavrov's Baku Visit
Publication: Eurasia Daily Monitor Volume: 12 Issue: 164
By: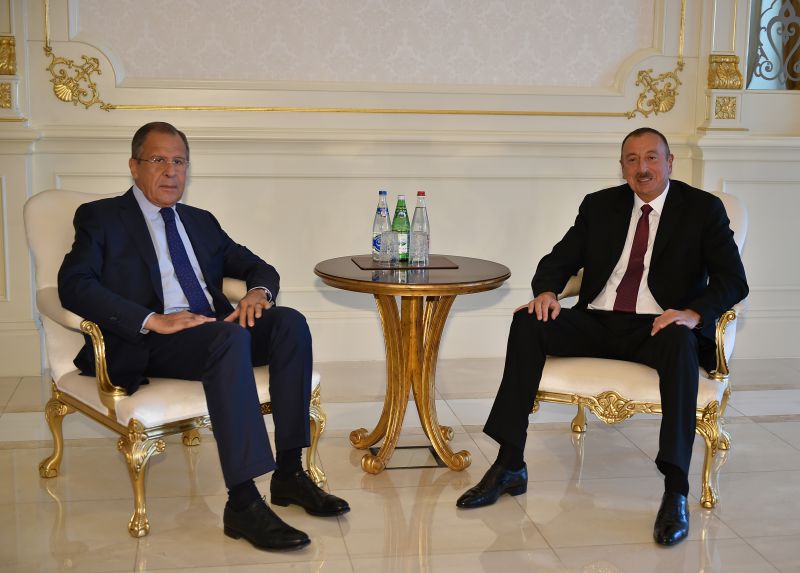 Russian Foreign Minister Sergei Lavrov's visit to Baku, on September 1, followed just a few days later by Armenian President Serzh Sargsyan's official visit to Moscow, have fueled ongoing speculation that Russia is conducting parallel consultations on the Karabakh conflict resolution process (see EDM, August 31). That said, it is unlikely that these recent visits focused on parallel peace-building consultations; on the contrary, during that same week, according to official claims by the Azerbaijani side, Armenia lost seven soldiers in clashes along the Line of Contact (Mod.gov.az, September 5). Moreover, both Armenia (September 3–6) and Azerbaijan (September 6–13) held the largest scale military exercises either country has seen in recent years.
Instead, the timing of Lavrov's visit seemed to reflect a clear indication of Moscow's desire for further military cooperation with Azerbaijan—particularly, following the invitation for Baku to participate in a military-technological exhibition in the Sverdlosk region of Russia. (Mid.ru, September 1). Several reasons exist behind this uptick in Moscow's interest in military cooperation with Baku. And they are present against the backdrop of the Azerbaijani Defense Minister Zakir Hasanov's visit to Moscow last month (August), as well as media speculation that the two countries were discussing Russian plans to build a new military radar station in Azerbaijan.
The primary reason for this growing attention is that under agreements signed in 2010, Russia will finalize its last armament supply shipment to Azerbaijan in 2017 (TASS, September 12, 2014). Moscow wants to accelerate negotiations on a new arms supply deal due to concerns that Baku might choose not to renew this agreement. Thus, a few days after Defense Minister Hasanov's visit to Moscow, the TV channel "Zvezda"—run by the Russian defense ministry—claimed that in 2017, Russia will construct a new radar station on Azerbaijani territory (Tvzvezda.ru, August 17). Baku and Moscow terminated the latter's lease of the Soviet-era Gabala Radar Station, located on Azerbaijani soil, in 2012. And under the 2014 decree of the Cabinet of Ministers, the Azerbaijani Ministry of Defense is no longer responsibility for the property. Hence, the necessary construction by Moscow of a new radar station in Azerbaijan will entail a significant financial burden on Russia, which does not seem feasible in the current economic climate. According to former Azerbaijani Defense Minister Safar Abiyev, when the Gabala Radar Station lease was terminated in 2012, Moscow had invested almost $1 billion into the facility's improvements, and annual rent and maintenance expenditures totaled around $50–60 million (WikiLeaks, March 19, 2009). Currently, neither Moscow's financial capabilities, nor Azerbaijan's political will seem sufficient for the construction of a new Russian-controlled radar station in the South Caucasus republic. The linking of this development to the hoped-for armament agreement, therefore, reveals Russia's apprehension regarding Baku's lessening dependence on Russian military armaments in the post-2017 period.
The other reason behind Russia's desire to deepen military cooperation with Azerbaijan relates to the current regional context—namely, the opening of a North Atlantic Treaty Organization (NATO) training center in Georgia, on August 27 (see EDM, September 8). While the question of how Azerbaijan might benefit from that training center remains open, Russia perceives another issue of concern. A month before the opening of the NATO training center in Georgia, Azerbaijan's defense ministry shared information about a meeting with the US ambassador, noting "the readiness of the Ministry of Defence of the Republic of Azerbaijan to continue military cooperation with [the] Pentagon and NATO and fully restore the confidence between our defence agencies" (Mod.gov.az, July 14). Unusually, this information was published both in Russian and English, which likely gave rise to the anxiety in Moscow. In the United States, two divergent views notably exist regarding Azerbaijan—the State Department's and the Pentagon's. For the latter, Azerbaijan's importance lies in Baku's contribution to US operations in Afghanistan as well as its unique geostrategic position in Iran's neighborhood. Now, both considerations have been weakened, especially after the signing of the nuclear deal with Tehran.
To recover its strategic importance, Azerbaijan may try to consider a different type of cooperation with NATO in particular. For a long time, Baku has sought a special place on the Alliance's list of priorities. Energy security seemed like a reasonable area of overlapping interests, and the NATO Energy Security Center of Excellence became touted as one possible avenue for this joint cooperation. The recent attacks by the Kurdistan Workers' Party (PKK) on the South Caucasus natural gas pipeline (Anadolu Agency, August 25), and Russia's repeated redrawing of the South Ossetian "border" whereby additional sections of the Baku-Supsa oil pipeline have come under Russian control (see EDM, July 20), have highlighted the importance of pipeline security in the region. Since 2006, NATO command has overseen pipeline security exercises among Azerbaijan, Georgia and Turkey. Russia may be afraid that NATO will try to upgrade this cooperation with Azerbaijan further. This could enable Azerbaijan's defense ministry to regain its importance in the eyes of NATO and the Pentagon. Indeed, the visit to the NATO Energy Security Center of Excellence, in early July, by a delegation from Azerbaijan's defense ministry, headed by Minister Hasanov himself, indicates the potential for such consultations between Baku and the North Atlantic Alliance (Enseccoe.org, July 2). At a minimum, it suggests that Baku is assessing this possibility. But Russia's early reaction is ominous. Through gossip like the new radar facility story circulated by Zvezda TV, Moscow is sending a warning message to authorities in Baku that even collaboration with a NATO Center of Excellence—an educational institution—is not acceptable. Moscow could see this as further NATO expansion in the South Caucasus, especially following the opening of the training center in Georgia.
Furthermore, Russia is afraid that Azerbaijan's dependence on Russian military armaments will be significantly reduced in the near future, with new competitors emerging in the region. This spring, Iran offered a military-defense cooperation agreement to Azerbaijan (Eurasianet.org, April 21). And privately, Turkey has long courted Baku's Ministry of Defense. In the last two years, with major joint military exercises conducted in Azerbaijan with Turkey, Ankara has decided to focus on the military-technological sphere (i.e., arms sales), which is the weakest area of bilateral cooperation with Azerbaijan. These offers from both Ankara and Tehran could, therefore, undermine Moscow's position in the future.
In sum, while Lavrov's visit agenda in Baku clearly addressed a multitude of issues—including the Karabakh conflict negotiations—in reality, there is little hope that Moscow is genuinely attempting to move the peace process along. The only real brokership role for Russia in the region seems to be in the area of weapons deals.