China Helping Russia on Northern Sea Route Now but Ready to Push Moscow Aside Later
Publication: Eurasia Daily Monitor Volume: 18 Issue: 73
By: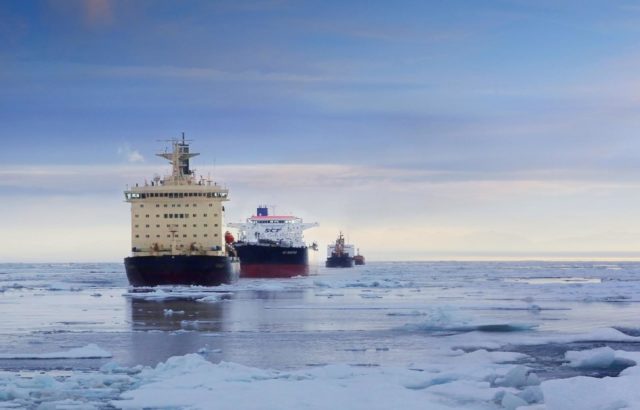 Russia's ever-closer economic cooperation with China may not end the way Moscow hopes. Instead of strengthening Russia as Moscow expects, it may put Beijing in a position to dominate its partner. Indeed, China's involvement with the Northern Sea Route (NSR), a prime concern of Russian President Vladimir Putin, suggests that whatever contribution to Russia's goals Beijing might make there in the short term could simultaneously set the stage for China to eventually elbow Russia aside even there. In that event, Beijing may establish "a Polar Silk Road," in which Russia will be reduced to a supporting role. This possibility has now become so real that it is sparking concerns not only in Russia but also in the West, which fears that a China-dominated NSR could put Beijing in a position to project power across the Arctic and challenge not just Russian interests but Western ones as well.
Russian worries that the short-term assistance China is providing on the Northern Sea Route may open the way for Beijing to dominate that increasingly ice-free passage in only a few years were highlighted again, at the end of April, by an article focusing on this issue as a whole in Sovershenno Sekretno (Sovershenno Sekretno, April 26). And this was reinforced by a discussion in the media of China's effort to gain control of ice breaker repair contracts in Russia (Kommersant, April 6; Murmansk.ru, April 21; The Barents Observer, April 26). The first sketches out just how large China's aspirations appear to be given Russia's inability to finance necessary construction along the NSR; and the second highlights how tight a squeeze Moscow already finds itself in regarding this Chinese role, given that the Russian authorities are trying to develop the maritime route on the cheap.
Moscow has long been concerned about China's role in the Arctic (see EDM, June 12, 2019 and September 3, 2019). That apprehension stems not only from the fact that global climate change is progressively leaving the NSR ice-free for more months of the year but also because the Russian government has acknowledged it lacks the money to build the necessary infrastructure or even the ships to service the route without assistance from foreign firms or governments (see EDM, December 6, 2018).
Over the last pandemic year, China has taken steps that have only added to Russia's anxiety. Vladimir Volgayev, a military analyst for the monthly Sovershenno Sekretno, says that two developments in recent months have come together in disturbing ways. On the one hand, Beijing has launched a pair of modern icebreakers of its own design, and it is currently constructing a third as well as numerous support ships. As a result, Chinese shippers will no longer have to rely on Russian icebreakers to accompany them in northern polar waters. That will save China money and make the Arctic route more attractive to it, but it will also reduce Russia's income and influence over what China does there. On the other hand—and this is by far the more disturbing Chinese initiative as far as Russia is concerned—Beijing has announced it will be building Chinese docks at Murmansk, Sabetta, Arkhangelsk, Tiksi and Uzden, Russian ports as yet too underdeveloped to handle large volumes of shipping in general or container traffic in particular (Sovershenno Sekretno, April 26).
Beijing's expanding interest in the NSR, Volgayev writes, reflects not only cost calculations but also the Chinese belief that Russian military infrastructure along that waterway has already made it safer than using the Suez Canal, which is part of a sea corridor surrounded by increasingly unstable countries. Yet the Chinese leadership is also interested in the route and eventual dominance of it for another reason. Currently, Russia uses the NSR almost exclusively for the shipment of bulk cargos of raw materials like oil and coal. But the Chinese are convinced, he says, that the route will eventually be dominated by container traffic and that they, not the Russians, will be positioned to dominate it if they build up the ports to handle those transit flows.
That this is China's calculation is only too obvious, the security expert contends; but he implies that any threat from Beijing is largely a problem for the future and that Moscow has the time to correct the situation (Sovershenno Sekretno, April 26). Nevertheless, separate talk of Chinese involvement in the strained Russian shipbuilding industry suggests that future is already here. Specifically, Beijing may be putting itself in a position to advance its Arctic interests by slowing down Russia's own ice breaker construction.
Last summer, the Russian Atomic Energy Agency (Rosatom), which oversees plans for building atomic-powered icebreakers, announced a competition for a contract to build a new floating dock to support that construction program. No Russian yard was willing to bid for it, because the amount Moscow was prepared to pay was too low for any to make a profit. Then, Rosatom was forced to open the bidding to foreign companies. Moscow initially awarded a Turkish firm with the contract; but recently a Chinese firm has challenged that award, saying that it had offered Moscow a better deal. Russia's Anti-Monopoly Service has stepped in and agreed to examine the Chinese claim. If China wins, it will become a major player in Russia's own shipbuilding sector; but even if it loses this round, it will have its foot in the door while at the same time delaying further the appearance of a new generation of Russian icebreakers (Kommersant, April 6; Murmansk.ru, April 21; The Barents Observer, April 26).
Russia is not the only country alarmed by China's growing role along the Northern Sea Route and the Arctic more generally. The United States is as well. At present, cooperation between Moscow and Beijing limits Washington's ability to affect either, a Russian analyst said two days ago (Nezavisimaya Gazeta, May 4). But in the future, Russia may be looking for allies other than China, given that Chinese expansion into the Arctic may increasingly appear to challenge both Russia's role there and even the latter's territorial integrity and sovereignty.