China Intensifies Maritime Surveillance Missions
Publication: China Brief Volume: 11 Issue: 10
By: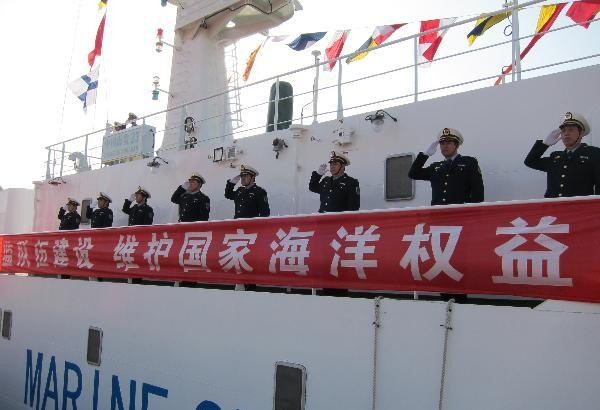 China is increasing its maritime surveillance missions and strengthening its capabilities to monitor vessels in areas that it considers Chinese waters. According to the 2010 China Marine Law Enforcement Bulletin recently published by the State Oceanic Administration (SOA), in 2010, the China Marine Surveillance (CMS) executed 188 marine missions covering 211,428 nautical miles, as well as 523 air flights covering 538,480 kilometers (km). The missions reportedly monitored 1,303 foreign vessels, 214 flights and 43 other targets (People's Daily, May 23). The CMS, which acts as the paramilitary maritime law enforcement agency of the SOA, is one of at least five major agencies tasked to execute China's maritime enforcement policy. The CMS's primary mission is to patrol China's exclusive economic zones (EEZs), which extend 200 nautical miles from the state's coast. The surge in the number of the CMS's missions, which is being enhanced by the agency's development of greater enforcement capabilities, reflects the growing profile of the CMS in maritime governance as China becomes increasingly assertive over regional territorial disputes.
According to CMS Deputy Director Sun Shuxian's estimation, more than 1,000 people will join the CMS staff by the end of 2011, increasing the total number to around 10,000. Furthermore, 12 inspection ships were added and six marine surveillance branches built, including the No. 10 branch of the CMS in Haikou, Hainan province, and a law enforcement branch for Xisha, Nansha and Zhongsha islands in 2010 (China Post, May 3). While China's maritime surveillance capability is generally inferior to that of Japan's, "this will change," according to Li Mingjiang. An assistant professor at the S. Rajaratnam School of International Studies, Li argues that, "Its [China's] latest move to add personnel and ships means that it is certain we will see China take a more active role and presence in the China seas and South China sea." "Starting from April last year, it has been covering every area that it has an interest in. Now it will be able to increase surveillance from, say, one or two trips every few months to surveillance on a daily basis," Li notes (Straits Time [Indonesia], May 3).
In October 2008, Sun declared that, "The [CMS] force will be upgraded to a reserve unit under the navy, a move, which will make it better armed during patrols … the current defensive strength of CMS is inadequate" (China Daily, October 20, 2008). The CMS currently has about 300 marine surveillance ships, including 30 ships rated over 1,000 tons, and 10 aircraft, including four helicopters. In the coming five years, another 36 inspection ships will reportedly join the surveillance fleet (China Military News, October 29, 2010; China Post, May 3). According to Wang Hanling, a maritime law specialist at the pseudo-government think tank Chinese Academy of Social Sciences, "The new ships (joining the fleet) can be interpreted as China's response to recent sea disputes" (China Daily, October 28, 2010). Indeed, in recent years the CMS has significantly stepped up patrols in both the East China Sea and also the South China Sea.
Ostensibly to increase the CMS's C4ISR (command, control, communications, computers, intelligence, surveillance and reconnaissance) capacity, the agency is making a concerted effort to acquire more high-tech platforms, mechanism and skills. For example, the new 3000-ton level surveillance ship, Haijin 83, is equipped with on-board helicopters, the latest satellite devices, and state-of-the-art engines. The People's Daily reported that the agency has been building new platforms with real time integration of space, air, sea, and coastal communications. These new "systems" would bolster the capabilities and assure interoperability of China's burgeoning maritime surveillance fleet. Indeed, the latest and most technologically advanced 1500-ton ocean surveillance ship, Haijin 84, was recently deployed to the CMS's South China Sea branch (Chinanews.com, May 8; People's Daily, May 23).
The CMS's increased missions and upgrades to its surveillance fleet indicate the agency's growing profile in maritime governance. Indeed, the CMS has increased its patrols in the South China Sea and the East China Sea, and has shown an increased willingness to confront regional nations. According to the Asahi Shimbun, the most recent SOA report suggests that China should "steer territorial disputes with other countries in its favor by showing its abundant military might" (Asahi Shimbun, June 1). The recent confrontation involving Chinese surveillance vessels and Vietnamese fishermen in the South China Sea highlights the increasing strength of China's maritime enforcement capacities, and fits the pattern of a more robust posture with respect to maritime sovereignty and resources disputes.