Chinese Citizens Challenge the Party's Authoritarian Tilt
Publication: China Brief Volume: 11 Issue: 10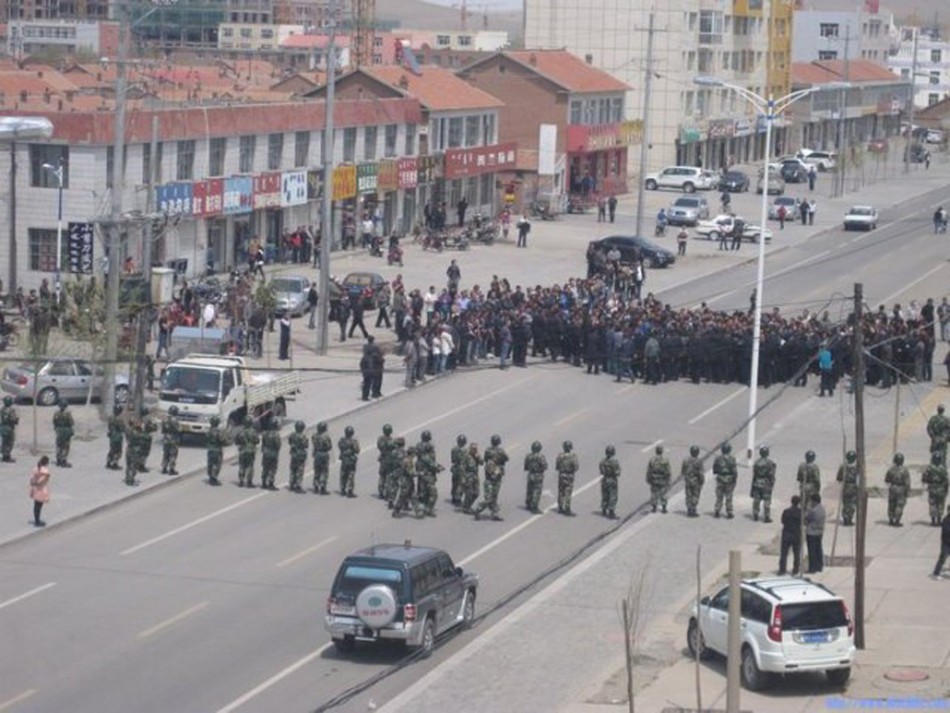 In what pundits have billed as a battle between David and Goliath, Chinese citizens appear to be pushing back on the all-powerful party-and-state apparatus that increasingly seems out of touch with popular aspirations. Efforts to challenge the Chinese Communist Party's (CCP) supremacy are mounting even as the police, state-security agents, and the quasi-military People's Armed Police (PAP) are stepping up enforcement of draconian methods to muzzle destabilizing or "disharmonious" voices. Moreover, the leadership under President Hu Jintao is apparently spearheading a nation-wide campaign to resuscitate authoritarian norms (See "The Death of Factions within the Chinese Communist Party?" China Brief, May 20).

The past few weeks have witnessed horrendous incidents of ordinary Chinese resorting to drastic steps to vent their frustrations against the authorities. Most eye-catching has been the worst outbreak of disorder in the Inner Mongolia Autonomous Region (IMAR)— home to six million ethnic Mongolians—since the end of the Cultural Revolution. Since early May, when two Mongolian herders were killed after being run over by Han-Chinese truck drivers, protests involving several thousand residents have rocked the city of Xilinhot and the nearby counties of Zhenglan and Xiwu. The demonstrators, who included livestock farmers as well as college students, were protesting over the alleged exploitation of herders—most of whom being ethnic Mongolians—by Han-Chinese controlled mining companies (AFP, May 29; The Associated Press, May 29).

Unlike Tibet or Xinjiang, Inner Mongolia had largely been free from ethnic violence for the past 30 years. Given the existence of an underground nationalistic movement in Inner Mongolia, which seeks union with Mongolia just to the north of the IMAR, regional officials including Party Secretary Hu Chunhua have sought to defuse tension caused by the incident by vowing to "firmly uphold the dignity of the law and the rights of the victims." Hu also vowed to help affected herders seek compensation from mining companies, which were responsible for polluting the grasslands. (South China Morning Post, May 30; People's Daily, May 30; Apple Daily [Hong Kong], May 31).

Equally disturbing to the CCP leadership has been a series of at least five bombings the past fortnight in the provinces of Jiangxi, Shandong, Sichuan, Heilongjiang and Shaanxi. Most of these incidents, which led to the death of ten people in total, appeared to be perpetrated by individuals with anti-government grievances. The most talked-about mishap took place in the city of Fuzhou, Jiangxi. On May 26, suicide-bomber Qian Mingqi set off three bombs in two government buildings in this medium-sized city. At least one other person apart from Qian was killed and six were injured. In Chinese Cyberspace, however, Qian received massive support and sympathy due to the fact that he was a victim of "land grab," a reference to the confiscation of citizens' properties by officials acting in collusion with developers. Qian said shortly before his quasi-terrorist act that he had petitioned Jiangxi and Beijing officials for ten years, but to no avail (Cable TV [Hong Kong], May 29; New York Times, May 27; Ming Pao [Hong Kong], May 29).

"Mass incidents" featuring confrontations between protesters and police have also been reported over the past month or so in provinces and cities including Jiangsu, Guizhou, Hunan, Hebei, Gansu, Henan, Guangdong, Tibet, Liaoning, Beijing and Shanghai (The Guardian, May 19; South China Morning Post, May 29; Kansas Star, May 29; Apple Daily [Hong Kong], May 13).

While it is too early to tell whether this spate of unrest will prod the authorities toward either liberalization or enhanced repression, it is noteworthy that a number of respected "public intellectuals" have chosen to push forward political reform by using established institutions and channels. Several editors, lawyers, professors and NGO activists have in the past month declared their intention to register as candidates for elections to grassroots-level legislatures. They include five opinion-leaders who are running for seats in district-level People's Congresses (PCs) in Beijing, Shanghai and Chongqing. The three Beijing-based candidates are think-tank researcher Xiong Wei, China University of Politics and Law professor Wu Danhong,and veteran editor Yao Bo. Li Chengpeng, a popular journalist and political commentator, plans to run in Chongqing, while human-rights writer Xia Shang is hoping to become a deputy in a Shanghai district-level PC (Ming Pao, May 28; Radio Free Asia, May 27; Central News Agency [Taipei], May 28).

In an apparent attempt not to provoke the authorities, these intellectuals have stuck to relatively neutral themes such as "promoting social equality and justice," which is Premier Wen Jiabao's favorite motto (See "Beijing's Blueprint for Tackling Mass Incidents and Social Management," China Brief, March 25). Most stated their "electoral platforms" in personal blogs and other social-media vehicles. For example, Chongqing's Li said he hoped to help the city's residents "realize their legitimate wishes and aspirations, supervise the government and implement social [reforms]." Beijing's Xiong vowed to improve the social-security benefits and civil rights of "migrants" who lack permanent residence status in the capital (Chinareviewnews.com, May 29; Sina.com, May 26).

According to veteran human rights lawyer Xu Zhiyong, who is providing legal assistance to these would-be candidates, "more citizens devoted to the public interest are considering taking part in the polls." Xu, a former district-level legislator, added: "the mere act of running for office" would give a boost to reforms. People's University political scientist Zhang Ming pointed out that the government should encourage more citizens to realize their democratic rights. "However, it is true that the [political] atmosphere is tight," he said. "The authorities are accustomed to controlled elections and they may not want [public intellectuals] to take part" (Taiwannews.com, May 28; Ming Pao, May 28).

Indeed, it is too early to say whether Li, Xiong and others can really become official candidates. This is despite the fact that Beijing has, since the early 1980s, allowed—at least on paper—all Chinese to contest polls for becoming PC deputies at the level of counties, medium-sized cities and districts within big cities such as Beijing or Shanghai. For instance, in early May, unemployed worker Liu Ping, 47, was stripped of her rights to run for a seat in the legislature of the city of Xinyu, Jiangxi Province. A former employee of the Xinyu Steel Works, she has a track record of fighting for the rights of workers. Last year, Liu repeatedly went to Beijing to hand in petitions to central-level departments after having been dismissed by her work unit. Xinyu authorities claimed that she could not run for elections on the grounds that she had been detained for ten days by local police for "illegally petitioning Beijing" (Caing.com, May 29; Southern Metropolitan News, May 9). Political observers in Beijing have pointed out that the authorities are nervous about liberal intellectuals and human rights lawyers running for elections partly because of memories of the 1989 democracy movement. Two years earlier, a number of activists, including Peking University student leader Wang Dan and Li Shuxian, wife of physicist and democracy theorist Fang Lizhi, had contested—albeit unsuccessfully—in polls for seats in Beijing's Haidian District PC (RFA, June 11, 2005; Boxum.com, May 30, 2005).
Beijing's reactions to the growing number of independent-minded intellectuals taking part in PC polls could depend on which way the political wind is blowing. Despite the party-state apparatus' apparent lurch toward conservative ideas, quite a few official media outlets have published articles appealing for an open mind toward political pluralism. Writing in the Guangzhou-based Southern Weekend, Zhang Lihua said "criticizing [the authorities] is also a kind of patriotism." Zhang, who is a member of the CCP Committee of Deqing County in Fujian Province, argued that "criticizing [the party and government] doesn't mean opposing [them]; and opposing [certain policies] is not the same as being an enemy [of the administration]." Zhang added that "the entire society should treat yizhi [nonconformist] thinking with an inclusive attitude." Zhang was repeating the viewpoint of a much-discussed article in a late April edition of People's Daily. Apparently reflecting the viewpoint of the minority of CCP liberals, the piece pleads with the authorities to "adopt a tolerant attitude toward yizhi thinking." Citing Voltaire's famous dictum about safeguarding the freedom of speech of one's opponents, the article said that the "mentality that 'you are my enemy if you think differently' is a reflection of narrowness and weakness – and of no use for the construction of a harmonious society" (Southern Weekend, May 19; People's Daily, April 28; Financial Times, May 10).

That the party may be undertaking a sizeable leap backward—at least in terms of ideology and tolerance toward dissent—however, is evidenced by a commentary that the CCP Central Commission on Disciplinary Inspection (CCDI) published in the People's Daily on May 25. The CCDI, which is in charge of discipline and fighting corruption, said "upholding the CCP's political discipline is a serious political struggle." The commentary scolded unnamed party officials for "speaking out of turn—and pursuing their own agendas—regarding the basic theories, paths and principles of the party." It even accused certain party members and cadres of "fabricating and spreading political rumors," which had resulted in "the distortion of the image of the party and country" (People's Daily, May 25; Ming Pao, May 26). There was speculation in Beijing's political circles that the CCDI might be targeting Premier Wen, who recently asked the public to be wary of "the vestiges of feudal society" as well as the "pernicious influence of the Cultural Revolution" (The Economist, May 26; South China Morning Post, May 26).

In an editorial on the Qian bombing incident in Jiangxi, the official Global Times editorialized that "opposition to retributive killings" should be recognized as a "universal value." "Murderers are penalized everywhere, which shows that prohibiting killing is a universal value among all mankind, which towers above everything." The party mouthpiece noted that sympathy for the perpetrator of the "terrorist act," as expressed by postings on the Internet, was symptomatic of "the confusion of values in Chinese society." The paper also claimed that since "China is on the way to becoming a society ruled by law," all disputes should be settled by legal means (Global Times, May 28; Ming Pao, May 29).

It seems beyond dispute, however, that the bulk of mass incidents in China have erupted because members of disadvantaged sectors are unable to redress wrongs such as "land grab" through proper legal channels. Moreover, party-and-state departments are seen as themselves breaking the law when they carry out the systematic intimidation and detention of globally respected human rights activists such as artist Ai Weiwei. If relevant authorities continue to use trumped-up pretexts to bar moderate intellectuals from taking part in grassroots elections, the CCP leadership risks being accused of desecrating "universal values" that are enshrined in both the United Nations Charter and China's own Constitution.