China-Kyrgyzstan-Uzbekistan Road-Rail Connection Launched Amid Violent Border Clashes
Publication: Eurasia Daily Monitor Volume: 17 Issue: 97
By: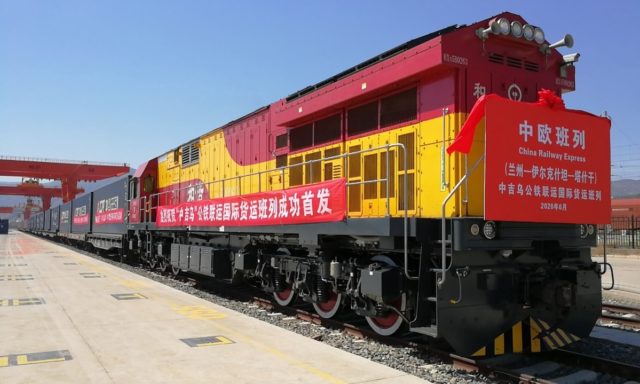 China and Uzbekistan have opened a new transport corridor between one other, which could eventually form a key link in a much shorter inter-continental route connecting China to the Middle East and Europe. Tashkent trusts that the new corridor complements rather than competes with already-established trans-Eurasian transport routes via Kazakhstan and Russia (Podrobno.uz, June 6).
On June 5, the first express train left for Uzbekistan from the Lanzhou railway terminal, in China's northwest Gansu Province. The onboard cargo traversed a multi-modal (combined road-rail) transport line from China, across Kyrgyzstan to Uzbekistan. With the opening of the new corridor, cargo from Chinese ports and other provinces will now be able to proceed by rail until the Kashgar terminal, in Xinjiang Uyghur Autonomous Region, where they will be offloaded onto trucks and drive further by road, via Kyrgyzstani territory (Kashgar–Irkeshtam–Osh–Andijan) (Mift.uz, June 9). According to Uzbekistan's Ministry of Investments and Foreign Trade, the new road-rail line is 295 kilometers shorter than the alternative transport route through Kazakhstan's Horgos and Dostyk border crossing points, thus reducing delivery times and making the new route more attractive and competitive for businesses (Mift.uz, June 9).
After more than two decades of unsuccessful negotiations with Bishkek on the construction of the China–Kyrgyzstan–Uzbekistan railway (see EDM, February 13, 2014, November 3, 2015, November 17, 2017, March 21, 2019), Chinese and Uzbekistani officials seem to have settled on this combined road-rail line. Formally, negotiations over the railroad are still ongoing (Podrobno.uz, October 14). Rather than seizing the opportunity, successive Kyrgyzstani administrations chose to delay the construction of this important railway, citing multiple reasons. Kyrgyzstan could hugely benefit by becoming a busy transit hub for growing trade and economic ties between China and the rest of Central Asia. However, leaders in Bishkek repeatedly turned down various offers by their Beijing and Tashkent counterparts (Platon.asia, June 13). Instead, officials of the Kyrgyz Republic independently invited Russia, a country that secretly sees the Uzbekistan–Kyrgyzstan–China rail line as a threat to its regional geopolitical interests, to implement the railway connection on its territory (Nezavisimaya Gazeta, June 10).
Quite suspiciously, a few days before the announcement of the launching of the new road-rail transport line, fresh border disputes erupted between Kyrgyzstan and Tajikistan as well as between Kyrgyzstan and Uzbekistan. The clashes were localized in the Ferghana Valley, in southern Kyrgyzstan, through which the new transport line will traverse (Ritmeurasia.org, June 16).
As a result of the violence between Kyrgyz and Uzbek villagers of Sokh enclave, 187 citizens of Uzbekistan were injured, with 18 suffering gunshot wounds, resulting in one death; in turn 25 Kyrgyzstani villagers were harmed by thrown stones. According to Russian media reports, Kyrgyzstan's law enforcement helped escalate the situation by pulling out their guns, while the Uzbekistani authorities quickly sought to restore calm among their citizens (Rosbalt, June 8). Uzbekistan's government underlined that the latest border clashes with Kyrgyzstan should not overshadow the good neighborly relations between the two countries, let alone negatively affect any of their joint projects, such as the aforementioned road-rail transport line (Gazeta.uz, June 1).
Just days before the Kyrgyz-Uzbek clash, another violent incident took place between Kyrgyz and Tajik border-area residents. Such violence has been increasing in frequency in the last few years, especially between residents of Kyrgyzstan and Tajikistan (24.kg, May 24).
Russian Foreign Minister Sergei Lavrov expressed concern over the border clashes and offered his mediation services, which were rejected outright by Tajikistan's Ministry of Foreign Affairs. The latter said that the two sides will be able to sort out their differences on their own. Kyrgyzstan also politely rejected the Russian offer. The Central Asian states are not interested in Moscow's mediation services, perhaps fully aware of the hidden dangers inherent in such offers (see EDM, May 29). Indeed, Russian strategists, under the guise of "peacemakers," have repeatedly manipulated or exacerbated disputes or wars around the post-Soviet Eurasian periphery to create permanent conflict zones, including in Transnistria (Moldova), Karabakh (Azerbaijan), Abkhazia and South Ossetia (Georgia) and, more recently, Crimea and Donbas (Ukraine) (The Insider, June 4).
The latest Kyrgyz-Uzbek clashes demonstrated that, to a certain degree, Russia apparently succeeded in driving a wedge between the two neighbors, despite friendly pronouncements from their leadership. Kyrgyzstani officials refused to open the shortest road connecting Sokh enclave (which belongs to Uzbekistan) to mainland Uzbekistan, across Kyrgyzstan's Batken province, citing purported requirements related to its membership in the Moscow-led Eurasian Economic Union (EEU). Uzbekistan recently applied for observer status in this bloc (see EDM, March 23). The Bishkek officials' reasoning effectively implies they need Moscow's approval even to amicably settle the border disputes with their neighbors. And aggravating the situation regarding the Sokh enclave by refusing to open the shortest road connection to Uzbekistan may also have the effect of playing into the Kremlin's interests by putting additional pressure on Tashkent to join the EEU (Gazeta.uz, June 2; YouTube, June 4).
Over the last three decades of their independence, every one of the landlocked Central Asian countries, without exception, has used similar practices to manufacture inconveniences and use their neighbors' dependencies as leverage in intra-regional relations with each other. While it currently finds itself in a better position vis-à-vis Uzbekistan and Tajikistan, Kyrgyzstan has been on the receiving end of such tactics in its relations with Kazakhstan. In the recent past, Bishkek repeatedly complained to both the World Trade Organization and the EEU's Eurasian Commission that neighboring Kazakhstan was imposing trade restrictions against it (Sputniknews.kz, March 5).
The renewal of violent border clashes between Kyrgyzstan and Uzbekistan on the one hand and Tajikistan on the other threatens the future of strategically important transport connections that promise to bring prosperity and development for all countries within this landlocked region. Moreover, unless the Central Asian republics shed the mentality of using intra-regional interdependencies as powerful leverage against one another, they will not be able to prosper together and will remain bogged down in mutual recriminations. All this will make it possible for their former colonial master, Russia, to use the Central Asian states as pawns in its regional geopolitical policies, bringing tribulations and further conflict to the local populations.