China and Kyrgyzstan Discuss Rail Projects
Publication: Eurasia Daily Monitor Volume: 11 Issue: 29
By: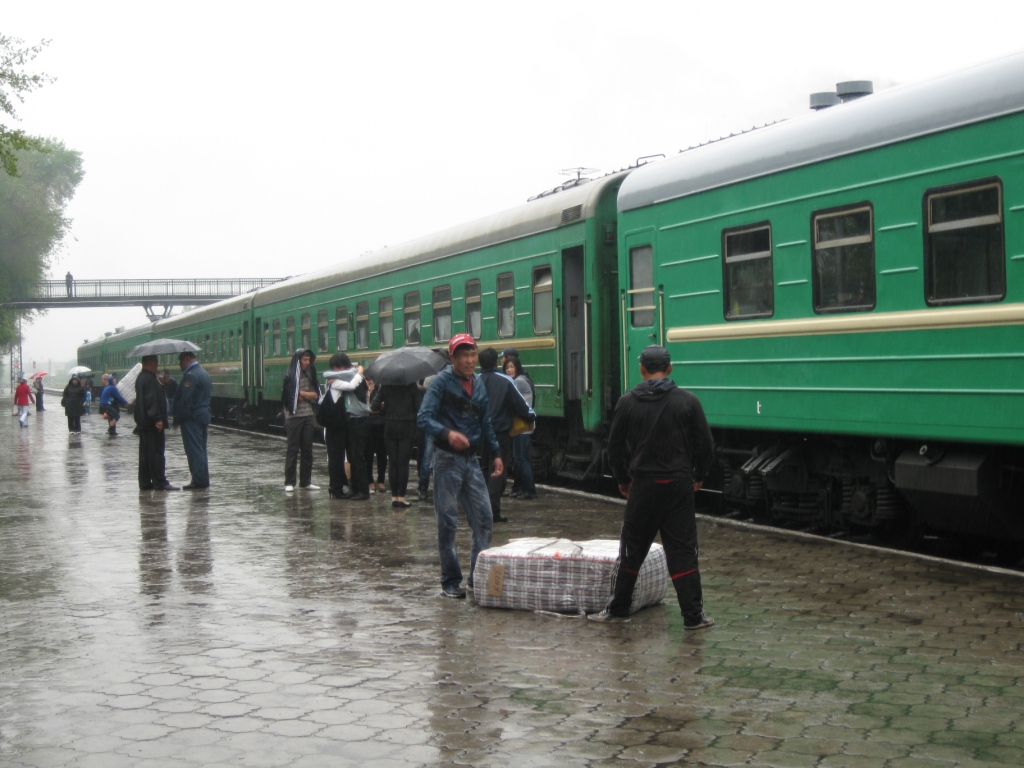 China is increasingly interested in railway construction in the former Soviet Central Asian states as a land alternative to maritime transit for shipping high-value, low-volume products such as electronics to European markets. If all goes according to plan, in May 2014 the final technical decisions on constructing a railway linking China and Uzbekistan through Kyrgyzstan will be concluded, allowing building to begin on a project first discussed in 1996. The projected cost of the 167-mile-long line is $2 billion (time.kg, May 2, 2012).
What remains to be finalized are the exact terms of the contract for constructing the electrified railway line. According to the China Road and Bridge Corp., Kyrgyzstan's government is dragging its feet over precise terms of the contract, which have been variously portrayed as a 51-percent Kyrgyzstani-owned joint venture, with China Road and Bridge Corp. retaining the remaining 49 percent, to China Road and Bridge Corp. receiving a 100-percent lease on the railway line for a number of years in return for fully funding its construction, with annual railway revenues projected at $210 million being used eventually to pay back construction costs (Kabar News Agency, January 20). According to Kyrgyzstan Railways' (KTZ) director general Argyhbek Malabaev, the railway would shave the current rail distance between China and Europe by 560 miles (The Railway Insider, December 14, 2012).
The line will run from China's city of Kashgar in Xinjiang through the Arpa valley via Kyrgyzstan's Kara-Suu town to Uzbekistan's city of Andijan in the Ferghana Valley. The railway faces a number of issues aside from definitive funding arrangements, such as track width. In particular, China uses a 1,435-milimeter wide track to meet international standards. Whereas a wider, 1,520-mm, track gauge is in use in the Central Asian republics and throughout the former Soviet Union.
The railway also embodies the differing Russian and Chinese approaches to Central Asia, and how Moscow's and Beijing's priorities do not necessarily coincide with local agendas. The Kyrgyz Republic's government has repeatedly made clear to China that its own railway preference is for a north-south line to help unite the country rather than an east-west railway to facilitate the transit of Chinese merchandise. Kyrgyzstan's Prime Minister Jantoro Satybaldyev stated last year that a rail link passing through Irkeshtam "would connect the north and south of the country," but China flatly refused to construct the railway along this route (Informatsionno-Analiticheskii Tsentr, April 22, 2013).
On December 16, 2013, Kyrgyzstani President Almazbek Atambayev was even more blunt at a press conference, stating that the railroad is more needed by China and Uzbekistan than Kyrgyzstan, remarking: "We offer a different railway connecting the north and south of the country. First and foremost, we want a railway linking the north and south. First of all, we will make decisions based on Kyrgyzstan's national interests. Because, if we construct this proposed railway, the second rail line linking the north and south of the country will never be built. I do not want to take on this responsibility" (Taszabek, December 16, 2013).
Even more contentious have been the various financial packages floated to defray construction costs. In January 2011, Kyrgyzstan's Minister of Transport and Communications Erkin Isakov told a meeting of the parliamentary faction Ata Meken that given Bishkek's enormous foreign debt burden, the government was considering bartering "resources in exchange for investment," igniting furious parliamentary debates. Beijing had expressed interest in gold ore deposits in southern Jalalabad province and aluminum and iron deposits in central Naryn province (AKIpress News Agency, April 8, 2011).
On January 21, 2013, President Almazbek Atambayev signed the decree, "On the National Sustainable Development Strategy of the Kyrgyz Republic for the period 2013–2017," which was widely discussed by experts, politicians and civil society representatives, especially its two provisos of two feasibility studies for the construction of railways—the first being the China-Kyrgyzstan-Uzbekistan railway, the second being the government's preferred line to connect the north and south of Kyrgyzstan. Given that the government's fiscal situation remains precarious, it would seem that the railway most favored by China is the most likely to be built, as the government does not have sufficient resources to construct a north-south line on its own (Trend News Agency, citing KyrTAG, January 21, 2013).
Yet, Kyrgyz transport analyst Kubat Rakhimov observed, "If China and Uzbekistan want to connect the railroad through Kyrgyzstan, they should pay for it. Kyrgyzstan, in turn, should not donate any of their natural resources, nor provide any preferences for the project. Geopolitical and geo-economic gains of our neighbors with such a project would be several times higher than any mercantile interests on the Kyrgyz side" (Vechernyi Bishkek, February 4, 2013).
The upshot of the proposed railway is that China is steadily converting its economic clout in Central Asia into transport infrastructure. The China-Kyrgyzstan-Uzbekistan railway is not the only Central Asian railway project of interest to China. Farther to the west, construction began in June 2013 on the 250-mile Turkmenistan-Afghanistan-Tajikistan (TAT) rail corridor, which, according to the Strategic Planning Institute of Turkmenistan's Ministry of Economy, could see not only Chinese participation, but eventually Iranian and Kyrgyzstani participation as well (Trend News Agency, July 1, 2013). What seems indisputable in the short term is that China will only finance projects that serve its own interests, whatever local concerns might be, leaving Central Asian government with some stark choices.