Germany in New Role as Transit Country for Russian Gas
Publication: Eurasia Daily Monitor Volume: 11 Issue: 29
By: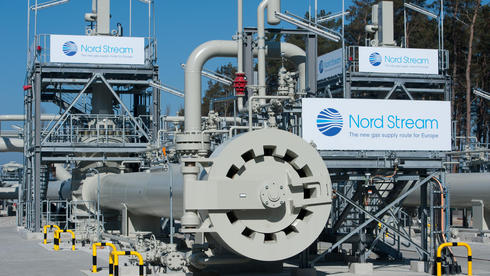 On February 5, Gazprom refloated the option of expanding the Nord Stream pipeline by adding a third and possibly a fourth line to the existing two. A third and a fourth line would reach beyond the Baltic Sea to countries on the North Sea. Gazprom CEO Aleksei Miller discussed these options in Moscow with Matthias Warnig, CEO of the Gazprom-controlled Nord Stream consortium. These options have been aired, on and off, for the last two years (Vedomosti, February 6).
That announcement seemed manly designed to sustain confidence in Gazprom's capacity to supply Nord Stream's existing two lines to Germany with gas in full volume.
Gazprom via Nord Stream is the exclusive provider of Russian gas to OPAL and NEL, the new transit pipelines on German territory. These large-capacity lines are mainly intended to provide transit service for Russian gas across Germany, en route to third countries. Targeted acquisitions of German storage capacities by Gazprom corroborate that intention (see EDM, January 31, February 12).
This evolution casts Germany in a new role as transit country for Russian gas, complementing Germany's familiar role as biggest importer of Russian gas. Increasing reliance on German transit would correspondingly detract from the massive Ukrainian transit of Russian gas to the European Union.
Nord Stream's annual capacity of 55 billion cubic meters (bcm) is identical with OPAL's and NEL's combined capacities of 55 bcm. These two pipelines are to feed from Nord Stream at its landing site, Lubmin near Greifswald, which is also the common starting point of OPAL and NEL.
Designating Germany as a gas transit country is not an entirely new idea in Moscow. In 2006, President Vladimir Putin had publicly offered to select Germany as a distribution hub for Russian gas in Western Europe. Counting at that time on the development of Russia's supergiant Shtokman field, Putin proposed to export Shtokman gas by pipeline to Germany for onward distribution to other European Union countries. The Shtokman project, however, soon turned out to be unfeasible. Putin's 2006 stillborn offer would not have affected the Ukrainian transit of Russian gas to the European Union. More recently, however, Moscow has undertaken, in word and deed, to curtail the Ukrainian transit of Russian gas to the EU.
Russia is now opening a new gas transit system via Germany to other EU countries. The gas flow does not seem to have started in any significant volumes yet, but the new transit pipelines are in place. OPAL and NEL, completed (along with their feeder Nord Stream) between 2011 and 2013, add up to a new system of export pipelines for Gazprom in German territory. Nord Stream's twin lines from Russia under the Baltic Sea feed directly into the OPAL and NEL pipelines, which run southward and westward, respectively, across Germany to third countries (see EDM, January 30).
Centrally managing this system through the Nord Stream, OPAL and NEL consortiums, Gazprom is designated as exclusive gas supplier to these transit pipelines. Significantly, the European Commission discusses OPAL's status not with the OPAL consortium (which includes European minority shareholders), but directly with Moscow, the real decision-maker on OPAL.
The new Gazelle pipeline in the Czech Republic prolongs the Nord Stream-OPAL corridor, southward and westward into Germany again. Gazelle is independent of Gazprom, but is dedicated to carrying Gazprom-owned Russian gas from Nord Stream into Germany, and as such forms a link in this transit system (see EDM, February 6).
OPAL and NEL are designated as transit pipelines, mainly targeting gas markets in the EU beyond Germany. For example, OPAL is slated to feed some volumes (via Gazelle) into the MEGAL pipeline (44-percent French interest) which runs from Bavaria into France. NEL (with 39-percent Dutch and Belgian interests) is planned to reach from northwestern Germany into the gas markets of the Netherlands and Belgium and potentially farther afield.
Undoubtedly, however, OPAL and NEL would also supply some volumes for consumption in Germany. Both lines are connected with Germany's internal pipeline grid, including at least five transmission pipelines (JAGAL, MIDAL, STEGAL in the east, WEDAL and Hamburg-Rehden in the west) that are controlled by the Gazprom-Wintershall joint company Gascade Gastransport (gascade.de, accessed February 13; see EDM, January 20). Thus, Gazprom looms larger yet in Germany's gas transportation systems on both levels.
The emerging transit system is so configured that OPAL and NEL can only be sourced with gas from Nord Stream. This precludes an independent third-party's access to OPAL and NEL, except on terms amenable to the Russian side.
Gazprom and affiliated Russian firms have recently acquired gas storage capacities in Germany, necessary to their transit operations there. Working mainly through WINGAS, a Wintershall-Gazprom joint company, Gazprom obtained co-ownership and operating rights in several German storage sites in the last few years. In 2013, those ownership and operating rights passed from the jointly-owned WINGAS to Gazprom's fully owned subsidiary for storage, Astora (astora.de, accessed February 13).
Rehden, the largest underground gas storage site in Western Europe, with a capacity of 4.2 bcm, and the new Jemgum site, with an initial capacity of 1 bcm, make sense for Gazprom to use for transit operations targeting the Netherlands and Belgium. Those two storage sites are connected with the NEL pipeline (see above) and the WEDAL pipeline (Gazprom-Wintershall-operated), which run toward the Netherlands and Belgium, respectively. Meanwhile in Saxony-Anhalt, the Katharina storage site is being developed by Gazprom's fully owed subsidiary, Gazprom-Germania, jointly with Verbundnetz Gas. That underground site seems designated to store Russian gas delivered through the OPAL pipeline (see EDM, January 20, February 12).
Gazprom's evolving transit system in Germany seems coherent as designed. However, the system is not yet complete or functional at this stage.
OPAL and NEL presently operate at fractions of their transit capacities. Their operating regime has yet to be legally clarified. The EU's anti-monopoly legislation does not allow Gazprom the full use of those two pipelines' capacities. EU authorities have made that restriction explicit in OPAL's case, at least for the time being. No such restriction applies to Nord Stream since the EU long ago exempted it from third-party-access rules. De facto, however, limited use of OPAL (or NEL) means that their feeder Nord Stream must operate correspondingly below its capacity. Conversely, fuller use of their capacities would allow Russia to increase the gas flow via Nord Stream into OPAL and NEL for transit to third countries. The Russian government wants the EU to exempt OPAL (and NEL) from those restrictions. At the moment, the European Commission seems hard pressed to reconcile OPAL's status with EU law (see EDM, January 29, February 3, 4).
Questions persist about OPAL's and NEL's sourcing from Nord Stream, and the sourcing of Nord Stream itself from Russian gas fields in the near to medium term. To what extent will Nord Stream be sourced from new Russian production, and to what extent by Moscow shifting gas transit volumes from Ukrainian pipelines into Nord Stream, is far from clear. Furthermore, would the European Commission, officially or de facto, exempt OPAL and NEL from independent third-party-access? And (more fundamentally) would the Commission exempt Gazprom from ownership unbundling requirements on these pipelines in Germany? Those issues are among the basic ones awaiting clarification, at this early stage of Gazprom's transit project in Germany.