China, Russia Commit to "Dual Track" Approach Toward Korean Peninsula Issues
Publication: China Brief Volume: 17 Issue: 9
By: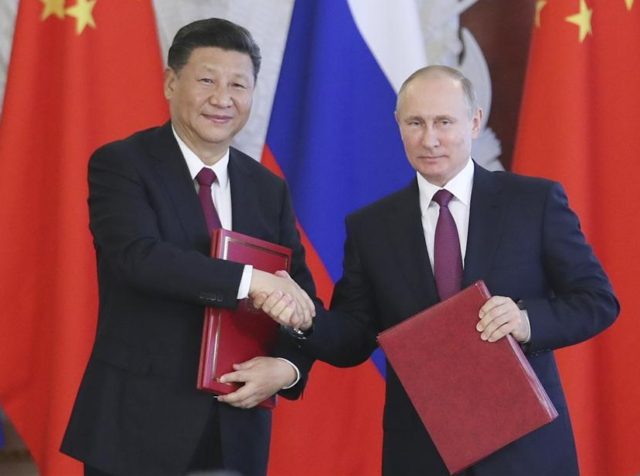 On July 4, North Korea launched a multi-stage Hwasong-14 ballistic missile. During the flight test, the missile reached an altitude of 2,300 km and a lateral distance of 900 km (People's Daily, July 4). Though the test followed a "lobbed" trajectory (higher altitude over a shorter distance than in a true combat scenario), the altitude and other measures place the Hwasong-14 in the class of Intercontinental Ballistic Missile (ICBM).
The ICBM test is merely the latest in a growing list of actions by North Korea to put itself at odds with its northern neighbor. A nuclear test and satellite launch (widely viewed as a missile test) in early 2016 put stress on China-North Korea relations (China Brief, February 8). This year has seen no improvement, as North Korea used its annual military parade in April to showcase several new missile types, and there has been a steady drumbeat of additional missile tests (Xinhua, April 15; Xinhua, March 7). North Korea's actions have steadily increased calls for China to exercise its economic influence over its neighbor and "curb" its nuclear weapons and missile programs.
In March, Chinese Minister of Foreign Affairs Wang Yi (王毅) attempted to reframe Chinese policy toward North Korea, recommending a "dual-track approach" (双轨并进) and "double suspension" (双暂停) (MFA, March 8). As Wang explained, "[North Korea] may suspend its nuclear and missile activities in exchange for the suspension of large-scale U.S.-[South Korea] military exercises…We may follow the dual-track approach of denuclearizing the peninsula on the one hand and establishing a peace mechanism on the other" (Xinhua, March 8). Wang also argued that China had "done its best" to bring the relevant parties to the negotiation table.
This new policy did little to mollify U.S. policy-makers, who see China as having control over North Korea via its trade relationship. U.S. ambassador to the UN, Nikki Haley, for example, immediately responded to Wang's remarks by saying that "positive action" was needed from North Korea before negotiations were possible (Reuters, March 8). In June, the 8th Strategic and Economic Dialogue between China and the United States yielded mostly platitudes (People's Daily, June 8). A further meeting between U.S. Secretary of State Rex Tillerson and Chinese State Councilor Yang Jiechi (杨洁篪) during the U.S.-China Diplomatic and Security Dialogue on June 21 ended with promises by both sides to continue the "strict implementation" of UN Security Council Resolutions (People's Daily, June 21).
However, just over a week later, furious with apparent Chinese inaction on trade with North Korea, the U.S. Treasury Department enacted sanctions against the Bank of Dandong for "continuing to serve as a gateway for North Korea to access the U.S. and international financial systems despite U.S. and UN sanctions" (Treasury, June 29). Also included in the sanctions were Dalian Global Unity Shipping Co., Ltd., for transporting "700,000 tons of freight annually, including coal and steel products". [1] In response, Chinese Ministry of Foreign Affairs spokesperson Lu Kang stated that "China has always opposed unilateral sanctions outside the framework of the Security Council" (MFA, June 30).
This is not the first time that Chinese banks have been implicated in helping violate UN resolutions. In 2005, the U.S. Treasury named Banco Delta Asia (汇业银行) in Macau a "primary laundering concern" for North Korea that among other things "handles the bulk of the DPRK's precious metal sales, and helps North Korean agents conduct surreptitious, multi-million dollar cash deposits and withdrawals" (Treasury, September 15, 2005). Further measures in 2007 spooked the Bank of China into ceasing all transactions through Banco Delta Asia, which significantly hurt North Koreas' money laundering operations (Treasury, March 14, 2007; Armscontrolwonk, June 4, 2007).
China's consistent inability to cut off trade with North Korea points to a broader unwillingness to step up sanctions. For Chinese leaders, the basic calculus remains the same: stepping up pressure on North Korea's economy means at a minimum loss of valuable trade and at worst the risk of a collapse of the North Korean regime.
China's current "dual track approach" and "double suspension" policies, therefore, represent its best outcome and would result in a de-fanged North Korea and reduced U.S.-South Korean military capability. Chinese policies gained additional support when, on July 5, Russia and China issued a joint statement on the Korean Peninsula committing the two parties to the policy while additionally condemning the deployment of the THAAD anti-missile system (MFA, July 5).
Russia's participation in the joint statement marks an end to its conspicuous absence from involvement in the North Korean issue. Moscow continues to view U.S. presence in the region with greater trepidation than it does a fully capable North Korean nuclear program (Eurasia Daily Monitor, March 28).
Like China, while a more stable situation on the Korean Peninsula would be welcomed, it is not, in fact Russia's greatest security priority. For China, Russian endorsement of its dual track/double suspension approach makes it even more unlikely that China will adopt a more strict approach to North Korea.
Notes:
Both Dalian and Dandong are important commercial hubs, Dalian on Bohai Gulf, and Dandong at the mouth of the Yalu River and astride the primary rail link between China and North Korea.