China-Qatar Relations in Perspective
Publication: China Brief Volume: 17 Issue: 9
By: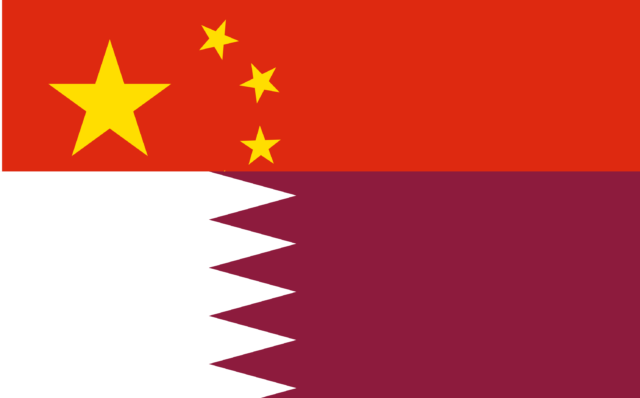 On June 5, Saudi Arabia announced it was cutting diplomatic ties with Qatar and closing its land border in response to Qatar "supporting terrorism." Bahrain, Egypt and the United Arab Emirates quickly joined, and all denied airspace overflight rights to Qatari airlines. Saudi Arabia and its allies gave Qatar until July 4 to accede to a list of demands. For China, the spat between Saudi Arabia and its allies and Qatar is an unwanted complication between important economic partners.
China maintains close relationships with states on both sides of the Gulf. Its foreign policy statements describe both Saudi Arabia and Iran as "Comprehensive Strategic Partnerships" (全面战略伙伴关系) in the dense bureaucratese of the Ministry of Foreign Relations. This level of partnership means that China has built a deep relationship with both countries and maintains significant cooperation on security issues. By contrast, its relationships with Kuwait, Oman, and Bahrain are primarily economic and defined as "Friendly Cooperative Relations" (友好合作关系). Examining China's response to the Saudi embargo of Qatar as well as China's broader relationship with the small but strategically important state provides insight into Beijing's broader Middle East strategy.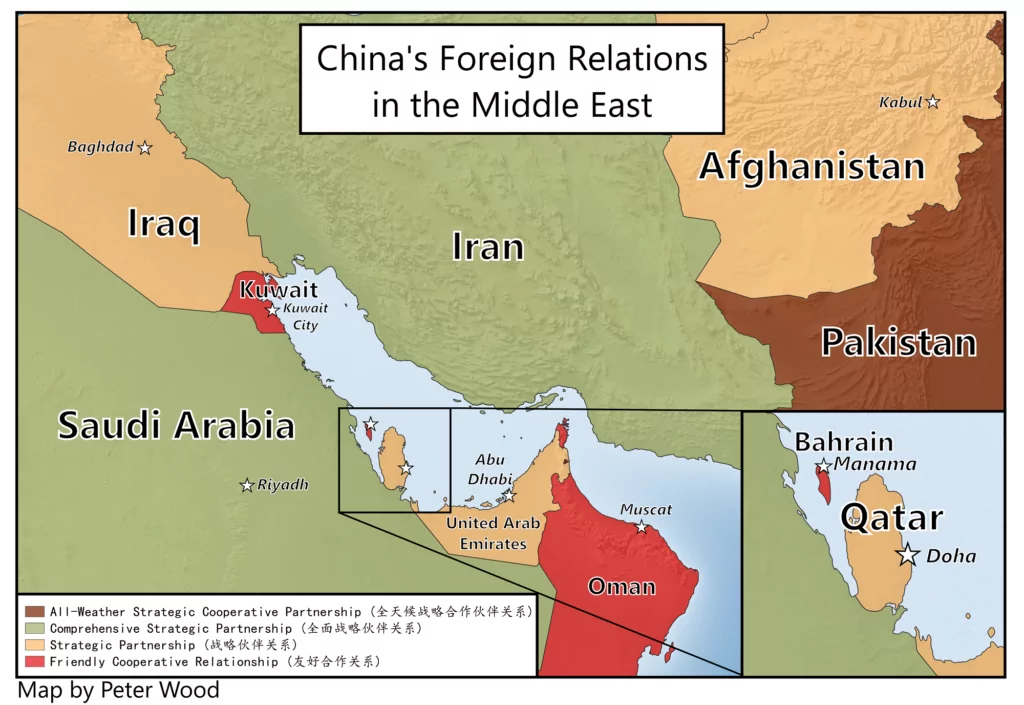 In 2014, during Chinese President Xi Jinping's visit to Qatar, the two countries upgraded their relationship to Strategic Partner (战略伙伴关系), a status that recognized Qatar's role not only as an economic partner but also as a security partner. In his speech at the signing of the joint statement on the establishment of the relationship, Xi Jinping stressed the opportunities to improve military exchanges and work together to combat terrorism (Xinhua, November 3, 2014). The text of the agreement laid out an expansive set of goals from increased security cooperation to security exchanges (Xinhua, November 3, 2014). Qatari support for the Belt and Road Initiative (BRI) and the China-led Asia Infrastructure Investment Bank (AIIB) were clearly highlighted in the agreement then, and repeatedly emphasized since by members of the foreign ministry (MFA, May 18).
The improvement in relations and expansion to security and political cooperation was built on a solid economic relationship. Since 2013, China has been the world's largest consumer of oil from the Middle East. Qatar is the world's leading exporter of Liquefied Natural Gas (LNG), and in 2014 was China's largest supplier of LNG, though imports appear to have moderated somewhat since then (EIA, April 30, 2016).
While the rate of increase in China's demand for energy will likely decrease, the proportion of natural gas as a percent of total consumption is projected to double to 11 percent through 2035. [1] This demand is likely to increase the importance of the largest LNG exporting nations—particularly Qatar, Oman and Iran—to Chinese energy markets. The shift in Chinese imports could have consequences for its relations with the Gulf states.
China has largely managed to successfully navigate the animosity between Iran and Saudi Arabia, maintaining good relations with both countries. Chinese demand for oil has benefited all the states in the region, and Chinese weapons are increasingly sought out by both states. China and Saudi Arabia have recently made moves to deepen their security cooperation and have a weapons export relationship that stretches dates back to the 1980s (China Brief, March 2).
However, this delicate balance may be reaching a tipping point, as China continues to improve military relations with Iran and increase its support for the Bashar al-Assad regime in Syria (China Brief, August 22, 2016). Particularly since 2014, China's military exchanges and exercises with Iran have become more regular and more prominent, including a joint exercise held in mid-June of this year (China Brief, February 4, 2015; China Brief, March 7, 2016; MOD, June 16).
A core part of Saudi Arabia's demands is that Qatar cut all ties with Iran (People's Daily, June 24). These relationships make the recent flare-up between Qatar and Saudi Arabia and its allies all the more awkward for Beijing.
Responding to a question about China's stance on the crisis, Chinese Ministry of Foreign Affairs Spokesperson Hua Chunying's response was typically subdued: "We are aware of the reports. China hopes that the countries involved can resolve their differences through negotiation, remain united and together promote stability in the region" (FMPRC, June 5).
In addition to maintaining economic relations throughout the Middle East, China is committed to expanding its ability to project military power across the region. This includes the aforementioned military exchanges, port visits and exercises with Oman, its naval base in Djibouti and additional bases in, according to a recent U.S. department of defense report, "countries with which it has long-standing, friendly relationships (DOD, June 6). This is understood to include Pakistan, with whom China has its closest diplomatic relationship—an "all-weather strategic cooperative partnership" (NBC, June 19; see map).
While the embargo against Qatar has not been extended to include petroleum, Qatar has yet to respond to Saudi Arabia's' demands to its satisfaction, setting the stage for further escalation. Historically, China's non-interventionist foreign policy has allowed it to remain neutral in most inter-regional disputes. But as Iranian and Qatari LNG begin to make up a larger proportion of Chinese petroleum imports, and Chinese military involvement in the region becomes more pronounced, balancing between Iran and Saudi Arabia may no longer be possible.
Notes
BP, World Energy Outlook, 2017 https://www.bp.com/content/dam/bp/pdf/energy-economics/energy-outlook-2017/bp-energy-outlook-2017.pdf