China Tightens Grip on Kazakh Gas
Publication: Eurasia Daily Monitor Volume: 7 Issue: 3
By: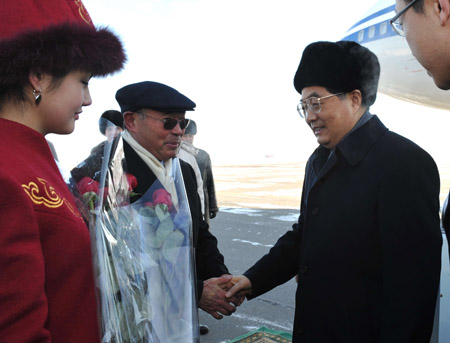 Profuse eulogies such as a "milestone in Sino-Kazakh' relations," "an epoch-making event" were the most frequently uttered by the Chinese President Hu Jintao and his Kazakh counterpart Nursultan Nazarbayev after their talks in Astana on December 12. Hu Jintao had every reason to describe his official visit to Kazakhstan as a success. Both leaders signed three important documents relating to cooperation in the development of renewable energy resources, a joint memorandum on financing the second section of a gas pipeline from Kazakhstan to China and a credit agreement for the reconstruction of Atyrau oil refinery in West Kazakhstan (Khabar TV, December 12).
Hu Jintao and Nazarbayev attended the launching ceremony of the first 1,304 kilometers section of the gas pipeline stretching from the Kazakh-Uzbek border to Khorgos on the border with China through Zhambyl, in southern Kazakhstan and Almaty regions. It took the Kazakh-Chinese joint venture set up by state-controlled KazTransGaz and Trans-Asia Gas Pipeline Ltd, affiliated with the China National Petroleum Company (CNPC) a record 14 months to implement the $6.7 billion project with an estimated capacity of 4.5 billion cubic meters (bcm) of gas to be delivered to China annually in its first phase. The volume of gas deliveries is planned to reach 40 bcm per year (Khabar TV, December 12).
The opening of the gas pipeline from Central Asia to energy-hungry China, bypassing Russia, came as an unpleasant surprise to the Kremlin, which had pinned much hope on the reconstruction of the existing but dilapidated gas pipeline and laying an additional parallel pipeline. Preliminary agreements on this project were reached between Russia, Kazakhstan and Turkmenistan in 2007. But the Chinese, effectively forestalling the Russians in muted competition for gas resources of Central Asia, dashed all hope of successfully carrying out the plan. Russian Gazprom and Lukoil still retain significant positions in Uzbekistan, while the successful launch of the new pipeline points to the weakening energy alliance between Russia, Turkmenistan and Kazakhstan. Once the construction of the second gas route to China from western Kazakhstan through Beineu, Bozoy, Shalkar and Samsonovka is completed in spring 2010, China will secure access to long-coveted Caspian oil and gas. The second 1,500 kilometers pipeline section to the Chinese border is expected to supply 10 bcm of gas annually.
However, Uzbekistan and Kazakhstan will have to be content playing the role of transit countries, while China will receive its main bulk of gas supplies (up to 30 bcm annually) from Turkmenistan and nearly half of that volume from the Samandele fields. Potentially Kazakhstan's Zhanazhol gas deposits in Aqtobe region can attract Chinese companies, but its estimated reserves are insufficient to secure long-term supplies to China. The most important Kashagan fields are not expected to operate earlier than 2013 (Panorama, July 4, 2008).
Many experts in Astana regard the rapidly developing pipeline projects as part of Beijing's economic expansion into Kazakhstan. Chinese investment volumes into Kazakhstan's economy are likewise growing at a staggering speed. Analysts expect investment flowing from China to exceed $20 billion within two to three years. Some Kazakh members of parliament expressed alarm over the snowballing of the national debt to China. The figures rose from $4 billion in 2008 to $7.9 billion in the first six months of 2009. China currently ranks fourth among the main lender countries to Kazakhstan after the Netherlands, United States and the UK. The increasing budget deficit, and the growing need to update the oil and gas infrastructure as well as inefficient financial management compels the Kazakh government to rely on Chinese investments, which unlike Western financial aid, comes without any political price attached. In April 2009, during his official visit to China, Nazarbayev secured $10 billion from Beijing for the KazMunaiGaz state-controlled oil company and the Development Bank of Kazakhstan. Samruk-Kazyna Foundation, set up by presidential decree in 2009 to promote business projects, concluded an agreement with the State Bank of China to borrow $3 billion. Large-scale financial investment into Kazakhstan's economy enables China to inch forward into the country's energy sector. In November 2009, KazMunaiGaz and China National Petroleum Corporation (CNPC) purchased a 100 percent share of Mangistau Munaigaz, one of the largest Kazakh oil and gas companies, from Indonesian Central Asia Petroleum Ltd. Astana also granted China licenses to develop uranium deposits in Kazakhstan. Unsurprisingly, Chinese Sinopec readily offered to implement the modernization project at Atyrau oil refinery in western Kazakhstan, estimated to cost $3.4 billion by the Japanese Marubeni Company, for $1.4 billion (www.centrasia.ru, November 16).
In his talks in Astana, Hu Jintao demonstrated his readiness to make some political concessions stating that the long-debated issues on the joint use of trans-border Rivers would be settled jointly, and that China would refrain from any action against Kazakhstan's national interests. A few days before Hu Jintao's trip to Astana, a bilateral agreement was reached on the shipment of 3 million tons of Kazakh grain to South East Asia through China. Most likely, Beijing will make additional friendly gestures to Astana in future. However, few understand what underlies such Chinese generosity.