China's 2027 Goal Marks the PLA's Centennial, Not an Expedited Military Modernization
Publication: China Brief Volume: 21 Issue: 6
By: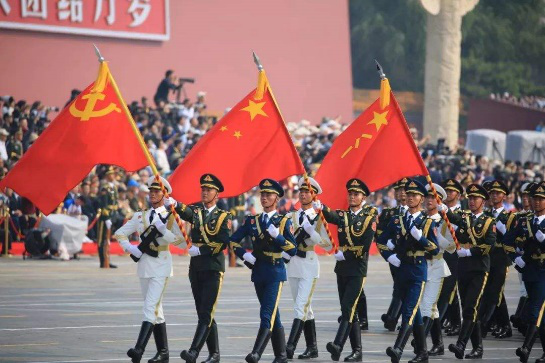 Introduction
China has added a new short-term milestone to its existing slate of military modernization goals. While noteworthy in its own right, the new benchmark is not a sign that China is sprinting to basically complete the modernization of the People's Liberation Army (PLA) ahead of the 2035 target set by President Xi Jinping (习近平).
At the recently concluded annual meeting of the National People's Congress (NPC), China codified a new military modernization goal into its national development blueprint. Buried in Part 16 of the lengthy "14th Five-Year Plan [FYP] for National Economic and Social Development and Long-Range Objectives for 2035" is a call for China to "ensure the achievement of the 2027 centennial military building goal" (确保2027年实现建军百年奋斗目标, quebao 2027 nian shixian jianjun bainian fendou mubiao) (Xinhua, March 13). This new milestone, (hereinafter referred to as the "2027 goal") marks the 100th anniversary of the founding of the PLA on August 1, 1927.
The Chinese Communist Party (CCP) first unveiled the 2027 goal in October 2020 during the 5th Plenum of the 19th Central Committee. It was included in the Central Committee's proposal on drawing up the 14th FYP, and the language of the proposal was incorporated directly into the FYP (Xinhua, November 3, 2020). The 2027 goal joins a string of existing military modernization goals—namely that China will "basically complete national defense and military modernization by 2035" and possess a "world-class military by mid-century" (Xinhua, October 18, 2017).
The new 2027 goal sparked a flurry of claims that China had moved forward its goal of achieving military modernization from 2035 to 2027. In India, the Hindustan Times reported that the CCP had "finali[z]ed plans to build a fully modern military on par with the United States by 2027" (Hindustan Times, November 1, 2020). United States media reports claimed that China has "accelerated its timeline" for modernizing the PLA (Politico, March 15). Even former Australian Prime Minister Kevin Rudd, a widely respected China hand, stated categorically that "Beijing now intends to complete its military modernization program by 2027" (Foreign Affairs, March/April).
These assertions are not backed by evidence. Authoritative Chinese sources indicate that the 2027 goal is not a call for the PLA to become fully modern—or on par with the U.S. military—in just seven years. Instead, the 2027 goal is a new short-term marker for ensuring that China's military modernization campaign continues to progress along the CCP's long-established roadmap. Importantly, it also serves as a major propaganda tool and a reminder to the international community of China's growing power.
An Update to the "Three-Step Development Strategy" for Defense Modernization
In recent decades, China has pursued a three-step development strategy (三步走发展战略, san bu zou fazhan zhanlüe) for military modernization.[1] This development strategy has evolved over time as leaders have made adjustments, but it has consistently included three components. In 1997, President Jiang Zemin (江泽民) articulated a "cross-century strategic goal" for modernizing the military in three stages:
Step One (1997–2010): streamline and reduce the number of military personnel, establish a more efficient structure, and acquire advanced equipment and weaponry suitable for combat under high-technology conditions.
Step Two (2010–2020): utilize growing defense expenditure to significantly enhance the quality of the armed forces through the development of more advanced equipment and weaponry.
Step Three (2020–mid-century): realize modernization of national defense and the armed forces "by the century's mid-point" (Selected Works of Jiang Zemin, Volume II, 2006).
Under President Hu Jintao (胡锦涛), the Chinese government added details to the first and third steps of this modernization framework.[2] Both updates highlighted the importance of "informatization" (信息化, xinxihua), which involves enhancing the application of information technologies to improve military capabilities. China's 2006 defense white paper clarified the third step of modernization, stating that, "by the middle of the twenty-first century, the strategic goal of building an informatized army and winning informatized wars will be basically achieved" (Ministry of National Defense, December 2006). In his speech at the 18th Party Congress in 2012, Hu further added to the first step, calling for China to "basically complete military mechanization and make major progress in informatization by 2020." (Xinhua, November 17, 2017).
Five years after coming to power, Xi Jinping put forward a new three-step arrangement that adapted the framework developed and elaborated on by Jiang Zemin and Hu Jintao (People's Daily, November 3, 2017). In his report at the 19th Party Congress, Xi called for achieving mechanization (机械化, jixiehua) and making major progress toward informatization by 2020 in the first step—the same goal articulated by Hu. However, steps two and three saw notable shifts. In the second step China would basically complete national defense and military modernization by 2035, and in the third step China's military would be "fully transformed into a world-class military by mid-century" (Xinhua, October 18, 2017).
The new 2027 goal represents a modification—not a timeline compression—of Xi's three-step arrangement. With 2020 having come and gone, the first phase was deemed completed (PLA Daily, November 26, 2020). Maintaining a three-step arrangement thus required establishing a new short-term goal. Xi made clear that a three-step arrangement is still in place during a meeting with PLA and People's Armed Police delegates of the NPC, stating that 2021 marked the starting point for the new three-step arrangement for defense modernization (Xinhua, March 9). The final text of the 14th FYP, published days after Xi's statements, further confirmed this: the document listed "basically achieving modernization of national defense and the military" among its goals for 2035 (Xinhua, March 13).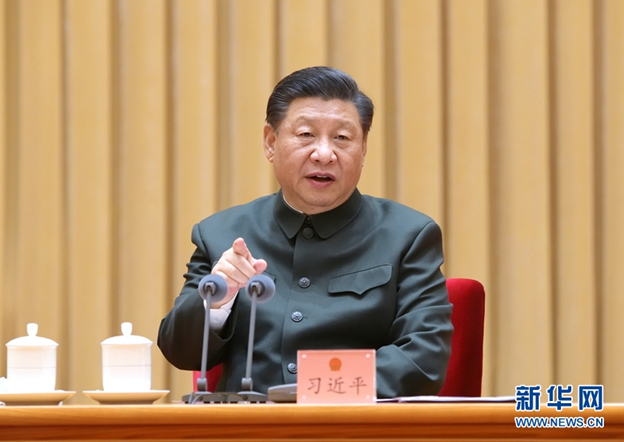 Less authoritative but nonetheless illuminating statements by Senior Colonel Li Haitao (李海涛) of China's National Defense University provide additional clarification. Li writes that the 2027 goal "spreads out the blueprint for the development of a strong army in the new era," forming a new three-step arrangement with 2027, 2035 and mid-century delineating each step of development (Ministry of National Defense, December 14, 2020).
These statements make clear that the 2027 goal does not represent the scrapping of China's existing timetable for defense modernization. Rather, it is the latest adjustment to a framework that has evolved steadily over the last two decades.
Four Elements of the 2027 Goal
Although the 2027 goal does not reset the schedule for military modernization, it does signal that the next seven years will be an important period in China's military development strategy. Ministry of National Defense spokesperson Ren Guoqiang (任国强) described the following four key elements of the new benchmark. (Xinhua, November 26, 2020). These are not new facets of China's military modernization, but a brief examination of these components provides useful context.
"Accelerating the integrated development of mechanization, informatization and intelligentization." Having achieved basic mechanization of the PLA and major strides toward informatization, a crucial focus over the next seven years will be integrating these developments with improvements in "intelligentization" (智能化, zhinenghua). Xi Jinping has identified intelligentization, the integration of artificial intelligence and related technologies into military assets, as a major component of military modernization going forward (China Brief, April 9, 2019).
"Accelerating the modernization of military doctrine, organizational form, military personnel and weapons and equipment." These elements have long been among the most important aspects of defense modernization. Under Xi Jinping, the PLA has already undergone historic organizational reforms and force structure adjustments. Additional measures could be on the horizon.
"Adhering to quality first and prioritizing efficiency." This component is intended to emphasize the need to make efficient use of resources in order to maximize the quality and pace of modernization. Ren specifically notes that the world is witnessing the acceleration of "major changes unseen in a century" (百年未有之大变局, bainian wei you zhi da bianju), making defense modernization more pressing. Notably, this third element is linked to the fourth element (below), as efforts to integrate economic and security strategies aim to facilitate greater efficiency in areas like research and development.
"Promoting the simultaneous improvement of national defense strength and economic strength." The CCP's strategy of military-civil fusion (MCF, 军民融合, junmin ronghe) aims to make major strides in this area. The U.S. Department of Defense describes the MCF strategy as "a nationwide endeavor that seeks to 'fuse' [China's] economic and social development strategies with its security strategies" (U.S. Department of Defense, September 1, 2020). Owing to prioritization at the highest levels, the implementation of policies promoting MCF has accelerated significantly in recent years (China Brief, October 8, 2019). MCF is likely to remain a key priority going forward.
Xi's Legacy of Building a Strong Army
The 2027 goal is also a powerful propaganda tool. The CCP has frequently set major goals to coincide with anniversaries of historic milestones. The most notable of these are the "two centennial goals" (两个一百年奋斗目标, liang ge yibai nian fendou mubiao), which were outlined in Xi Jinping's report to the 19th Party Congress. The first centennial goal seeks to "build a moderately prosperous society in all respects" by 2021, the hundred-year anniversary of the founding of the CCP. The second goal aims to "build a modern socialist country that is prosperous, strong, democratic, culturally advanced and harmonious" by 2049, the centennial of the founding of the People's Republic of China (Xinhua, October 18, 2017).
As part of the 2021 centennial goal, Xi Jinping made eradicating extreme poverty a top priority of his administration. In February 2021, Xi triumphantly declared "complete victory" in eliminating poverty (Xinhua, February 26). This served as a powerful demonstration of strength and legitimacy for the party and for Xi personally—both at home and abroad.
Similarly, linking the new 2027 goal to the anniversary of the PLA's founding is intended to boost the party's image and Xi's legacy. Celebrations of the 100th anniversary of the PLA's founding in August 2027 will undoubtedly be a major spectacle, likely involving a military parade in Beijing's Tiananmen Square. Importantly, these events will occur just a few weeks before the CCP's 21st Party Congress. Assuming Xi serves a third term as CCP General Secretary from 2022 to 2027—which is widely anticipated—he will either be capping off his time as China's leader or embarking on an unprecedented fourth term. Regardless, the celebration of the 2027 goal will be a powerful display of Xi Jinping's achievements.
This is especially true given that military modernization has been a highly visible priority for Xi. Since rising to power in 2012, Xi has put forward a series of guiding thoughts (指导思想, zhidao sixiang) on the importance of military modernization to achieving China's long-term goals for national rejuvenation (People's Daily, August 13, 2018). The CCP's propaganda apparatus has packaged these together into an eponymous thought known as "Xi Jinping Thought on Strengthening the Military" (习近平强军思想, Xi Jinping qiangjun sixiang). The result is a direct linkage between Xi's personal legacy and China's ongoing military modernization campaign.
Conclusion
The announcement of the 2027 goal sets a new milestone and lays out priorities for the sustainment of military modernization over the next seven years. This is important because China's ability to achieve mid-term and long-term modernization goals for 2035 and mid-century is predicated on progress made in the short-term.
The goal is also a symbolic message aimed at both domestic and international audiences. At home, it serves as a powerful propaganda device for the CCP and an important tool for shoring up Xi Jinping's legacy. Abroad, it sends a clear message that military modernization remains a pressing and important priority for China's leaders. However, the 2027 goal is not a shortening of the modernization timeline. Statements by Chinese officials make clear that the established goals for achieving modernization by 2035 and developing a "world-class military" by mid-century remain fully intact.
The authors would like to thank Dennis Blasko and M. Taylor Fravel for comments on an earlier draft of this article.
Brian Hart is a research associate with the China Power Project at the Center for Strategic and International Studies (CSIS).
Bonnie S. Glaser is a senior adviser for Asia and the director of the China Power Project at CSIS.
Matthew P. Funaiole is a senior fellow for data analysis with the iDeas Lab and a senior fellow with the China Power Project at CSIS.
Notes
[1] China has also employed a "three-step development strategy" in other areas. For example, Deng Xiaoping (邓小平) set out a three-step strategy for overall economic development (People's Daily, March 7, 2019). Additionally, the State Council's "Outline of the National Innovation-Driven Development Strategy" established a three-step arrangement for becoming a "world scientific and technological power" (世界科技创新强国, shijie keji chuangxin qiangguo) by 2050 (Xinhua, May 19, 2016).
[2] Informatization was made a priority for defense modernization under the leadership of Jiang Zemin, but defense white papers did not explicitly incorporate it into the three-step development strategy until the 2006 white paper.