China's Pandemic Public Opinion Warfare Alienates Global Audiences
Publication: China Brief Volume: 20 Issue: 21
By:
Introduction
Leaders of the People's Republic of China (PRC) recognize that to attain a more prominent position in global affairs, they must be both more feared and more loved. They consider success in international ideological competition critical to achieving their foreign policy aims. As commentary published in the most important Chinese newspaper reminded readers this summer: "The main front of external propaganda is the international public opinion field [which is] dominated by overseas social media" (People's Daily, August 25). China has sought to take advantage of the COVID-19 pandemic in order to improve its reputation abroad, presenting its success at controlling the coronavirus as a model for foreign emulation and a validation of the Chinese Communist Party (CCP)'s rule. However, these efforts have backfired. China's failure to convince global audiences that it has triumphed over COVID-19 highlights the structural weaknesses of its propaganda apparatus, which remains ineffective at shaping global public opinion.
A Disastrous Year for China's Global Reputation
The best evidence that China's propaganda machine is dysfunctional is that it has failed to achieve results in its battle for hearts and minds around the world. A Pew Research Center Survey conducted in June, July and August of this year found unprecedentedly negative views of China in every one of the fourteen countries studied, with an average of about three-quarters of those surveyed overall having a negative view of China (Pew Research Center, October 6). Official Chinese sources have not discussed the survey in detail, although the Chinese Foreign Ministry publicly responded with whataboutism, reminding journalists in a daily press briefing that the United States was also unpopular according to the survey's results (PRC Ministry of Foreign Affairs, October 9). Chinese English-language propaganda claimed that the survey accurately reflected global negative attitudes towards China, but dismissed those attitudes as the result of "inherent prejudice" stoked by the U.S. (Global Times, October 8).
Given that China considers overseas social media the "main front" of international public opinion, part of the reason for this global disapproval may be China's failure to influence foreign social media. This was highlighted in September, when the People's Liberation Army (PLA) Air Force released a nationalistic propaganda video entitled "The God of War H-6K Goes on the Attack!" which simulated nuclear bombers attacking the U.S. Pacific island of Guam (PLAAF Sina Weibo, September 19). The video provoked international laughter, however, because it included clips stolen from Hollywood films including Transformers and The Rock (BBC, September 21). Chinese propagandists fumbled again in October, when they attacked the hit South Korean boy band BTS for public remarks highlighting the close alliances between the US and South Korea on the anniversary of the Korean War. Global Times accused BTS of "hurting the feelings of the Chinese people," a stock phrase of Chinese propaganda (Global Times, October 11). China's social media influence pales in comparison to Kpop's, however, and BTS' famously hyperactive fans began harassing netizens until China withdrew the article (Yonhap, October 13; JoongAng Daily, October 13).
Another manifestation of China's effort to win hearts and minds has been its  "wolf warrior diplomacy," best summarized as an effort by Chinese diplomats to enhance their increasingly coercive and threatening diplomatic efforts by being undiplomatic on social media (Australian Strategic Policy Institute, September 1). The number of Chinese government and diplomatic accounts on Twitter doubled in the first half of 2020, despite Twitter being banned in China (Alliance for Securing Democracy, May 20). Chinese officials have had a field day pushing conspiracy theories, some of which appear to have stepped beyond the authorized Party line. Most infamously, in March the Chinese foreign ministry spokesperson Zhao Lijian, who is one of the loudest "wolf warrior" diplomats, falsely suggested on his personal Twitter account that the U.S. created COVID-19 as a bioweapon (@zlj517, March 12th). Zhao was publicly rebuked by his superiors, then held a press conference to apologize, then had his apology deleted by censors (Sinocism, April 7). While the tea leaves on Zhao's conspiracizing are hard to read, signs indicate that many of Chinese diplomatic elite consider wolf warrior diplomacy to be counterproductive. Notably, former vice-foreign minister Fu Ying issued a veiled rebuke to China's wolf warrior diplomats in the People's Daily, writing: "The international discourse power of a country not only refers to its right to speak in the world, but also refers to the effectiveness and influence of its discourse" (People's Daily, April 2). Zhao, however, continues to alienate foreign audiences. Last week he tweeted a doctored image portraying an Australian soldier murdering an Afghan child in response to a report on war crimes perpetrated by Australian special forces, which the Australian Prime Minster decried as "truly repugnant" and "deeply offensive" (@zlj517, November 29; Prime Minister of Australia, November 30).
China's so-called "mask diplomacy" has proven equally disastrous throughout the pandemic. China produces most of the world's personal protective equipment, so it should have had a unique store of leverage to build up goodwill during the pandemic. While China's initial propaganda related to COVID-19 was haphazard and reactive, in March its messaging coalesced around the central theme that "China's methods for handling the pandemic are being promoted as a model for other countries of the world to follow" (Zignal Labs, March 24; CCP Watch, April 13).  However, the CCP squandered this opportunity by demanding foreign states thank China for the gift of essential medical equipment using absurd language, exaggerating its modest contributions, sending dysfunctional material abroad, and generally taking a transactional approach to aid (BBC, March 30; Formiche, March 30; Axios, April 1). After a flurry of propaganda about China's generosity in March, Chinese propagandists laid off this message in April, as international audiences were responding negatively (Stanford Internet Observatory, June 16). Chinese diplomats have continued to attempt to push a "China model" for pandemic response, but as the Pew surveys demonstrated, it is not attractive to many (CCP Watch, April 3).
Why Chinese Propaganda Fails
China's propaganda organs suffer from several structural weaknesses. The root of their problems is that China's concept for propaganda is a Maoist relic which is unsuited to the information age. Since CCP General Secretary Xi Jinping took power in 2012, China's approach to propaganda has taken an increasingly hard line and regularly harkens back to Mao Zedong's renowned 1942 Yan'an Forum on Art and Literature (China Brief, December 5, 2014). The Chinese leadership outlined their current approach to ideological competition most clearly in a leaked 2013 internal memo, "Communiqué on the Current State of the Ideological Sphere," circulated by the General Office of the CCP Central Committee and commonly referred to as Document 9. It stated in no uncertain terms that all members of the CCP must oppose civil society, universal values and independent journalism, and directed cadres to struggle on the "ideological battlefield," broadly in line with China's concept of public opinion warfare and century-old Leninist concepts of ideological struggle (China File, November 8, 2013; see also China Brief, August 22, 2016). Chinese rhetoric about soft power (软实力, ruanshili )and learning foreign stratagems has been merely window dressing around the unyielding Marxist-Leninist approach to information articulated in Document 9, which declares that China must respond to foreign influence with state-controlled propaganda.
Because of their ideological biases, Chinese propaganda writers struggle to produce content which resonates with global audiences. They are divorced from global perceptions of reality by the comprehensive censorship of China's Great Firewall and further blinkered by China's totalitarian ideology. The oppressive jargon they use has been characterized as "New China Newspeak" by the sinologist Geremie Barmé, or more simply as "diseased language" by the sociologist Anna Sun.[1] This kind of language is inelegant in Chinese and is even worse in translation. It is punctuated by inane slogans, exemplified by frequent references to Australia as America's "running-dog" (美国走狗, meiguo zougou) and claims that Westerners have "hurt the feelings of the Chinese people" (伤害中国人民的感情, shanghai zhongguo renmin de ganqing). It is even inadequate to describe Chinese successes, as demonstrated by awkward headlines such as: "Chinese Embassy's humorous satirical taste delights social media users" (Global Times, May 16). International audiences do not find this language engaging. As a result, fully 80 percent of stories published by China's flagship English-language propaganda outlet, Global Times, in early 2020 generated zero Facebook engagement, according to an analysis by the Foreign Policy Research Institute (FPRI, May 8).
China tries to manipulate social media platforms, but it fails there too. The tactics that work on censored domestic Chinese sites like WeChat and Weibo fail spectacularly on global platforms like Facebook and Twitter, where audiences have different tastes and are less vulnerable to manipulation (Nikkei Asia, October 24 2019). As the Stanford Internet Observatory (SIO) noted in a recent report, compared to Russia, China's ecosystem of patriotic trolls and paid contactors "have resulted in unsophisticated accounts, far less engagement [than Russian efforts], and no clear influencer amplification" (SIO, July 20).  Networks of Chinese bots taken down by Twitter in 2019 and 2020 mostly consisted of poorly-developed accounts with less than ten followers (Twitter, August 19, 2019; SIO, June 11). Analyst Jordan Schneider concluded in a meta-analysis of Chinese information operations that "China has no idea how to run a Twitter network," noting that its work is "hidebound by prescribed talking points" and that most tweets from accounts associated with Chinese trolls generate zero engagement. Schneider added that Chinese botnet managers seem to be corrupt, as they often push porn and cheap merchandise for profit in addition to pro-Chinese propaganda (ChinaTalk, October 29). YouTube channels that have been deleted for spreading Chinese propaganda are similarly ineffective, attracting modest audiences with mediocre spam (Google Threat Analysis Group, August 5). The largest attributed Chinese influence campaign, named "Spamouflage Dragon" by researchers at social media analytics firm Graphika, spread videos that were "clumsily made, marked by awkward and automated voice overs" and had few followers (Graphika, August 12). Earlier this year, Spamouflage Dragon launched an anti-Trump page that demonstrated its clumsiness, attracting zero followers over four months despite grasping at low-hanging fruit (Graphika, September 22).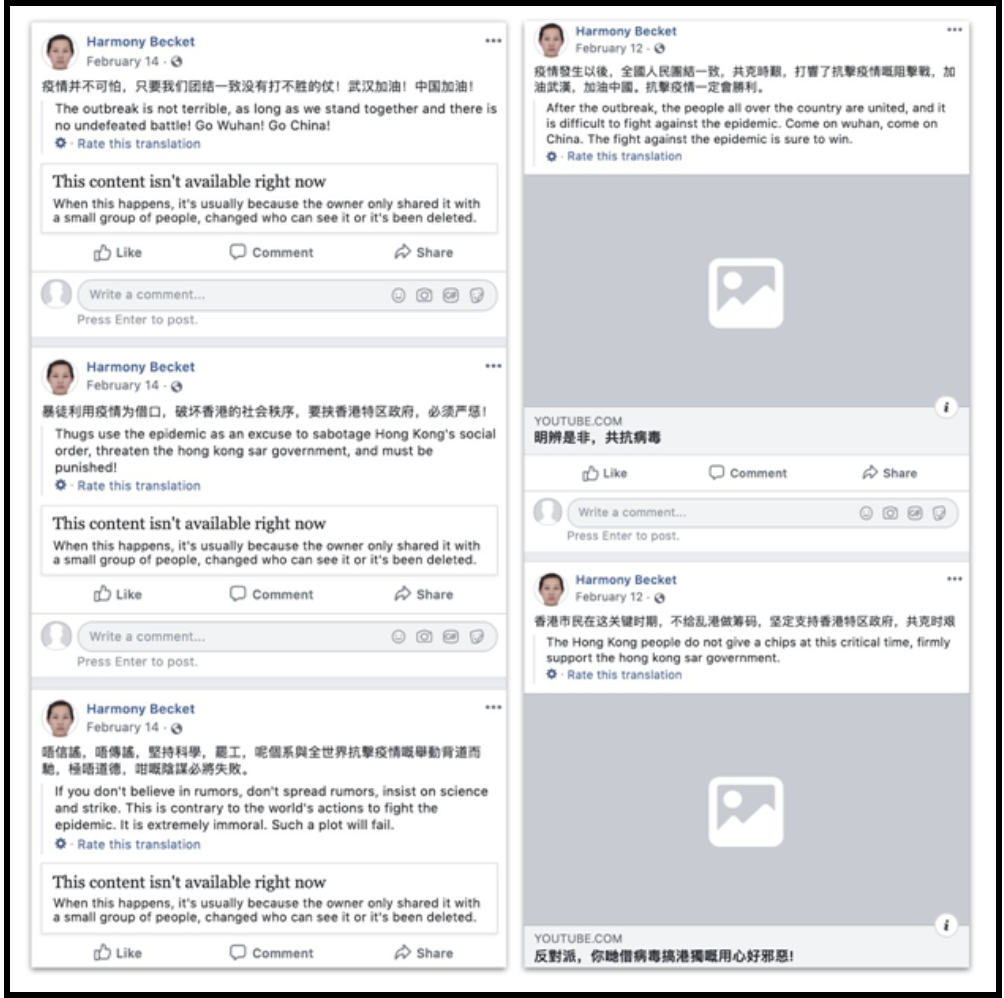 Chinese Propaganda is Still Effective Domestically
In stark contrast to the many failures of China's international propaganda efforts, Chinese efforts to shape public opinion at home are mostly successful. By censoring discussion of COVID-19 long before they warned the Chinese population about it, lying about the number of pandemic-related deaths in China, and incessantly praising themselves for exaggerated triumphs, the CCP has brainwashed the Chinese people into thinking the "China model" is more effective than it is (Citizen Lab, August 25; Congressional Research Service, May 13). A multi-national survey by Blackbox Research found that 85 percent of mainland Chinese citizens approved of their governments' handling of pandemic response as of May—a global high (Xinhua, May 6). The clearest evidence that this popularity has more to do with the Communist Party's words than its deeds is that Hong Kongers, who have access to more varied and accurate information than mainlanders, give the same government a 27 percent approval rating, representing one of the lowest of any population surveyed (South China Morning Post, May 6).
Conclusion
This increasing disconnect between China and the world is dangerous. It is most risky for the U.S.-China relationship, where misunderstanding and disagreement on basic facts could contribute to escalatory dynamics. Here the outlook is grim: within China, both official and popular views of the U.S. are now unprecedentedly negative (Recorded Future, March 30; Eurasia Group Foundation, April 2020). Meanwhile, American antipathy towards China has reached records highs, with nearly 3 out of 4 Americans blaming the CCP for its role in spreading the pandemic (Pew Research Center, July 30; Morning Consult, May 8). Nonetheless, the Chinese government does not appear to be particularly reflective about the weaknesses and dangers of its propaganda ecosystem. If China continues to prove effective at stirring up nationalism behind the Great Firewall while shouting ineffectively at global audiences, this disconnect is only likely to grow.
T.S. Allen is a freelance analyst who previously served as an intelligence officer in the U.S. Army and has extensive experience with information warfare, cyberspace operations and propaganda analysis. He continues to serve as a reservist. The views presented here are those of the writer and do not necessarily represent the views of the U.S. Defense Department and its components.
Notes
[1] See: Geremie Barmé, "Shades of Mao: The Posthumous Cult of the Great Leader," Routledge Press, November 30, 1995; Anna Sun, "The Diseased Language of Mo Yan," Kenyon Review, Fall 2012, https://kenyonreview.org/kr-online-issue/2012-fall/selections/anna-sun-656342/.