Clashes on Azerbaijan-Armenia Border Threaten Regional Transport and Energy Routes
Publication: Eurasia Daily Monitor Volume: 17 Issue: 112
By: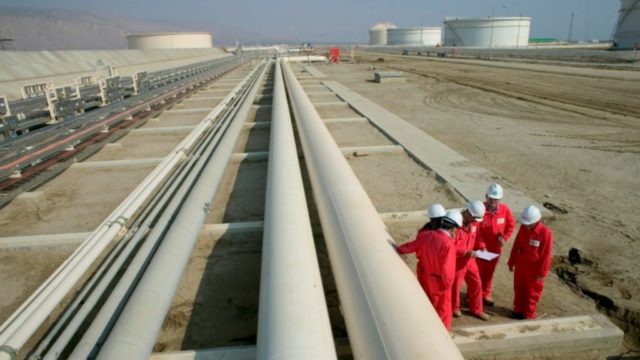 On July 12, Armenian and Azerbaijani forces exchanged fire along the state border in the Tovuz region of Azerbaijan and Armenia's Tavush province, resulting in several days of intense cross-border clashes involving heavy artillery exchanges (Mod.gov.az, July 12). The two countries have been under a volatile ceasefire since fighting a bloody war over the Azerbaijani region of Karabakh in the 1990s (Dailysabah.com, July 13). To this day, Armenia occupies 20 percent of Azerbaijan's territory. The last instance of serious fighting between the two sides occurred in April 2016, when the Azerbaijani military liberated several formerly occupied strategic positions on the Line of Contact in Karabakh (Report.az, April 4, 2017). In contrast, the recent fighting in Tovuz represented the largest cross-border military engagement since 1994.
Tovuz is a narrow land corridor through which a number of vital transport and energy export routes link Azerbaijan to European and other global markets. The territory is notably crossed by the trans-Eurasian Transportation Corridor East-West. Other critical infrastructure passing through Tovuz includes the Baku–Tbilisi–Ceyhan (BTC) oil pipeline, the South Caucasus natural gas pipeline (SCP) and the Baku–Tbilisi–Kars (BTK) railway (Tvreal.az, July 17).
The BTC pipeline delivers Azerbaijani crude oil to Europe (Ona.az, March 13, 2019). In early 2020, 81 percent of Azerbaijan's oil exports were transported via the BTC (Vergiler.az, February 18); and throughout 2019, the pipeline transported a total of 233.2 million barrels of oil (Neftegas.ru, January 16). The SCP runs largely in parallel with the BTC and presently supplies Azerbaijani gas to Georgia and Turkey. It provides 23 percent—2.7 billion cubic meters (bcm) of gas in the first quarter of 2020—of Turkish demand. As Turkey's largest supplier, Azerbaijan helps the former reduce its reliance on Russia and Iran (Arabnews.com, May 2; see EDM, July 6). The SCP additionally provides about 87 percent of Georgia's natural gas demand and is the easternmost segment of the Southern Gas Corridor (SGC), which will annually deliver 10 bcm of gas to Europe starting in late 2020 (EurActiv, February 13).
The BTK railway connects Azerbaijan, Georgia and Turkey and is a strategic segment of the so-called "Middle Corridor," linking China to Europe. The BTK has an annual capacity of 17 million tons of cargo (trend.az, April 4, 2019). Furthermore, this railroad has been used by North Atlantic Treaty Organization (NATO) and allied forces to transit supplies to and from Afghanistan (Nato-pfp.mfa.gov.az, accessed July 30). The BTC, the SCP and the BTK all run 15 kilometers of Tovuz city (the district capital), which was exposed to Armenian shelling.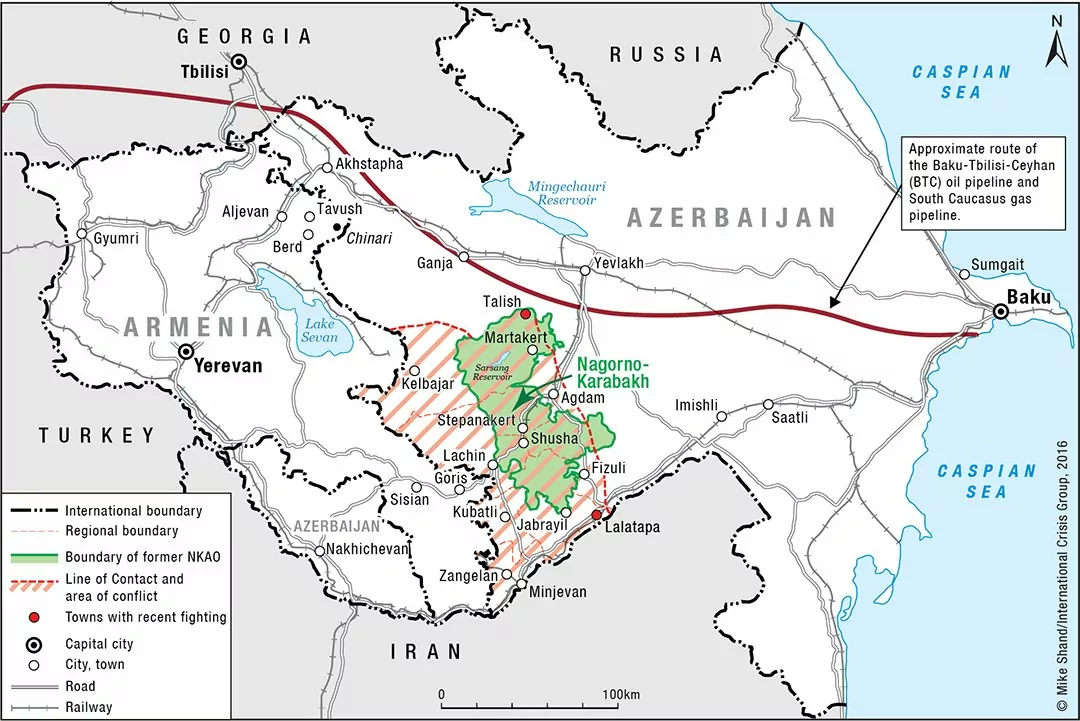 The vice president for investment and marketing at the State Oil Company of the Azerbaijan Republic (SOCAR), Elshad Nasirov, alleged that Armenia's military provocations were intended to disrupt Azerbaijani plans to begin supplying gas to Europe in three months. He stressed that "the entire infrastructure for the supply of Azerbaijan's energy resources to Western countries and the global market is located in this region" (Azerbaycan24.com, July 17). This charge was echoed by Azerbaijani parliamentarian Ganira Pashaeva, who asserted that Armenia aimed to target Azerbaijani-Turkish energy and transport lines (Anadolu Agency, July 17).
The recent cross-border clashes did not directly damage Azerbaijan's energy infrastructure, instead destroying 61 households and farms across several Tovuz district villages (APA, July 23). However, these pipelines' close proximity to the areas exposed to shelling illustrate how vulnerable they are to attacks and shutdowns. Indeed, BP temporarily took the SCP, BTC and the Baku–Supsa oil pipeline offline during the August 2008 Russian-Georgian war (Ogj.com, August 12, 2008).
It is also notable that two weeks before the cross-border violence erupted, Armenia's former defense minister Lieutenant General Vagharshak Harutyunyan suggested Yerevan could destroy the entire oil complex in three major cities of Azerbaijan (Kavkazplus.com, July 3; Miq.az, July 6). Currently, the conflict appears to have settled down again. But energy infrastructures would become a likely target if full-scale military operations begin.
The recent clashes on the Azerbaijan-Armenian border, in Tovuz, could jeopardize the "energy and transport corridor from the Caspian into Europe," according to Brenda Shaffer, a senior advisor for energy at the Foundation for Defense of Democracies (New.az, July 17). Further armed conflict in this sensitive corner of Azerbaijan would force Baku to shut down most of its major oil and gas export pipelines for safety reasons (RFE/RL, April 5, 2016). And the possibility of energy pipelines going offline even temporarily would have a number of economic and political consequences for Azerbaijan, Georgia, Turkey and Europe.
Cross-border hostilities would certainly be costly for Azerbaijan. Oil sale revenues, including transfers from the State Oil Fund, are planned to account for 57 percent of the Azerbaijani national budget in 2020 (Marja.az, September 13, 2019). Moreover, energy resources make up between 85 and 91 percent of its overall income from exports. So though it is difficult to accurately project the long-term economic consequences of temporary oil and gas pipeline shutdowns for Azerbaijan, such an outcome would surely bite into Azerbaijan's financial reserves.
As the SCP provides around 90 percent of Georgia's natural gas demand, it is also a big concern for Tbilisi, which has a little room for maneuver in negotiations with Moscow if it suddenly needed to switch back to relying on Russian energy supplies. Azerbaijan has also been an important key to Turkey's efforts to diversify its natural gas market away from a reliance on Russia, which Ankara does fully trust as a supplier. Finally, the BTC and SCP carry political importance for the European Union and the Balkans, as these regional countries seek to free themselves from Russia's energy grip.
The sudden armed confrontation between Armenia and Azerbaijan quieted back down since July 17, but the ceasefire looks quite fragile. And though international experts believe further escalations are unlikely (Ednews.net, July 17), the Azerbaijani public has clearly lost faith that a peaceful resolution to the broader conflict with Armenia is possible following decades of failed diplomacy (Etikxeber.az, July 23). If the precarious ceasefire is once again broken and begins to spiral out of control, the consequences will include long-term harm to the strategic interests of not only the immediate region but also major outside powers.