CONFIDENTIAL RUSSIA-MOLDOVA BILATERAL NEGOTIATIONS FAIL
Publication: Eurasia Daily Monitor Volume: 4 Issue: 23
By: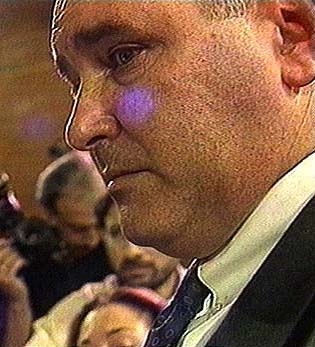 From September 2006 until this week, Moscow and Chisinau were engaged in confidential bilateral talks on a political settlement of the Transnistria conflict. This channel operated outside the official, 5 + 2 negotiating framework (which consists of Chisinau, Tiraspol, Russia, Ukraine, the OSCE, the European Union, and the United States). However, the Moldovan officials who conducted those bilateral talks — top presidential adviser Marc Tcaciuc and Reintegration Minister Vasile Sova — duly informed Moldova's Western partners about the course of the talks at every stage. Nor did they keep Ukraine's Ministry of Foreign Affairs in the dark.
In all, the Moldovan officials made five known visits to Moscow between September 2006 and this week. The fact that the visits were taking place was being announced (sometimes post facto) in one-paragraph communiqués, but the content of the talks was not. On the Russian side, Security Council Deputy Secretary Yuri Zubakov ran this channel, with Deputy Minister of Foreign Affairs/State Secretary Grigory Karasin also involved at times.
Chisinau engaged in this effort as part of an all-out, multidimensional effort to persuade Russia to lift its economic embargoes against Moldova and to explore a possible package solution on Transnistria. The Moldovan side was careful to separate the issue of conflict resolution from the trade embargo and energy supply issues, which were being discussed elsewhere, so as to reduce Moscow's direct economic leverage in the Transnistria negotiations.
The Moldovan side came to the table with proposals for Transnistria's political status and full withdrawal of Russian forces. The proposals envisaged, in essence, autonomy for Transnistria, short of "federalism;" no role for Tiraspol in shaping the policies of Moldova's central government (thus leaving the latter free to pursue a Western-oriented course); social-protection guarantees for various categories of civil-administrative and uniformed personnel in Transnistria; replacing Russian "peacekeeping" troops with international, mainly unarmed, peacekeepers; and the continuing neutrality of Moldova (no change in that regard).
The proposals were in line with Moldova's 2005 organic law on the principles of Transnistria conflict-resolution, one of the key ideas of which rules out any "external guarantees" of the settlement, such as Russia proposes to maintain, with its troops in place.
Chisinau held out two incentives for Moscow to go along: Firm assurances that Moldova would not join any military alliance (meaning NATO) and that it would, as part of the settlement package, legalize Russian companies' property takeovers in Transnistria. At present, Russia's Unified Energy Systems, Gazprom, and steel producers control massive assets unlawfully acquired in this part of Moldova.
In the final session of talks, held in Moscow this week, the Russian side summed up the objections that it had all along voiced to Chisinau's proposals. Moscow insists on the concept of "external guarantees," including military ones with Russian troops, and does not recognize any obligation to withdraw its forces from Moldova's territory. And it gives Tiraspol full latitude to determine what would constitute an acceptable political and even military settlement (while at the same time encouraging Tiraspol to stonewall).
Russia continues to demand that any negotiations proceed from the "understandings reached earlier" [ranneye dostignutyie dogovoryonnosti], a sacramental formula that Moscow equally insists upon in negotiations on the conflicts in Georgia. This formula refers to documents signed during the 1990s under Russian duress, though never legalized in any form, by Moldova or Georgia. In Moldova's case, these include the 1997 Primakov Memorandum and a 1998 document authorizing Tiraspol's authorities to conduct external trade. In essence, these never-ratified documents place Chisinau and Tiraspol on an equal footing as "parties to the conflict" and define Russia (again without any legal basis) as "mediator" and "guarantor," although Russia itself is by all criteria engaged in interstate conflicts against Moldova and Georgia.
In the same final session, Russian side reproached the Moldovans for "working with the West behind Moscow's back" and orchestrating "pressures" on Moscow through the OSCE. On these pretexts, the Russians asserted that they are taking an indefinite "time-out" from the talks.
On the following day, January 30, Karasin received Tiraspol's "foreign minister" (and a Russian citizen from Russia itself), Valery Litskay, in Moscow demonstratively. In Tiraspol on the same day, Supreme Soviet chairman Yevgeny Shevchuk, in unison with Moscow, criticized Chisinau's refusal of "guarantees by the guarantor countries" and its abandonment of "understandings reached earlier," from among which Shevchuk singled out the 2003 Kozak Memorandum [never "reached," however] (Interfax, Olvia Press, January 31).
In Chisinau, President Vladimir Voronin and Parliament Chairman Marian Lupu received the European Union's Special Representative in the negotiations on Transnistria, Dutch diplomat Adriaan Jacobovits de Szeged, on the occasion of completion of his two-year mission. Voronin and Lupu called for extension of the European Union's Border Assistance Mission on the Transnistria sector of the Moldova-Ukraine border, resumption of negotiations in the 5 + 2 format, upgrading the U.S. and EU roles from observers to full participants in that format, withdrawal of Russian troops, and their replacement by internationally-mandated civilian and military observers
A round of the 5 + 2 negotiations is tentatively scheduled for February 15-16 after a year-long hiatus (Moldpres, Basapres, January 30, 31)