Constitutional Majority Looms as Georgia's Opposition UNM Party in Danger of Emaciation
Publication: Eurasia Daily Monitor Volume: 13 Issue: 174
By: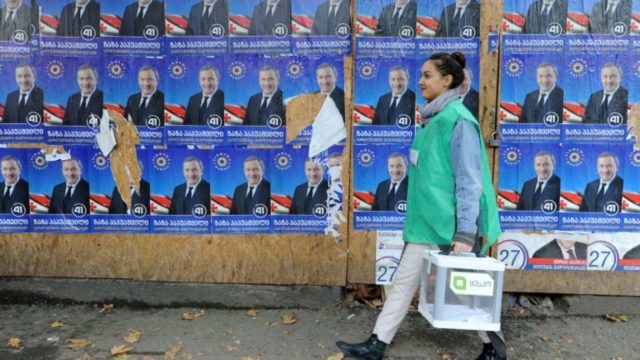 Sunday's runoffs in 50 precincts—which became necessary because none of the candidates in these single-mandate districts garnered an absolute majority of the vote in the first round of the October 8 Georgian parliamentary elections—were overwhelmingly won by the ruling Georgian Dream-Democratic Georgia (GDDG). On October 30, the party captured 48 more seats (out of the 49 it was contesting), in addition to the 67 it secured three weeks ago (Netgazeti.ge, October 31). Thus, GDDG has acquired a constitutional majority, which all but denigrates the only serious opposition party, United National Movement (UNM), into the role of an emaciated observer in the country's future parliament. In the second round, one seat was also won by a candidate of the Industrialists–Our Homeland party, and another went to Salome Zurabishvili, an independent candidate, backed by GDDG (Civil Georgia, October 31).
UNM decided, contrary to its leader Mikheil Saakashvili's urging, not to boycott the first round's results (see EDM, October 27), despite numerous indications that a substantial percentage of votes could have been manipulated and that a prevailing atmosphere of intimidation likely contributed to low voter turnout (see EDM, October 13). In fact, voter participation was even worse in the second round, constituting about 35.7 percent (Civil Georgia, October 31). It is reasonable to claim that this further decrease was, at least partially, caused by the rift within UNM, which has only widened since Saakashvili's call for a boycott. Sandra Roulofs, a popular UNM candidate in Zugdidi and Saakashvili's wife, declared that she would not participate in the runoffs among UNM's 45 contenders. It is still unclear whether she will join the parliament through the UNM proportional party list (where she was listed as the second name from the top), though this seems highly unlikely. Would not Roulofs' bold proclamation that the October 8 elections were doctored and illegitimate, after which she stepped aside (Ambebi.ge, October 23), delegitimize her own actions, if she were still to rejoin the parliament just a few weeks later? However, as political observer Ghia Nodia contends, her failure to do so would, indeed, crystalize the conflict between Saakashvili and his party (Netgazeti.ge, October 24.
Likely, Saakashvili's physical distance played its part in bringing about UNM's second hard defeat this month—losing all of the runoff votes it participated in on October 30. The party's core, the Political Bureau, had earlier voted 32 in favor of joining parliament; 9 votes were against, while 20 party representatives abstained or were not present for the vote (Netgazeti.ge, October 12). In its decision, the party leadership gambled that relegating Saakashvili to the position of a mere honorable party head, who would no longer participate in its strategic and tactical decisions, could win the party valuable support of those voters disenchanted with GDDG but opposing what one could call UNM's "old guard," led by the former president (see EDM, October 27). But at present, UNM lacks any prolific leaders: the charismatic Saakashvili is abroad in Ukraine (where he serves as governor of Odesa province), and other UNM politicians with distinctly strong leadership records, such as Gigi Ugulava and Ivane "Vano" Merabishvili, remain in prison. Without Saakashvili's aura of past victories, it seems that, at least for the time being, UNM has turned qualitatively into just another of the many small opposition parties, though it did receive the largest support (approximately 500,000 votes) of any of the pro-Western parties in Georgia. It may have shot itself in the foot by not following Saakashvili's lead. Perhaps foreseeing the perils of a possible GDDG constitutional majority, he sought to avoid granting legitimacy to a contestable election. Whereas, his party decided to join the parliament in order to try to secure for itself the tangible policymaking tools that Saakashvili feared would now be out of grasp anyway due to the ruling faction's overwhelming control of the legislature (Tabula, October 28).
Meanwhile, thanks to its constitutional majority, GDDG will not even require the nationalistic Alliance of Patriots parliamentary faction (six seats) to second the ruling party's motions in the legislature. GDDG can freely proceed with implementing its recently announced drastic legislative changes, which threaten not just Georgia's democratic institutions, but also its national security. Zurabishvili, a former foreign minister under Saakashvili's first administration, and presently an independent candidate who also won her runoff election in Tbilisi's Mtatsminda district thanks to GDDG's support, declared just days before the final vote that Georgia's law designating South Ossetia and Abkhazia as occupied territories is presumably "blocking" Georgia's possibility to maneuver in its relations with Russia (Pia.ge, October 27). Some Western experts, such as the United States' former ambassador to Georgia, Kenneth Yalovitz, predict that the Caucasus region in general and Georgia in particular will lose its significance for US foreign policy in the coming years (YouTube, October 11). And according to the Russian paper Izvestia, Russia's and Georgia's negotiators—Grigory Karasin and Zurab Abashidze, respectively—are preparing to discuss "restoring diplomatic relations between the countries," and "Georgia has to make the first step" without any concessions regarding the current status of the breakaway regions (Izvestia, October 11).
At the same time, the Georgian Dream coalition's previous defense minister, Tinatin Khidasheli (until recently from the Republican Party—Pirveliradio.ge, October 30), is criticizing GDDG for not participating in three recent North Atlantic Treaty Organization (NATO) ministerial meetings in Bucharest, Sofia and Ankara, inter alia concerning Black Sea security cooperation (Interpressnews, October 27). GDDG also notably refused to back the Parliamentary Assembly of the Council of Europe's (PACE) resolution in support of Ukraine; Eka Beselia, the Georgian representative to PACE, claimed the resolution concerned Ukraine, not Georgia (Primenews, October 17). GDDG is attempting to justify its actions with casual double-talk: the Georgian government is assuring the domestic public that NATO's decision to increase the Alliance's defenses along the Russian border somehow "without question" reflects Georgia's role in NATO's Black Sea Program (Netgazeti.ge, October 30). Yet, such assurances clash with observable actions being undertaken by Georgia's government, which suggest ever greater permissiveness on the part of Tbilisi toward Russia's occupation of Georgian territory. Such a new pattern in Georgia's foreign policy is likely to grow more overt following GDDG's gained constitutional majority in the parliament.