Crisis Impels South Korea to Seek Russian Diplomatic Assistance
Publication: Eurasia Daily Monitor Volume: 14 Issue: 115
By: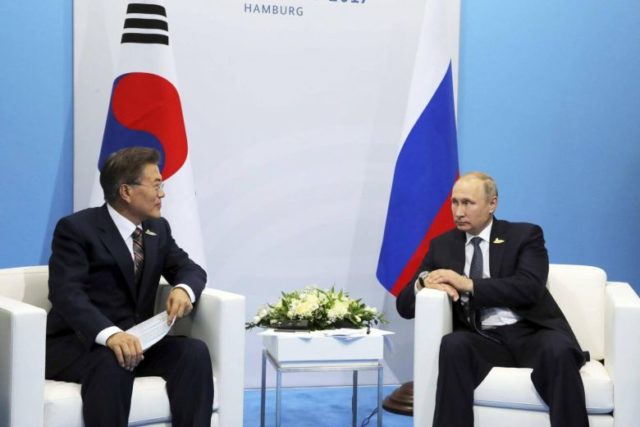 As North Korea's accelerating missile and nuclear tests continue to intensify tensions on the Korean Peninsula, South Korea is seeking to broaden the country's diplomatic and defense contacts beyond its traditional reliance on the United States. Increasingly, that search for new partners is focusing on Russia. Illustratively, on September 4, South Korean National Security Office chief, Chung Eui-yong, met in Seoul with Secretary of the Russian Security Council Nikolai Patrushev, who was accompanied by a high-powered delegation (TASS, September 4).
Russia's public rhetoric, calling for restraint and a diplomatic solution to North Korea's nuclear and ballistic missile programs, stands in contrast to the increasingly bellicose pronouncements of the administration of US President Donald Trump. And now, South Korea is reaching out to Russia for help in resolving its dispute with the Democratic People's Republic of Korea (DPRK).
As early as 2013, Russia's President Vladimir Putin said at a press conference following Russian–South Korean discussions that he believed tripartite cooperation among Moscow, Seoul and Pyongyang should not depend too much on politics, commenting, "This tripartite cooperation should not be a hostage of politics but, on the contrary, should become an important consolidating and reconciling factor" (Voice of Russia, November 13, 2013).
Today, the impetus behind South Korea's deepening outreach to Russia is simple: worry over North Korea's growing expertise in both missile and nuclear technology. Before the current crisis, the DPRK's tested nuclear explosive devices in 2006, 2009, 2013 and twice in 2016. The country is also capable of enriching uranium and producing weapons-grade plutonium. While North Korea's missile tests date back to 1984, this year alone, the DPRK has attempted 17 missile launches and successfully test-launched an intercontinental ballistic missile (Nti.org, July 2017, accessed September 18). It is the potential marriage of these two technologies that has South Korea so concerned.
The same day Patrushev conferred with Chung, he also met with South Korean Foreign Minister Kang Kyung-wha to discuss international issues. In an indication of the importance that the Russian government attached to the discussions, Patrushev was accompanied by representatives from the Ministry of Foreign Affairs, the Ministry of Interior, the Ministry of Defense, the Federal Security Service (FSB), the Federal Financial Monitoring Service, Putin's presidential administration, as well as the Security Council's administration (Scrf.gov.ru, September 4).
Assuming that regional armed conflict can be avoided, Putin sees great potential in the future of Russian–South Korean trade. On September 6, speaking at the third Eastern Economic Forum (WEF) in Vladivostok, Russia's head of state noted that since the beginning of the year, bilateral trade had grown by 50 percent to $10 billion, with more than 600 South Korean companies now working in Russia. South Korean investments in Russia now exceed $2 billion, he added (TASS, September 6). But the Russian trade with North Korea is growing as well; Sputnik News reported that Russian exports to North Korea during January–February 2017 had grown by 149.1 percent, year on year (Sputnik News, May 5).
Three new financial initiatives were undertaken by Russia and North Korea since the beginning of the year. First, Russia has opened a new ferry line from Vladivostok to the North Korean city of Rajin. Moreover, Russian officials visited Pyongyang to investigate upgrading the Rajin–Hasan railway. Finally, the two countries reached a labor immigration agreement to add to the 40,000 North Korean timber and construction workers already present in Russia's Far Eastern region (The South China Morning Post, June 10).
Nonetheless, on September 6, Putin also met with South Korean President Moon Jae-in on the WEF sidelines. Moon said that he and Putin "share a view that North Korea has gone the wrong way with its nuclear and missile program" and requested assistance to "tame" Pyongyang (Yonhap, September 6).
The Russian–South Korean diplomatic talks are not occurring in a vacuum; while Moon and Putin discussed the current crisis, on the same day the US introduced a draft resolution asking the United Nations Security Council to freeze the assets of leader Kim Jong-un and introduce an oil embargo on North Korea along with a blockade of its textile exports, which, along with coal, is one of the country's few sources of hard currency revenue.
If diplomacy fails, South Korea is reportedly looking to the US to increase the payload of its ballistic missile inventory; The Korea Herald reports that, on September 4, Trump and Moon agreed to scrap previous limits on the payload of South Korean missiles, which banned Seoul from fitting warheads weighing more than 500 kilograms onto its ballistic missiles with a range of 800 kilometers. South Korea currently plans to build a new ground-to-ground ballistic missile that can reach all of North Korea and deliver a warhead weighing up to two tons (The Korea Herald, September 5).
Despite the ongoing Russian–South Korean diplomatic discussions regarding calming tensions on the Peninsula, there remains a wide divergence between the goals of Seoul and Moscow. The former wants North Korean military threats resolved by any means necessary, up to and including force if necessary. For Russia, US military operations would be a most unwelcome addition to the geostrategic complexities of Northeast Asia, which could inflict immense economic damage on a country that Moscow now sees as a potentially significant partner in its drive to develop Russia's backward Far Eastern provinces. Relatedly, Russia sees the Koran Peninsula as a possible lucrative market for its energy exports, particularly liquefied natural gas (LNG), which would be untroubled by sanctions.
China, North Korea's most significant patron, shares Russia's aversion to US or US–South Korean military action against the DPRK. But whether Russia and China can induce South Korea to back their policy preferences regarding the Peninsula's existential problems remains to be seen.