Decades on, Stalin's Deportation of the Chechens Still Casts a Malevolent Shadow
Publication: Eurasia Daily Monitor Volume: 19 Issue: 23
By: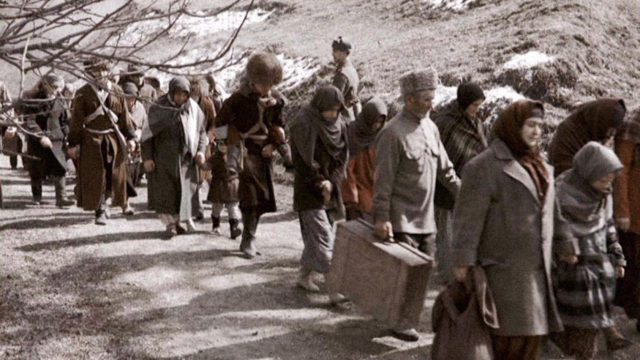 Few events shaped the Chechen and Ingush peoples as profoundly as the experience of exile. Seventy-eight years ago, in February 1944, the Chechens and their Ingush ethnic kin were herded into freight trains and deported en masse to the sparsely populated steppes of Kazakhstan and Kyrgyzstan. It is estimated that more than a third of them died before they were allowed back 13 years later (see North Caucasus Weekly, February 22, 2007).
The deportation was by no means the only calamity that befell the Chechens throughout their turbulent history—nor even the deadliest. A century earlier, they waged, together with other indigenous Caucasus peoples, a 25-year anti-colonial war against Tsarist Russian forces that took a terrible toll on the mountain nation and is still invoked to the present day. More recently, they fought two wars of independence against Moscow over as many decades, which resulted in countless deaths and left in their wake numerous damaged and untreatable survivors. All these formative events had an impact on the Chechen collective psyche, altering how they think about their relations with Russia. But it is the deportation that left the deepest scars on their consciousness, probably because it was experienced not just by one group, faction, or stratum of the population, but by everybody—men and women, Communist Party nomenklatura, war heroes, clerics, and clan elders. The Checheno-Ingush Autonomous Soviet Socialist Republic was abolished, its name expunged from maps, and its territories carved up among neighboring regions. Even the mention of the Chechen and Ingush languages was removed from textbooks.
Acting on Soviet leader Joseph Stalin's orders, troops from the People's Commissariats for Internal Affairs (NKVD) and State Security (NKGB) began the forcible expulsion of Chechens and Ingush in the early hours of February 23, 1944. The Soviet leadership deemed the operation important enough for it to be personally supervised by the chief of the NKVD, Lavrentiy Beria. Beria's closest deputies were in charge of four "operational sectors," where the deportees were assembled before being herded into unheated railroad cattle cars. It is unlikely local officials were apprised of the Soviet leadership's plans beforehand—although vague rumors had been circulating for months—but they played an important, albeit secondary role, in implementing them.
On February 20, immediately after he arrived in Grozny, Beria reported to Stalin he was ready to launch the operation. Two days later, he notified the leadership of the republic about the impending deportation. According to one of Beria's reports, Supyan Molayev, the chairperson of the Council of People's Commissars of Checheno-Ingushetia, "gave way to tears but promised to pull himself together and carry out all instructions that would be given to him in connection with the deportation" (Nezavisimaya Gazeta, February 29, 2000). Molayev was not the only local functionary who complied unquestioningly with Beria's orders. Soon after, the people's commissar summoned nine other high-ranking officials "who were informed about the progress of the deportation of Chechens and Ingush and the reasons for it." Those officials were tasked with indoctrinating the population to deter them from resisting. Perhaps the most pernicious role was reserved for some of Chechnya's top Islamic clerics, who, in addition to their cooperation in the forthcoming operation, were expected to engage in negotiations with the anti-Soviet rebels still holding out in remote areas to persuade them to lay down their arms in return for personal guarantees of their safety. A few guerrilla fighters agreed in good faith to do so, only to end up in the GULAG.
Stalin's obsession with social engineering on a mass scale, and his fear of potential enemies and internal fifth columnists, in many ways sealed the fate of the Chechens, known for their intransigent resistance to Moscow. Beria, who frequently played on those fears and capitalized on them, would move mountains to see the deportation through, but the compliance of the Chechen officials and active help from the local "red sheikhs" made it much easier for him. Beria then rewarded those officials and loyal clerics by deporting them to Central Asia in the relative comfort of Soviet passenger rail cars.
Seventy years later, another Chechen leader, Ramzan Kadyrov, continues to profit from loyally toeing the Moscow line. In 2008, he ordered the removal of a memorial to Chechen victims of Soviet repression "out of consideration for visiting Russian officials" (Kavkavsky Uzel, May 29, 2008). Just a few minutes' walk from the center of Grozny, the monument was composed entirely of old gravestones that Russian settlers, who had moved to Chechnya after the expulsion of its indigenous inhabitants, had used to build roads and houses. Although there is no official Russian ban on commemorating the deportation, four years later the Chechen strongman moved the Day of Remembrance from February 23 to the day of his father's burial, May 10. "[S]ince February 23 is a national public holiday—Defenders of the Fatherland Day—it was inappropriate to celebrate the deportation anniversary on that date," Kadyrov decreed (RFE/RL, March 2, 2018). Anyone who defied his orders paid a heavy price, as prominent Chechen activist Ruslan Kutayev can attest. In 2014, he was arrested for organizing a conference to mark the 70th anniversary of the deportation (see EDM, July 17, 2014). A few months later, he was sentenced to four years in jail on a fabricated charge of illegal drug possession.
Nonetheless, every year, on February 23, thousands of Chechens mark the date by symbolically leaving open the gates to their property—a tradition when a household is mourning a family member's death (RFE/RL, March 2, 2018). Organized commemorations, however, are held mostly abroad, in particular in Europe, where Chechen opposition and diaspora communities seize on the opportunity to reprimand Moscow for the crime and call out Chechnya's current leader for attempting to erase the memory of this historical tragedy (Chechenpress, February 20).
These days, Chechens, disarmed but not demoralized, are trying to recover from the two disastrous post-Soviet wars against the Russian Federation. Lingering traumas, which seem to have warped perceptions of individual risk, occasionally manifest themselves as deeply unsettling outbursts of violence; and the sense of threat looms large in their psyche. One may argue ad infinitum, as they themselves frequently do, about who will become the focus of their collective outrage. Yet something large and menacing appears to be brewing in their midst.