Can the Southern Gas Corridor Save Europe?
Publication: Eurasia Daily Monitor Volume: 19 Issue: 23
By: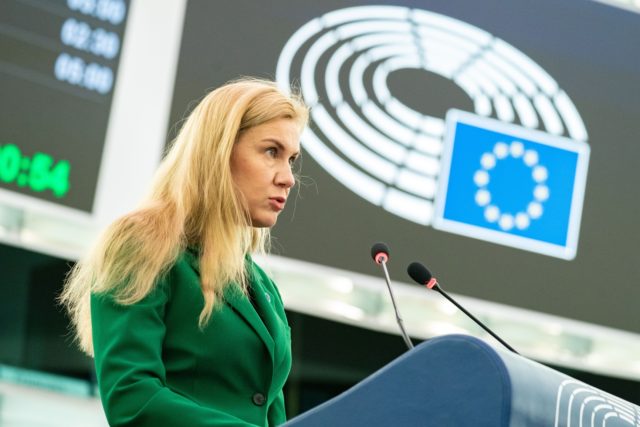 On February 22, a day after the Kremlin announced it was recognizing eastern Ukraine's separatist Donetsk and Luhansk "people's republics" as "independent," Berlin declared it would indefinitely halt the certification of the Russian Nord Stream Two natural gas pipeline (Kyiv Post, February 22). And though this move by Germany was potentially one of the most consequential Western responses to Russia's blatant transgression of international law, it simultaneously revived questions about where Europe will procure sufficient gas, particularly if Moscow were to disrupt westward flows of energy via the Ukrainian pipeline network. One possible alternative raised during the mounting crisis around Ukraine was to boost volumes of Azerbaijani gas delivered via the Southern Gas Corridor.
On February 3–4, the European Union's Energy Commissioner Kadri Simson and her colleague Neighborhood and Enlargement Commissioner Oliver Varhelyi paid a working visit to Baku (Trend, February 4; Ec.europa.eu, February 3). Although originally planned as a routine affair—the two European officials came to participate in the 8th Ministerial Meeting of the Southern Gas Corridor Advisory Council—the tense security situation along Europe's eastern flank sharply raised the profile of trip.
Commissioner Simson's statements a month prior made clear that the EU delegation would use the visit to Azerbaijan to seek additional gas volumes from the South Caucasus country. On January 18, during an informal EU energy ministerial, the member state ministers and commissioners gathered to discuss the bloc's plan to protect European consumers from the implications of a potential war between Russia and Ukraine (Consilium.europa.eu, January 18). And after the meeting, Simson notably stated that Brussels was looking at Azerbaijan and the United States as potential countries that could help Europe alleviate the gas crunch that would likely occur in the wake of a serious Russian re-invasion of Ukraine (Daily Sabah, January 28; Spglobal.com, January 24).
Russia supplies a third—approximately 151 billion cubic meters (bcm) in 2020 (Gazpromexport.ru, accessed February 23)—of the European Union's overall natural gas imports, with most of the transit capacity (110 bcm) going through Ukraine. On January 17, a day before the EU energy ministerial, Russian state-owned Gazprom announced that the company had not booked any export volumes through the Yamal-Europe pipeline, which delivers Siberian gas via Belarus to Europe (1prime.ru, January 18). Considering Moscow's behavior on the European energy market since last year (see EDM, November 4, 2021), Gazprom's decision did not come as a surprise. The Russian energy giant had already been stingy with gas exports to the continent due to the escalations of tensions with the West and was attempting to leverage this supply limitation as a bargaining tool in its stalled Nord Stream Two negotiations with the EU (see EDM, October 7, 14, 2021).
During her Baku visit, Kadri Simson reiterated the EU's request to ramp up the Southern Gas Corridor's current throughput capacity ahead of the agreed schedule, to which Azerbaijan's leadership responded positively. Azerbaijan has supplied 8.9 billion cubic meters of gas to European countries since January 2021—a trivial figure compared to Gazprom's 180 bcm to the European continent plus Turkey (Azernews.az, February 5). Nevertheless, Azerbaijani President Ilham Aliyev pledged to boost exports to Europe, noting that his country can do so thanks to the technical capability of the pipelines, additional gas resources from other underdevelopment Azerbaijani gas fields, and the latest gas swap deal signed with Turkmenistan and Iran (Caspian News, February 5, 2022; see EDM, December 17, 2021).
The current throughput capacity of the Southern Gas Corridor—composed principally of the South Caucasus Pipeline (SCP), Trans-Anatolian Pipeline (TANAP) and Trans-Adriatic Pipeline (TAP)—is 10 bcm. This capacity, however, can easily be quadrupled with the addition of pump stations along the route. Azerbaijan's gas exports to Turkey and Europe currently come from its giant Shah Deniz field (Shah Deniz 1 and 2 projects). However, Azerbaijan has other natural gas fields that, when ready, could also feed into the Southern Gas Corridor. Total's Absheron field, expected to start soon, together with the Babak and Umid fields, can notably supply 2 bcm of gas per year (Trend, February 4, 2022).
Azerbaijan already began importing gas from Turkmenistan based on the aforementioned trilateral gas swap contract signed with the latter and Iran (Azernews.az, December 24, 2021). The current agreed volume is 2 bcm, but according to recent reports, the three countries have started a new round of talks to double it (Haqqin.az, February 12).
What makes the Southern Gas Corridor unique is its proximity to the partially landlocked central and southeastern regions of the continent, which are mainly dependent on Gazprom's gas. Accessing these markets will, of course, require overcoming regulatory, technical and commercial barriers. But the Southern Gas Corridor consortium could surmount all of these provided that the EU maintains its political support and gas demand remains high. Energy Commissioner Simson, for instance, emphasized the need to extend/link the Southern Gas Corridor pipeline network to the Western Balkans. Azerbaijan already sends gas to Greece and Bulgaria. Hungary, which enjoys good relations with both Russia (see EDM, February 7) and Azerbaijan, tasked the state-owned energy company MVM to start negotiations with Azerbaijan's SOCAR on importing gas from the latter starting from the end of 2023 (Trend, February 3).
All that said, the Southern Gas Corridor's scalability and additional gas resources will not be enough to make Azerbaijan a silver bullet for Europe's efforts to alleviate its gas supply crunch. The EU additionally relies on liquefied natural gas (LNG) imports from the United States and Qatar, among other sources, to offset the potential supply-side shortages. The Joseph Biden administration has worked hard to mobilize all domestic resources and international partners to redirect LNG volumes to Europe. And market forces are helping too. As European gas prices soar, LNG providers naturally seek out buyers willing to pay a premium (Argus Media, December 21, 2021).
Compared to 13 years ago, during the last severe energy crunch caused by Russia shutting off gas exports via Ukraine, the EU has more LNG import options and relatively better infrastructure to accommodate new volumes. Yet the ongoing crisis highlighted the continent's continued under-preparedness in the face of the potential deterioration of relations with Russia. The tense situation also revealed the EU's disunity on energy security exemplified by Germany's ardent defense of Russia's gas export interests. Berlin's decision days ago to suspend the certification of Nord Stream Two finally resolved that source of intra-European tension—at least for now. But it remains to be seen whether Germany changes its mind should the crisis escalate and lead to an extended period of intolerably high energy prices.