Gazprom's 'Italian Strike' or the Latest Russian Blackmail of Europe
Publication: Eurasia Daily Monitor Volume: 18 Issue: 168
By: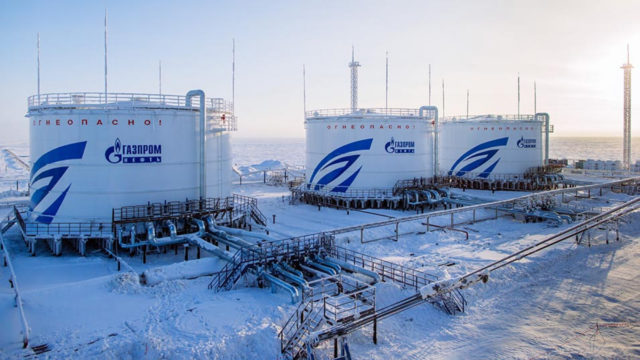 Russia's decision to severely reduce natural gas supplies to Europe before the winter has sent prices skyrocketing, causing the most serious energy crisis in decades. In fact, Europe has never seen such high gas prices. Benchmark wholesale European gas prices have rocketed upward by more than 542 percent this year, reaching $2,000 per thousand cubic meters in October (TASS, November 3; Ycharts.com, November 4).
The crisis worsened this week, as Gazprom stopped all deliveries via the Yamal-Europe pipeline, reduced further gas transit through Ukraine and suspended supplies to Romania, Serbia and Hungary following a pipeline explosion in Bulgaria that has affected gas flows through the TurkStream Two pipeline. But with the volatile European gas market rattled, Gazprom declined to book extra pipeline capacities to deliver more volumes to Europe from January to September 2022, indicating that the worst of the gas crisis is yet to come (Lenta.ru, November 2).
More importantly, the Kremlin sent a chilling message to European capitals that unless Nord Stream Two is certified, Gazprom will only deliver on existing long-term contracts, thus continuing to blackmail Europe. Russian politicians have not been shy about defining Gazprom's behavior on European markets as an "Italian strike"—or "work-to-rule" tactic designed to deliver the minimum required by the rules of a contract, while still resulting in slowdowns that undermine European gas supply security (Rueconomics.ru, September 15; Current Time, October 1).
The blackmail will evidently continue for several more months, as Germany said that Nord Stream Two cannot be certified before January 2022. The process may take even longer since the European Commission must review the German regulator's decision and hear the arguments of concerned parties (Izvestia, November 4). The Polish state gas company PGNiG has secured its inclusion in the German Federal Network Agency's (Bundesnetzagentur—BNetzA) certification of Nord Stream 2 AG as an Independent Gas Transmission Operator (GTO), while Ukraine's Naftogaz Group also filed a request with the German regulator to participate in the process (Kyiv Post, September 23; EurActiv, November 2).
Considering the arguments that Nord Stream Two threatens their energy security and undermines the principle of energy solidarity enshrined in the European Union Treaty could further prolong the certification decision and may well return a rejection (see EDM, August 11). This is why the Kremlin is determined to create as big of a storm on European gas markets as possible in order to stoke fears of energy shortages, fuel criticism of EU green energy policies, and incite political and social unrest that could leave little choice to European leaders but to submit to Russia's will.
Despite Russian President Vladimir Putin's assurances that Gazprom will start sending more gas to Europe from November 8—as soon as it is done re-stocking domestic gas storage—pipeline capacity bookings in Europe tell a different story. Russian domestic storage has been filled by November 1, but gas volumes to Europe were further reduced (Naturalgasintel.com, November 1). State-controlled Gazprom has halved its transmission through Ukraine since November 1, stopped selling thermal coal to Kyiv, and also blocked coal supplies from Kazakhstan to Ukraine (Liga.net [1] [2], November 4).
Direct pumping from Russia to Poland and Germany via the Yamal-Europe pipeline stopped on the morning of October 30. For five days, the pipeline was used in the opposite direction to send gas from Germany to Poland (TASS, November 4). When reverse gas supplies from Germany to Poland stopped on November 4, direct deliveries via Yamal-Europe to Germany did not resume, according to data from gas transmission operator Gascade (Entsog.eu, November 4). Gascade operates the on-shore EUGAL pipeline in Germany, which was completed this year to transmit Russian gas from Nord Stream Two to Central Europe. The company is part of WIGA holding, a joint venture between Russian Gazprom and German Wintershall, which also includes the operators of OPAL and NEL, the pipelines transporting natural gas from Nord Stream One. The holding's two top managers are both Russian nationals (Wiga-transport.de, accessed November 4).
At the same time, German storage facilities controlled by Gazprom, which make up 25 percent of the country's total capacity, remain "as good as empty," according to Green Party Bundestag member Oliver Krischer. He warned that "if it gets really cold in February, important storage facilities are empty and the Nord Stream 2 [sic] has not been put into operation, regional bottlenecks can occur" and gas-fired power plants will have to be switched off (The Local, September 20).
Germany's gas storage levels have barely reached 71 percent capacity, while Austria's have declined to 56 percent, from 61 percent in October (Celsiusenergy.net, November 4). As a whole, European gas storage remains at 75 percent capacity, or 20 percent lower than last year. Given that the heating season has begun, and Gazprom is not planning to send extra gas, storage levels are unlikely to go up. Predictions of a cold winter in Europe are unnerving both politicians and the public.
In the early morning hours of November 1, an explosion damaged 20 yards of a dual pipeline near the village of Vetrino in Bulgaria. The sector is part of the Trans-Balkan pipeline used until this year to deliver Russian gas via Ukraine, but now part of the Balkan Gas Hub that includes TurkStream Two. Local residents reported that the explosion was so powerful, it felt like an earthquake. The rupture stopped supplies to Serbia, Hungary and Romania until the investigation and repairs are completed (Darik Radio, November 2).
The Bulgarian government has asked Gazprom for additional gas volumes at the price of its current contract and, unlike the way the Russian company treated Moldova recently (see EDM, November 3), the request was granted. The Russian embassy in Sofia posted a statement on Facebook, boasting about Moscow's generosity. Observers say the assistance is only an attempt to help Russia-friendly Bulgarian President Rumen Radev's reelection on November 14 (Faktor.bg, November 2).
But the Russian embassy's statement also promotes long-term gas supply contracts with Gazprom that are tied to the price of oil. The blunt statement reads, "Today, we have to ask the players on the European market, how much cheaper is the gas tied to the price of oil than the spot? How much more profitable is a long-term contract than a spot deal?" (Faktor.bg, November 2).
It is a clear illustration of the second-most important objective the Kremlin pursues by causing a severe gas crisis in Europe—a return to restrictive long-term gas supply contracts that not only secure stable high gas prices to Gazprom but also inhibit the development of regional gas markets, particularly in Eastern and Central Europe.