Development Lending is Down, But the BRI Lives to Fight Another Day
Publication: China Brief Volume: 21 Issue: 4
By: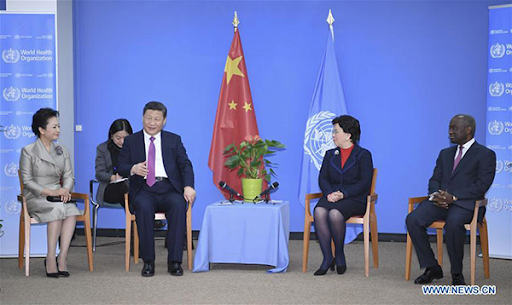 Introduction
In the wake of the COVID-19 pandemic's effects on the global economy, pessimistic analyses of the Belt and Road Initiative culminated with the December 7 publication by Boston University of a dataset covering overseas lending by two of China's main policy banks, which showed a rapid decline in loans (Boston University, December 7). The reduction in one of the core implementation components of the Belt and Road Initiative (BRI) led some analysts to ask whether the BRI, buffeted by concerns over political opposition and financial risk, was being gradually retired by the Xi administration (Asia Times, December 26).
Such skepticism clashed with the announcement on December 30 that China had concluded negotiations with the EU on an investment treaty (PRC Foreign Ministry, December 30, 2020; European Union, December 30, 2020). The signing of the China-EU Comprehensive Agreement Investment (CAI) showed China's enhanced global influence: signed just ahead of the new year and despite strong opposition from the United States, the CAI conformed to Beijing's preference for delinking economic cooperation from political conditionality. This combination of events serves as a reminder that development lending does not represent the totality of BRI: despite the downturn in lending, other aspects of the initiative are making gains, including the expansion of China's network of trade and investment agreements. Despite these successes, there is also cause for concern. Most significantly, the revitalization of the Health Silk Road since the emergence of COVID-19 has failed to dissipate geopolitical tensions, raising question marks over the sustainability of China's BRI-associated achievements.
The BRI's Wide-Ranging Utility
The conflation of overseas lending by the Export Import Bank of China (Exim) and China Development Bank (CDB) (which together constitute two of China's most active policy banks) as the most significant aspect of the BRI is understandable. The absence of a succinct definition for the BRI by the Chinese leadership has led analysts to search for tangible measures through which to evaluate the initiative's performance. So far, Exim and CDB have committed hundreds of billions of dollars to projects related to BRI, making their stream of lending the most visible such measure. However, using lending data as a barometer to monitor the performance of BRI is a practice fraught with pitfalls. The Boston University dataset reveals one such trap at first glance: how to interpret 2009 as the second-highest year for lending by Exim and CDB? Likewise, examining the dataset's coverage of the period only since BRI's 2013 launch could lead to a range of assessments, including two in particular:
As argued by publications such as the Financial Times, the decline could indicate that decision makers in Beijing are seeking to reduce political and financial risk amid political opposition to BRI and widespread challenges facing the implementation of individual projects (Financial Times, December 7).
Alternatively, these same decision makers could instead have intended for the initial phase of BRI to be marked by a period of large-scale lending, before shifting to advance their goals via less capital-intensive methods.
These hypotheses set the trammels on a continuum of possibilities. Their utility is limited, however, by their lack of consideration for the reality that the BRI encompasses more than a lending campaign by the two policy banks—even though the scale of development lending by Exim and CDB has been considerable. During a September 2013 speech in Kazakhstan, Chinese President Xi Jinping described the formation of the Silk Road Economic Belt (which, along with the Maritime Silk Road, was then one of the two main frameworks of the BRI) as a means of increasing regional cooperation by strengthening policy communication, improving transport connectivity, promoting trade facilitation, enhancing monetary circulation and strengthening people-to-people exchanges (PRC Foreign Ministry, September 7, 2013).
Strengthening Policy Communication
Adopting an understanding of "policy communication" as securing support for (and mitigating dissent towards) China's positions on certain political issues, Beijing has made inroads since 2013. Political outreach since then has led to the signing of cooperation memoranda with as many as 115 countries (China Brief, March 16, 2020), the consolidation of regional coordination groupings such as the "17+1" forum between China and Central and Eastern Europe (China Brief, May 10, 2019) and the successful organization of high-level gatherings such as the second Belt and Road Forum in 2019 (Belt and Road Forum, April 27, 2019). This intensive outreach—coupled with economic incentives stemming from BRI-associated lending—has had tangible benefits for Beijing's growing soft power and international influence. Despite a growing body of evidence for violations of human rights in Xinjiang, China has so far faced little direct criticism from international institutions such as the United Nations, which has yet to pass a resolution condemning its activities.[1]
Limited responses from the leaders of some Muslim-majority countries likewise highlight China's discourse power. For example, although Turkey, which is host to a large Uyghur diaspora community, has previously criticized China's policies in Xinjiang, Turkish President Recep Erdoğan has walked a conciliatory line between public opinion back home and the need to solicit investments from China. During a visit to Beijing in 2019, Erdogan hedged that China and Turkey could "find a solution to the [Uyghur] issue, taking into account the sensitivities of both sides" (SCMP, July 22, 2019). Asked for his position on the mistreatment of Uyghurs in 2019, Pakistan's Prime Minister Imran Khan said, "Frankly, I don't know much about that." (WIO News, September 14, 2019). The ability of the Chinese government to limit foreign criticisms of its domestic policies provides an example of the "policy coordination" that Xi identified as a goal for BRI during his Kazakhstan speech. However, the bellicosity of Chinese diplomatic conduct and the continuation of abuses in places such as Xinjiang and Hong Kong could expose limitations on Chinese authorities' future ability to mitigate criticism.
Improving Transport Connectivity
Under the aegis of the BRI, transport connectivity has grown since 2013 – driven by the establishment of customs unions that allow for the faster transit of goods as much as by construction of new infrastructure. In July 2020, for example, the Eurasian Economic Union (EAEU) saw a record 1,232 cargo trains transit its member states on the way from China to Europe, marking a year-on-year increase of 68 percent (SCMP, August 17, 2020). Chinese entities have financed a host of transport-related investment projects totaling $283.86 billion since 2013, although many with transformative potential –including the construction of a high-speed rail connection from China to Singapore or the implementation of standard-gauge rail network in parts of East Africa – have yet to be completed (AEI China Global Investment Tracker, January 2020). In that sense, while China has profited from developments such as the establishment of the EAEU customs union, it is too soon to tell whether the massive sums spent on constructing transport infrastructure will empower a step-change in transport connectivity or embolden critics warning of a campaign of "debt trap diplomacy."
Promoting Trade Facilitation
High profile trade deals signed at the end of 2020 show how China has successfully promoted trade facilitation, another of the goals identified in Xi's 2013 speech. The Regional Comprehensive Economic Partnership (RCEP), which aims to eliminate 90 percent of tariffs on trade between its signatories, was signed in November 2020. Following seven years of negotiations, it created a grouping that covers 15 countries in the Asia-Pacific region, which together constitute 30 percent of the global population and 30 percent of global GDP (SCMP, November 12, 2020). Similarly, the December 2020 CAI, while less ambitious in scope, shows how Beijing has succeeded in preserving room for economic cooperation with the European Union, despite strong U.S. opposition as well as warnings from national security and civil society about the dangers of Chinese influence. Beyond RCEP and the EU-China CAI, the Xi administration is currently engaged in trade negotiations covering a further 15 countries (including the members of the Gulf Cooperation Council). As such, Beijing looks set to further position itself as a locus of economic liberalization during a time when many other nations are trending towards protectionism.

Changing With the Times
While Chinese authorities have made progress towards many of the priorities identified by Xi in his 2013 speech, they have also sought to adapt the implementation of BRI to shifting international circumstances. The Health Silk Road, a concept that was first aired in 2015, has been re-emphasized since the emergence of the COVID-19 pandemic. Medical teams sponsored by the Chinese government have been deployed to countries ranging from Laos (Global Times, April 12, 2020) to Sudan (Xinhua, February 9, 2021). Chinese government bodies and charitable organizations (including the Jack Ma Foundation) took part in a campaign to provide the international community with medical supplies such as masks, ventilators, and personal protective equipment (Xinhua, January 14, 2021). Beyond material contributions, Xi Jinping and other Chinese leaders have called for the development of a "community of shared health for mankind" (人类卫生健康共同体, renlei weisheng jiankang gongtongti) (Qiushi, June 5, 2020) and offered statements of support for the World Health Organization (WHO) after it fell under criticism from the Trump Administration (PRC Foreign Ministry, May 19, 2020). Nonetheless, the revitalization of the Health Silk Road has offered only piecemeal dividends. Chinese state media has had to deny that it is using public health initiatives for geopolitical ends (Xinhua, December 31, 2020), and the completion of a WHO mission to China has failed to quell skepticism regarding the origins of the pandemic. This raises doubts about the ability of Chinese authorities to sustain "policy communication" in the future (Washington Post, February 10).
Conclusion
The unfolding of the BRI has amplified China's political influence, improved transportation connectivity, and advanced a series of agreements targeted at trade and investment liberalization. It also seen progress in "monetary circulation" (referring to renminbi internationalization), with cross-border renminbi settlement up 24.1 percent year-on-year in 2019 (People's Daily, August 22, 2020). Uncertainty abounds, however, as to what the coming period holds. The day-to-day need to contain COVID-19 has hindered the construction of infrastructure projects and the organization of political gatherings such as the Belt and Road Forum (which was held virtually last year) . The revitalization of the Health Silk Road has demonstrated the ability of Chinese authorities to adapt BRI to changing circumstances, but it is not clear whether related efforts, such as dispatching medical teams abroad and standing by the World Health Organization, will yield positive results for China's international influence.
Ultimately, lending is an important part of the BRI story, but it does not represent the totality of Beijing's ambitions for the initiative. On a number of key associated goals identified by Chinese authorities, there have been clear signs of progress for Beijing's objectives since 2013, including the neutering of opposition to elements of its political behavior, the ongoing development of transportation infrastructure, and the enlargement of China's network of trade and investment agreements.  However, BRI faces a world buffeted by a public health disaster, economic crisis, and severe political tensions. With no abatement in sight, it is therefore crucial to look beyond the lending and take a holistic view of Belt and Road, a foreign policy initiative with bold ambitions to remake the international order but one that is now facing its sharpest headwinds.
Johan van de Ven is a Defense Analyst at TextOre, Inc., where he focuses on China-related projects. With a particular focus on China and Russia, TextOre leverages language-enabled experts in open-source intelligence (OSINT), foreign media exploitation, and advanced analytics.
Notes
[1] This past October, 39 states signed a letter to the UN Human Rights Council noting concerns over alleged human rights abuses in Xinjiang, Tibet and Hong Kong. Rival statements defending China were quickly organized by Cuba and Pakistan and signed by 45 countries. Ultimately, the UNHRC has not moved to investigate Xinjiang in any substantive fashion. See: Al Jazeera, October 7, 2020; SupChina, October 7, 2020.