The Xinjiang Crisis and Sino-Turkish Relations During the Pandemic: Part One
Publication: China Brief Volume: 21 Issue: 4
By: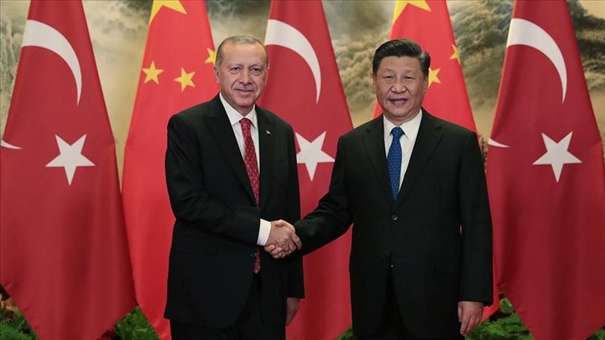 Introduction
Since 2016, Chinese Communist Party (CCP) policies in Xinjiang have not only shaken the lives of Uyghurs, Kazakhs and other groups inside and outside the region, but also heralded a new era in the CCP's domestic governance and power projection abroad (China Brief, December 31, 2019; China Brief, November 5, 2018). The state's persecution of Muslim minorities has damaged the national image and foreign interests of the People's Republic of China (PRC), incurring increasing negative responses from parts of the international community, but also notable silence, or even support for Chinese policies in Xinjiang, from majority-Muslim nations such as Saudi Arabia, the United Arab Emirates and Pakistan. Such dynamics have also played out in Turkey—a geostrategic and economic hub that is eyed by China as a valuable potential asset of its wide-ranging foreign policy Belt and Road Initiative (BRI), as well as home to a Uyghur diaspora of tens of thousands attracted by Turkey's ethno-cultural kinship and relative political freedom. Turkey's denunciations of China's policies in Xinjiang have been a chronic hindrance to Sino-Turkish relations. In September 2020, Turkey's ruling Justice and Development Party reproached China for violating the rights of "Uyghur Turks" (Hürriyet, September 29, 2020).
Turkey's occasional criticisms on behalf of Xinjiang Turkic Muslims, however, have not translated into meaningful foreign policy or sufficient support for its domestic Uyghur community. For instance, although Turkey restated its concerns about China's treatment of Uyghurs in October 2020, it did not join a coordinated effort to criticize China that was signed by thirty-nine other countries (Turkish Foreign Ministry, October 6, 2020; German Permanent Mission to the UN, October 6, 2020). At home, Turkey's authorities have tolerated complex pressures by Chinese security organs against the Uyghur diaspora and allegedly detained individuals at China's request (Axios, May 20, 2020; China Brief, November 1, 2019). Turkey's capacity to advocate for Uyghurs in Xinjiang has been constrained by the substantial economic, financial and technological leverages that Beijing has built up over Ankara throughout the past decade (Foreign Policy, September 16, 2020).
Xinjiang Work Meets Pandemic Diplomacy
The Covid-19 pandemic has enabled the CCP to recast its interests worldwide through new narratives and strategies. Preventing criticism of its policies in Xinjiang and winning assistance in eliminating Uyghur activism are some of China's main security concerns in its bilateral relationship with Turkey. These aims, worded as "mutual understanding and support in each other's core interests and major key issues" (在涉及彼此核心利益和重大关切问题上相互理解, 相互支持, zai sheji bici hexin liyi he zhongda guanqie wentishang xianghu lijie, xianghu zhichi)—were integrated into the narrative of the common struggle against the pandemic during a virtual conversation between CCP General Secretary Xi Jinping and his counterpart Recep Tayyip Erdoğan last April (Xinhua, April 8, 2020).
Beijing previously underlined its security-related interests to Turkey by declaring its willingness to extend (and presumably also receive) the "three resolute supports" (三个坚定支持, sange jianding zhichi) of "safeguarding state security and legitimate rights and interests, following a development path suitable for the country's national conditions, and deepening China-Turkey strategic cooperation" (维护国家安全和正当合法权益, 走符合本国国情的发展道路, 深化中土战略合作, weihu guojia anquan he zhengdang hefa quanyi, zou fuhe benguo guoqingde fazhan daolu, shenhua zhong tu zhanlue hezuo). The "common struggle against all forms of terrorism" (一切形式的恐怖主义, yiqie xingshide kongbu zhuyi) was linked to the CCP's quest for global power and influence, which encompasses  political formulations such as "strengthening political trust" (加强政治互信, jiaqiang zhengzhi huxin), "jointly building the BRI" (共建 "一带一路," gongjian "yidai yilu") and preventing "unilateralism, protectionism and power politics" (单边主义, 保护主义, 强权政治, danbianzhuyi, baohuzhuyi, qiangquan zhengzhi; PRC Foreign Ministry, September 14, 2018).
The China Council for the Promotion of Peaceful National Reunification (CCPPNR, 中国和平统一促进会 zhongguo heping tongyi cujin hui), an international organization designated by U.S. authorities as a foreign mission of the PRC, has played a prominent role in pandemic diplomacy (China Brief, May 9, 2019; U.S. Department of State, October 28, 2020). Mainly tasked with the consolidation of the political loyalty of overseas Chinese communities and the promotion of CCP policy on territorial issues, the CCPPNR is well-suited to silencing criticisms from a large and politically active Uyghur diaspora. Its Turkey chapter, called the China Peaceful Unification Association (CPUA, 土耳其中国和平统一促进会 tu'erqi zhongguo heping tongyi cujin hui, Çin'in Barışçıl Birleşmesi Derneği), has supported the CCP's policies in Xinjiang and denounced the promulgation of the Uyghur Human Rights Policy Act by the U.S. legislature in December 2019 (CCPPNR, December 16, 2019). CPUA is also instrumental in the promotion of the CCP's stance on Hong Kong and Taiwan (CCPPNR, August 19, 2019; CCPPNR, March 9, 2020).
The CCPPNR's pandemic diplomacy is chiefly focused on Istanbul, Turkey's economic and logistical pivot and home to most of Turkey's Uyghurs. Early in the pandemic, CPUA donated medical face masks to Istanbul's Maltepe and Beşiktaş districts and to its municipal government (Sözcü, March 24, 2020; CCPPNR, March 25, 2020; CCPPNR, May 18, 2020; CCPPNR, July 30, 2020). China has been cultivating ties with Istanbul's mayor, Ekrem İmamoğlu, since he first took office in April 2019 (Ekrem İmamoğlu, April 22, 2019). Over the past few years, these influence efforts have seen tangible results. In October 2019, the Istanbul city government installed Chinese translations on main public transport stations. The following September, Istanbul's Airport was declared the world's first "China-friendly airport" (中国友好机场, zhongguo youhao jichang) (Jurnalist, October 8, 2019; People's Daily, September 22, 2020). İmamoğlu and the Istanbul provincial governor Ali Yerlikaya also sent congratulatory notes to the PRC consulate on China's national day in 2020 (PRC Consulate in Istanbul, October 1, 2020).
Chinese activities in Istanbul have been sensitive to local culture and religion. Notably, a CCPPNR donation to Imamoğlu's office in July 2020 was made and advertised on the eve of the Feast of Sacrifice (Kurban Bayramı), a major Islamic festival. In March 2018, the PRC's embassy hosted Xinjiang students and compatriots for the Nowruz, originally a Zoroastrian festival featuring multiple references to Islam (PRC Foreign Ministry, March 22, 2018). In May 2020, the PRC's consul general in Istanbul, Cui Wei (崔巍), congratulated local Xinjiang Muslims on the end of Ramadan, calling it a "traditional Muslim festival" (穆斯林传统佳节, musilin chuantong jiajie; PRC Consulate in Istanbul, May 22, 2020). In these cases, the CCP has recognized and celebrated religious practices in its propaganda and united front work abroad, even as such practices are considered "extremist" inside Xinjiang and Uyghurs in China who overtly practice their religion are detained or imprisoned.
China has linked its security agenda to so-called "vaccine diplomacy," leveraging public health for political ends. Shipments of the Sinovac coronavirus vaccine began arriving in Ankara on December 30, 2020 following previous vaccine trials in Turkey (Global Times, November 18, 2020; Xinhua, December 26, 2020; CCTV, December 30, 2020). The transaction was hailed by the PRC as an example of "independent diplomacy", but notably accompanied by Turkish foreign minister Mevlüt Çavuşoğlu's pledge to his Chinese counterpart Wang Yi (王毅) that Turkey opposes "all forms of terrorism" and will not allow anyone to "damage China's sovereignty or territorial integrity" (破坏中国的主权和领土完整, pohuai zhongguode zhuquan he lingtu wanzheng; Global Times, December 15, 2020; PRC Embassy in Ankara, December 15, 2020). Days before the shipment, China's National People's Congress ratified an extradition treaty signed with Turkey at a BRI summit in May 2017. Although not yet ratified by Turkey's legislature—and although the treaty stipulates the prevention of political, ethnic or religious persecution—human rights advocates have feared that it could be used to target the Uyghur diaspora, as it enables extradition for behavior considered illegal in only one of the two countries (PRC National People's Congress, December 26, 2020; Turkish Grand National Assembly, April 26, 2019; VOA News, January 7).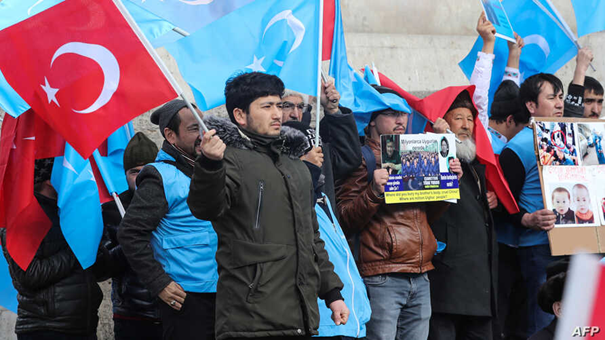 Securitization of China's Turkey Diplomacy
The CCP's prioritization of security—and, implicitly, the Xinjiang issue—in its relations with Turkey was also manifest in the autumn 2020 reshuffle of China's ambassador to Ankara. After being elevated to assistant foreign minister, the outgoing ambassador Deng Li (邓励) met with Turkey's ambassador to China, Abdulkadir Önen and declared China's willingness to elevate the two countries' "strategic cooperation" to a "new level" (PRC Foreign Ministry, August 31, 2020; PRC Foreign Ministry, September 23, 2020). The PRC's new envoy to Turkey Liu Shaobin (刘少宾) previously headed the foreign ministry's External Security Affairs Department (涉外安全事务司, shewai anquan shiwu si), which manages the state security agenda in foreign affairs work as well as security-related aspects of PRC diplomatic missions (PRC Embassy in Turkey, October 30, 2020; PRC Foreign Ministry, November 8, 2020).
Liu is experienced in working at the nexus of security and diplomacy. In September 2020, he presided over a counter-extremism BRICS working group meeting. There, the CCP's Xinjiang crackdown was presented as "concrete practices of preventive counterterrorism and de‑extremification" (新疆预防性反恐和去极端化具体实践, xinjiang yufangxing fankong he qujiduanhua juti shijian) by Xu Jianying (许建英), the director of the Chinese Academy of Social Sciences' Chinese Borderland Research Institute (中国边疆研究所, zhongguo bianjiang yanjiusuo), a leading academic institution instrumental in the legitimation of the CCP's Xinjiang policies (PRC Foreign Ministry, September 3, 2020).
In August and November 2020, Ambassador Önen met another cadre of the ministry's external security department, China's top security diplomat Cheng Guoping (程国平; PRC's Foreign Ministry, August 27, 2020; PRC's Foreign Ministry, November 18, 2020). Cheng has abundant experience liaising with foreign governments on issues of "cyberterrorism" (网络恐怖主义,wangluo kongbu zhuyi) and the "East Turkestan Islamic Movement" (东伊运, dong yi yun; ETIM; Security Reference, January 13, 2018; Sohu Mobile, March 13, 2017; China Today, May 5, 2017). He also serves as the deputy chair of the China Association for International Friendly Contact (CAIFC, 中国国际友好联络会, zhongguo guoji youhao lianluohui), a front for the Political Work Department Liaison Bureau (政治工作部联络局, zhengzhi gongzuo bu lianluo ju) of the People's Liberation Army that is responsible for intelligence and political warfare (CAIFC, March 3; ASPI, June 2020; Project 2049, October 14, 2013).
This military-linked external security department also coordinates the CCP's Xinjiang work in other countries. In November 2020, Cheng stipulated in a virtual meeting with a deputy advisor of Afghanistan's state security commission that bilateral "well-being and local cooperation" (民生地方合作, minsheng difang hezuo) was linked to suppressing ETIM (PRC Foreign Ministry, November 12, 2020). In December, fighting ETIM was declared the "core concern of China's counter-terrorism" (中国反恐核心关切, zhongguo fankong hexin guanqie) at a meeting between Cheng and his counterpart from the United Arab Emirates and at a counter-terrorism seminar organized by the foreign ministry-affiliated China Institute of International Studies (中国国际问题研究院, zhongguo guoji wenti yanjiuyuan; PRC Foreign Ministry, December 18, 2020; PRC Foreign Ministry, December 22, 2020). The surge in references to "ETIM," a group whose existence is disputed but which has been widely cited by the CCP as evidence for domestic terrorism justifying its crackdown against Uyghurs in Xinjiang, notably came after the U.S. State Department removed ETIM from its list of terrorist organizations in November 2020 (Federal Register, November 5, 2020). The CCP has also frequently referenced the threat of ETIM as a means for discrediting disparate exiled Uyghur organizations abroad.
Conclusion
China's pressures on Turkey illustrate how the CCP uses the building of a "community of human public health" (人类卫生健康共同体, renlei weisheng jiankang gongtongti), "international cooperation" (国际合作, guoji hezuo) and "humanitarian campaigns" (人道主义行动, rendaozhuyi xingdong) to advance political interests (PRC Foreign Ministry, December 12, 2020). For now, Turkey's pandemic prevention cooperation with China has drawn renewed vows from the Turkish leadership to assist the CCP in eliminating the Uyghur diaspora's uncomfortable activities. It remains to be seen whether the future ratification of the extradition treaty will prompt Turkish authorities to harass, detain, or deport Uyghurs. In January and February, accounts appeared of Uyghurs being detained in Turkey (AP, February 5).  Anti-pandemic transactions have provided the CCP with a new pressure point that it can exploit to expand its persecution of the Uyghur diaspora in Turkey, in addition to leveraging Turkey's increasingly authoritarian domestic politics, troubled economic situation and growing strategic dependence on China.
The CCP clearly perceives the delicate Xinjiang issue as a crucial aspect of its relations with Turkey. This is demonstrated by the recently elevated role of the foreign ministry's external security department, which is linked to the PLA's political warfare structures. The security dimension was recently highlighted when a Uyghur man, who had previously told the media that he had been coerced by PRC security organs to spy on the Uyghur diaspora, was shot in Istanbul late last year (Ahval News, November 3, 2020). It can be expected that Chinese agencies will continue their pressure on the Uyghur community in Turkey with or without the direct involvement of local authorities.
This two-part article series summarizes findings to be published in a special issue on Xinjiang by Monde chinois nouvelle Asie no. 62, edited by Vanessa Frangville and Jean-Yves Heurtebise. The author thanks Jichang Lulu for valuable comments. Research for this article was funded by a Lumina Quaeruntur fellowship from the Czech Academy of Sciences.
Ondřej Klimeš is a researcher at the Oriental Institute of the Czech Academy of Sciences where he focuses on contemporary China and Xinjiang politics.