Diplomacy Through Proxies: Moldova as a Testbed for Russia's New Foreign Policy Tool
Publication: Eurasia Daily Monitor Volume: 16 Issue: 123
By: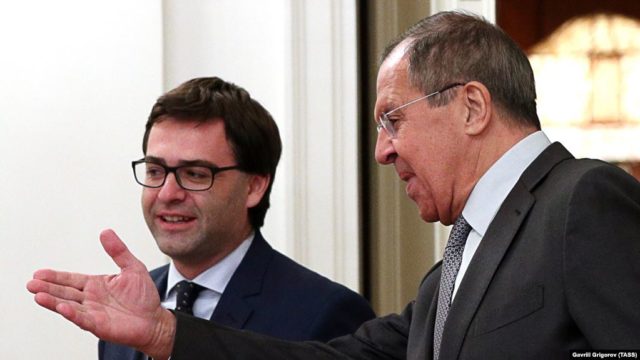 Moldovan authorities engaged in a flurry of diplomatic activity over the last few weeks. This consisted of a particularly dense web of exchanges between Chisinau and Moscow, with only a few such threads connecting Chisinau and Brussels. The picture will soon be completed with one more high-level visit, connecting Chisinau with Washington. Based purely on this raw data, one could draw the conclusion that Russia and Moldova may be working toward some joint initiative, perhaps in coordination with the European Union, that will later be simply brought to the attention of the United States. But one way or another, this analytic exercise seems to highlight how diplomacy is currently being shaped in Europe's East as the US increasingly turns a blind eye to this part of the world.
A few strong signals might leave an observer puzzled about that sudden explosion of foreign activity in Moldova. On September 11, Moldovan Foreign Minister Nicu Popescu undertook a working visit to Moscow and met with his Russian counterpart, Sergei Lavrov (Europalibera.org, September 11). Even before Popescu took off for the Russian capital, local media in Moldova pointed out that the manner in which the press services of the two foreign ministries described the event were quite different (Deschide.md, September 10).
The Moldovan Ministry of Foreign Affairs and European Integration tried to emphasize that Popescu intended to discuss the withdrawal of Russian military forces from the breakaway Transnistria region of Moldova, along with the "normalization of bilateral relations, ways to recover political dialogue and economic cooperation" (Mfa.gov.md, September 10).
In contrast, the Russian Ministry of Foreign Affairs was more generous with the related details—it asserted that the ministers would assess the bilateral relationship and update it based on the principles of the 2001 Moldovan-Russian Treaty of Friendship and Cooperation. It added that the two officials would discuss the preparation of the bilateral Intergovernmental Commission on Economic Cooperation, expected to take place in Chisinau, on September 18–19. This would be followed by the second Russian-Moldovan Economic Forum, also in Chisinau, on September 20–21, bringing together businesses and regional delegations from the two countries. Moreover, the Russian foreign ministry expects to coordinate the interaction of Moscow and Chisinau within the framework of the Commonwealth of Independent States (CIS), in particular by having Moldova fully explore accepting observer status in the Eurasian Economic Union, which Russia offered it in May 2018 (Mid.ru, September 10).
This last detail deserves special attention. Moldovan President Igor Dodon had requested observer status (Hotnews.ro, May 14, 2018) despite requiring special authority for this step from the parliament, which he did not have. So in fact, this was technically his personal request addressed to a foreign power—in violation of the Constitution. Moldova is a parliamentary country with a Constitution that assigns the design and implementation of domestic and foreign policies to the Government.
The story is more complicated, however: the current governing coalition has apparently bestowed on Dodon a wide foreign policy mandate. But Dodon is a pro-Moscow politician who admitted (while recorded on a hidden camera) that he had been receiving some $700,000 on a monthly basis from high-level Russian officials. The money, he claimed, was to cover the needs of the Socialist Party, which he de facto leads and which is part of the current governing coalition (see EDM, June 10). On the top this, his brother, Alexandru Dodon, reportedly started a business with Igor Chayka, the son of the Russian prosecutor general (RBC, September 2).
This makes President Dodon both vulnerable to Russian pressure and personally interested in collaborating with the Russian government. In fact, he recently returned from one of his several recent tours of Moscow, where he claimed to have negotiated with President Vladimir Putin a "great bargain price" for the natural gas Moldova buys from Russia, amounting to $237 per thousand cubic meters (Europalibera.org, September 9). This deal was heavily criticized by Moldovan and Ukrainian experts, who pointed out that there are considerably cheaper options available for Moldova (Deschide.md, Deutsche Welle—Moldovan service, September 10).
Following his many recent trips to Moscow, Dodon flew to Brussels on September 5, where he met with top EU officials as well as North Atlantic Treaty Organization (NATO) Secretary General Jens Stoltenberg. What was emblematic of this visit was his ostensible slip of the tongue during the press conference with Stoltenberg: Dodon stated that he wanted "international recognition of Moldovan permanent neutrality" (Deutsche Welle—Moldovan service, September 6). This expression exactly echoes what Russian officials voiced several years ago in the hopes that the EU and US would formally accept such status for Moldova. Russia sees this as a guarantee that the EU and US will not admit Moldova into NATO, even if the Moldovan population votes to change the Constitution and removes the country's pledge to maintain neutrality. Most likely, this is the deal President Dodon is trying to obtain on behalf of Russia from the EU and the United States, the latter of which he plans to visit later in September.
Signing onto an agreement with Russia restricting Moldovan sovereignty in this way would contradict the norms of the current international system, which Washington has been trying to safeguard. It will signal a return to the epoch of spheres of influence between regional players, which Moscow, in turn, has been pursuing for more than two decades. It is an element of the notorious "New European Security Treaty" that Russia unsuccessfully tried to push upon the West almost ten years ago (see EDM, December 4, 8, 2009; Heritage.org, September 16, 2010).
This time, however, the strategy is different: Russia learned that its proposals, disguised in euphemistic language, rarely fool the West. Instead, it now promotes its proxies into power in vulnerable countries like Moldova. Then, Russia instructs those proxies, like Dodon, to voice acceptance for degrading their own country's sovereignty—on Moscow's terms. Another Trojan horse is the economic cooperation with Russia that Dodon is pushing to advance. Further increasing Moldova's economic dependence on Russia will make Chisinau even more vulnerable to Moscow's political and military control.