Does China's Charm Offensive Pose a Dilemma for South Korea?
Publication: China Brief Volume: 14 Issue: 24
By: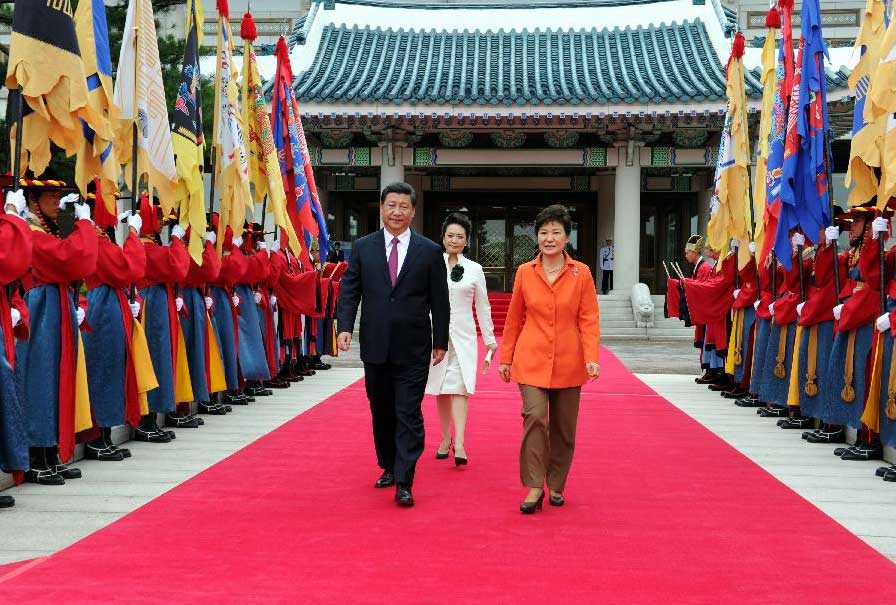 Since the top leaders of South Korea and China rose to power in 2013, Chinese President Xi Jinping has appeared determined to overwhelm South Korean President Park Geun-Hye by embarking on a major diplomatic and economic charm offensive. China's incessant charm offensive has made some East Asian analysts wonder if in fact South Korea may be drawn closer to China as a result of this offensive and if so, what will be its impact on relations with the United States and Japan.
China's charm offensive is at play on various fronts. First, Presidents Park and Xi have met on at least five occasions over the past two years. The frequency of these meetings ranks as the second highest in the bilateral history of the two countries, ranking behind only the eight meetings held between former presidents Hu Jintao and Lee Myong-bak in 2008. Second, President Xi in July became the first Chinese leader to travel to South Korea before visiting North Korea. Third, Presidents Park and Xi signed the Korea-China free trade agreement (FTA) at the November Asia-Pacific Economic Cooperation (APEC) summit before their stated goal of the end of the year, albeit a bit premature as they have not completed negotiations. Lastly, following President Park's request at their Beijing summit in June 2013, President Xi personally arranged the construction of a memorial hall to commemorate An Jung-geun, a Korean independence hero whom Japan regards as a terrorist, which opened this January in Harbin, while a memorial monument for Korea-China joint combat efforts against Japanese imperialists in 1942 also opened this May in Xi'an (Xinhua, January 19; Daum, May 23).
To date Beijing's aggressive charm offensive toward South Korea has failed to win over Seoul, largely because South Korean officials believe that the offensive is intended merely to serve China's own strategic interests. The successful rebalancing by the United States in Asia and Japan's related quest to be a "normal" nation has made Beijing anxious, and South Korea feels the strain between its alliance with Washington and its relationship with Beijing. China's numerous calls in 2000, 2005, 2009 and 2013 for cooperation in pressing Japan on history was finally partially accepted by President Park during President Xi's July visit, but the scope of cooperation was limited to a joint study on comfort women (Appendix to the Joint Statement of Summit, July 5). China's invitation to South Korea to jointly celebrate the 70th anniversary of their World War II victory and liberation from the Japanese was coldly rebuffed by officials in Seoul. In other areas, China's economic charm offensive with its Asia Infrastructure Investment Bank (AIIB) also failed to win over South Korea as well (Reuters, November 5).
The reason why South Korea did not fall for China's recent diplomatic push deserves recognition and further elaboration as well. South Korea has no illusions about the significance of President Xi's decision to bypass North Korea for the South. In this symbolism, Seoul does not see any changes in the fundamentals of China's North Korea policy. China's charm offensive is unlikely to affect South Korea's balancing between the United States and China as long as Seoul continues to regard its alliance with the United States as in its national interest. And further cooperation on the history issue will only interest Seoul if China can stop its own distortions of Korean history. [1] Furthermore, China's charm offensive is highly unlikely to override the solidarity of the Korea-U.S. alliance, nor solve "Asia's paradox" because Beijing's policy is interest-driven and not value-based.
Assessing Xi's Decision to Forego North Korea
President Xi's visit to South Korea in July was a major development because the Chinese leader broke China's long-held tradition of visiting North Korea first, a tradition maintained since Beijing established diplomatic relationship with Seoul in 1992 (South China Morning Post, July 2). While the reason for President Xi's decision is still highly speculative at best, it certainly cannot be assumed it was a personal one, given the collective nature of China's decision-making process. One can ascertain that the principal reason was because of Beijing's displeasure with Pyongyang's third nuclear test and warning of the fourth, while other factors, such as strategic considerations and the changing dynamics in the U.S.-Japan alliance and Beijing's desire to incorporate Seoul into its struggle against Tokyo over historical memory, likely played a role as well. In the final analysis, the strategic implications of Xi's choice for Seoul over Pyongyang are readily visible and speak louder than words, but does it necessarily imply fundamental changes have occurred in China's North Korean policy?
Xi's visit does not entail such policy implications for two reasons. First, China's decision to skip North Korea was not intentional, as China tried to have Xi meet Kim before Park, despite mounting frustration with the North's nuclear issue. According to various media accounts, discussion about a potential visit by North Korean leader Kim Jong-un to China was first made during the visit of his special envoy to Beijing in May 2012, and reciprocated by the Chinese Communist Party (CCP) delegation's visit to Pyongyang that November (YTN TV, May 29, 2013). Reports of a diplomatic rift, however, erupted over who should visit whom which then led to a stalemate and the issue was subsequently dropped after North Korea's alleged "satellite" launch in December 2012 and its third nuclear test in February 2013. Afterwards, China suspended high-level contacts until Chinese Vice-Minister of Foreign Affairs Liu Zhenmin visited Pyongyang this February and the special representative for Korean Peninsula Affairs, Wu Dawei, visited in March (CCTV, February 19). [2]
Another motive behind President Xi's decision to forego a visit to North Korea is quite simple—it's the economy, silly. As reiterated by Chinese Vice-Foreign Minister Liu, South Korea and China intended to sign several major economic agreements before Xi's arrival in Seoul, ranging from the completion of their FTA, institutionalizing a direct currency trading system and discussing the prospect of South Korea joining China's AIIB (Sina, July 1). President Xi was particularly interested in learning about Korea's position on AIIB largely because he wanted Korea, along with all prospective members, to sign the Article of Agreement before the November APEC meeting.
According to the Chinese Ministry of Foreign Affairs spokesperson's statement on June 27, the purpose of Xi's visit was to better serve the interest of all three parties, including the two Koreas and China as well as the Korean peninsula (Ministry of Foreign Affairs, July 3). It was not strategically aimed at a "third party"—namely, North Korea, Japan or the United States—like foreign media speculated. In other words, China did not want its charm offensive to Korea to be mistaken as an indicator for changes in its North Korean policy, an attempt to pull Korea away from the United States and Japan, or an attempt to exploit the rift in Korea's relations with Japan over historical issues—even though China was indeed aiming for the latter two.
Feeling the Pressure of China's Economic Charm Offensive
China's economic charm offensive once seemed to have put Korea on the edge of a dilemma. It first came in February with China's call to construct a direct currency trading market between the Korean Won and the Chinese Renminbi. Officials in Beijing insisted that the issue be inserted into the July summit's Joint Statement and for the two countries to establish the market by December. [3] The South Korean government felt pressured by China, particularly because Seoul did not know how Washington might interpret the agreement.
The second economic push came with China's invitation to join the AIIB. South Korea again hesitated, as Korea intends to balance China's growing overture of economic influence with the strategic impact on its alliance with the United States. This time, the United States had already made its preference known, demanding more prudence and greater scrutiny toward Beijing's economic outreach. Nevertheless, China invited Seoul to join, with some specifications on AIIB's governance structure and an expected financial contribution in the range of $500–700 million (Dong-A Ilbo, July 14). So far, Korea has not joined the AIIB, since Korea intends to be accommodating to China's economic offensive only if and when Seoul can minimize the political and strategic considerations and maximize the economic benefits.
Ironically, however, the South Korea-China FTA has freed South Korea from a potential dilemma of balancing between the United States and China over their respective regional free trade schemes. The unorthodox conclusion of the FTA before finalizing negotiations has benefited Seoul by giving it greater leverage over the United States and China over their respective schemes. Now, South Korea cannot be pressured to choose between the United States' Trans-Pacific Partnership (TPP) and China's Regional Comprehensive Economic Partnership (RCEP), since joining either or both regional free trade schemes would simply be a bonus to the existing bilateral FTAs.
No Dilemma for Korea
The growing political and diplomatic dynamics in the South Korea-China relationship, however, do not present a dilemma to Seoul's balancing efforts. More often than not, South Korea's diplomatic maneuvers with China are misunderstood as intended to hedge against the United States, especially during the progressive leadership era under former presidents Kim Dae-Jung and Roh Moo-Hyun. However, South Korea's recent economic cooperation with China has only strengthened the prevailing domestic view that China intends to utilize its charm offensive to its advantage over the United States and Japan by accentuating "common concerns" and "common interests" as well as by capitalizing on the rift in Korea-Japan relations over history, territorial disputes and Japan's recently adopted Collective Self-Defense Act.
While South Korea and China do share some issues of common concern, the relationship almost certainly will not and likely cannot grow into a coalition or alliance. Although their common interests will naturally expand, the two countries will not be able to form a coalition because of the fundamentally different values they uphold and respect. Any form of coalition, including an alliance, cannot persist without a common enemy; and in lieu of such an enemy, it is nearly impossible to sustain the coalition without common values and ideology. In other words, coalitions only succeed in defense of shared values, and South Korea and China lack this one critical component. The Republic of Korea (ROK) is a mature democratic nation, a liberal state and a market economy. Beijing's attempts to drive a wedge between the ROK-U.S. alliance based on Beijing's values are destined to fail, since it is their shared values that hold the ROK-U.S. alliance together. While South Korea at times may step outside the alliance in pursuit of economic interests, Seoul will never defect and realign with others who do not share the same democratic values as its government. Therefore, there is no dilemma or strategic choice for South Korea to make—it has already chosen the United States.
Notes
In 2004, the Chinese government initiated the Northeast Project, an academic study intended to justify claims to lands previously held by Korea's Goguryeo dynasty (Chosun Ilbo, September 30, 2009).
The resumed high talks were not, however, about arranging the summit. The former's visit was to warn Pyongyang of Beijing's intolerance over the tension of the Korean peninsula evolving into a "war or chaos" (Ministry of Foreign Affairs, February 20). The latter focused on the resumption of the Six Party Talks, according to the spokesperson.
The market did open as scheduled on December 1 (South China Morning Post, December 2).