Does the Normandy Group on the Russia-Ukraine Conflict Have a Future? (Part One)
Publication: Eurasia Daily Monitor Volume: 18 Issue: 20
By: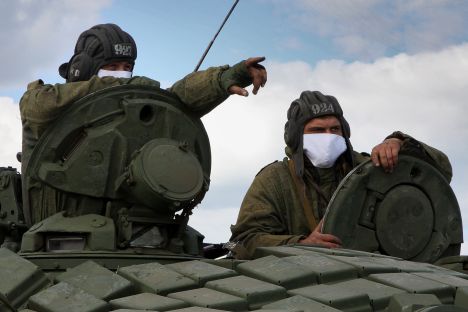 Ukraine is multiplying calls for changing the composition of the "Normandy Four" group (Russia, Germany, France, Ukraine) and its derivative Minsk Contact Group (see below). The Kremlin has effectively used these negotiation forums from 2014 to date in order to conserve, instead of end, its occupation of Ukraine's eastern Donbas. The Normandy forum has not met at the summit or ministerial level since 2019; it has operated at the level of senior political advisors since then; and it has been moving against Ukraine's interests when not completely deadlocked (see EDM, December 11, 12, 2019; January 16, March 26, July 9, 15, August 5, 12, 13, 2020).
In the Normandy group, furthermore, Berlin and Paris alongside Moscow have rejected Kyiv's proposals to add Russia's seizure of Crimea to the Normandy negotiations' agenda. Ukraine, therefore, is initiating an international "Crimea Platform" dedicated to that issue.
Ukrainian proposals to change the composition and direction of the Normandy and Minsk processes are not unprecedented, but the current international situation gives such proposals unparalleled salience and relevance. The cast of major international leaders involved, directly or indirectly, in the Normandy process is changing. German Chancellor Angela Merkel is about to step down, her two possible replacements (frontrunner: Armin Laschet) parochial politicians without international experience. Merkel's successor will likely lack her capacity to hold the European Union together on Russia sanctions; nor can he be a peer interlocutor to Russian President Vladimir Putin on Ukraine in the Normandy group. In Merkel's absence, French President Emmanuel Macron may use the Normandy forum to pursue his own ambition for special relations with Russia, potentially at third parties' expense. The EU, collectively, will remain unrepresented in the Normandy forum.
In that upcoming constellation, Putin—the sole leader continuously in the Normandy group since 2014—might play an even stronger hand than heretofore; and he will be content with the status quo on Russia's terms. At the present stage already, Moscow uses its blocking power in order to keep the Normandy process in permanent deadlock and shift the negotiations' center of gravity to the Minsk Contact Group: Russia, Ukraine, the Organization for Security and Cooperation in Europe (OSCE), and Russia's Donetsk and Luhansk proxies as "participants."
In the West's absence, and with Russia's unrecognized proxies represented nevertheless, Moscow uses the Minsk Group to promote negotiations between Kyiv and Donetsk-Luhansk, positioning Moscow as mediator alongside the OSCE. According to Russian Foreign Minister Sergei Lavrov, in his annual summing up of the year just past (2020), "The Normandy format is merely an accompaniment [sic] to the main work, and the main work goes on in the Minsk Contact Group" (TASS, January 18, 2021).
To rebalance and restart the Normandy format, Kyiv pins its hopes on the new administration of United States President Joseph Biden. In a wide-ranging interview with the US media outlet Axios, on January 31, Ukrainian President Volodymyr Zelenskyy described how Russia is blocking the negotiations in order to impose a solution on its own terms, "to preserve the separatists" by some kind of "federalization."
"I told European leaders, frankly: if we continue with this [Normandy and Minsk] format, it will have exhausted any usefuleness. This is why I want such a powerful world player as the United States to make its impact felt, involving President Biden in the Normandy format. I am ready to do anything to reach an agreement with the US President and the Normandy Group. I also told our European partners openly: if this does not work, then [we should] create another format, which must include the United States and Russia, in parallel with the Normandy format" (President.gov.ua, February 1).
Initial reactions in Washington and Kyiv sound notes of caution. Addressing the latest Kyiv Forum videoconference, one of President Biden's aides, Michael Carpenter, has recommended against creating a US-Russia parallel negotiating track, as it existed (albeit stagnant most of the time) during two US administrations in 2015–2019. Rather than appoint yet again a US State Department Special Representative to operate a direct channel with Moscow, Carpenter has, instead, suggested that the United States should join the Normandy forum as a full member; possibly at the level of Secretary of State, Deputy Secretary of State or National Security Advisor (Ukrinform, January 27). This formula, however, would not seem to cover Normandy meetings at the presidential level, five of which have taken place thus far, and on which President Zelenskyy seems fixated.
As Ukraine's Foreign Minister Dmytro Kuleba points out, changing the Normandy group's composition at any level would necessitate the consent of all participants, and Russia would not consent. Involving the United States and potentially other Western actors "would certainly be a useful and effective way to stop Russia's aggression and de-occupy our territories. However, in what kind of format to involve them—that is a question for diplomacy to work on" (Obozrevatel, January 13; Ukrinform, February 2).
An oft-overlooked fact is that any new entrant into the Normandy group would have to subscribe to Normandy's entire "acquis" from 2014 to date. This is, in many ways, a toxic acquis, forced upon Ukraine in the early stages of this process.
Russia's Ministry of Foreign Affairs has issued a predictable warning:
"We would only welcome the United States directly joining the Normandy Four process, if this move would prompt Kyiv to fulfill the obligations it took upon itself [Minsk 'agreements']. However, unfortunately, in view of the new US administration's signals, such a thing is not to be expected. Kyiv wants, instead, to abandon the Minsk agreements and the United Nations Security Council's resolution that enshrined them. Enlarging the Normandy process is possible only by unanimous consensus, which is out of question today" (TASS, January 22).