Domestic Political Issues Hinder Georgia's Progress Toward NATO
Publication: Eurasia Daily Monitor Volume: 13 Issue: 56
By: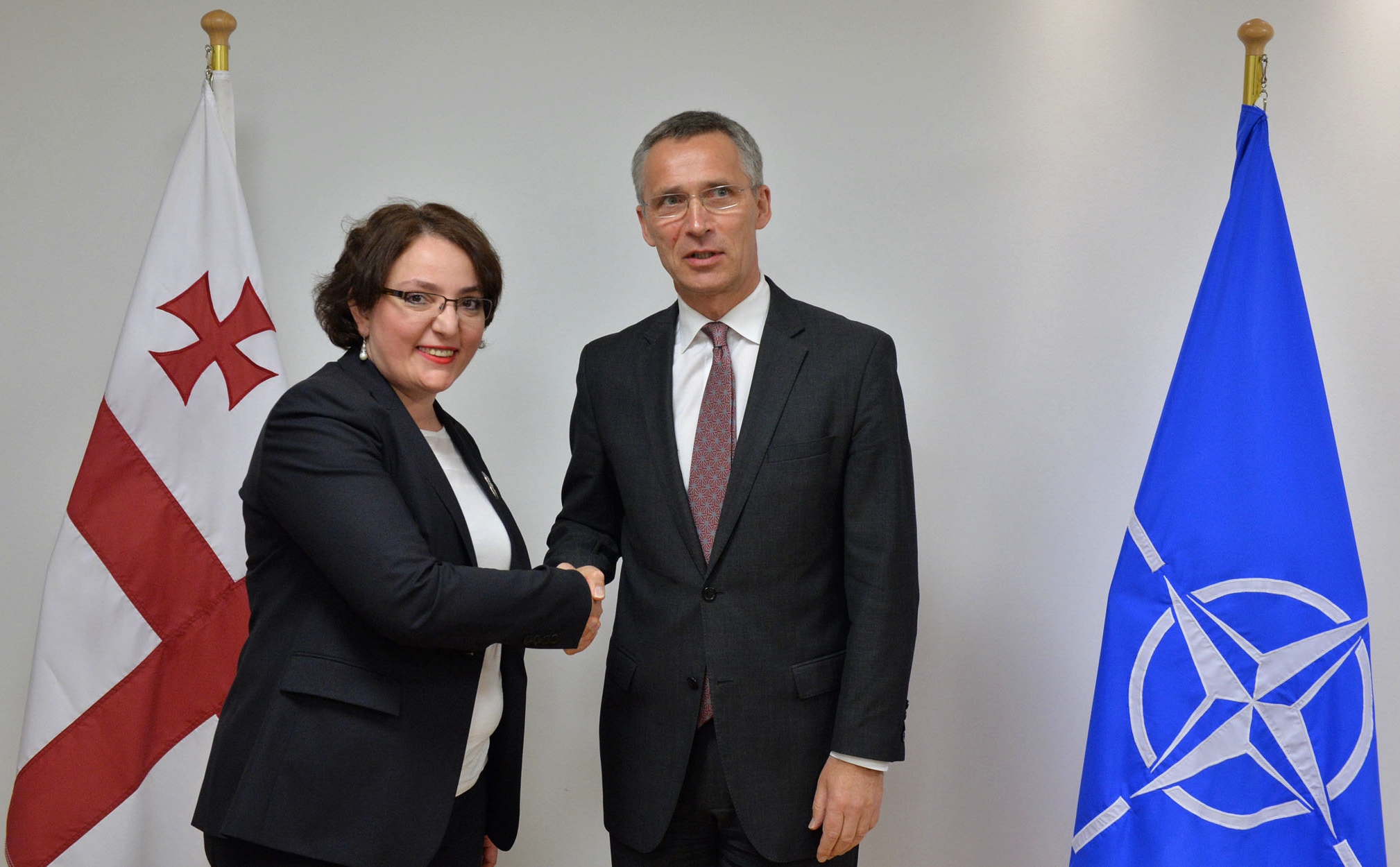 Georgia is gearing up for the North Atlantic Treaty Organization's (NATO) upcoming summit in Warsaw, hoping to receive a "strong message" from the Alliance about strengthening their mutual ties (see EDM, March 11). Georgian leaders have accepted that Tbilisi will most likely not receive a Membership Action Plan (MAP) from NATO this time either. Nevertheless, the Georgian government expects to develop alternative joint programs with the North Atlantic Alliance, such as the substantial package of cooperation offered to Georgia at the Wales summit in 2014 (Civil Georgia, August 27, 2015).
The majority of Georgian politicians and analysts, however, think that none of the alternatives offered by the Alliance, including the NATO-Georgian Joint Training and Evaluation Center, which was opened last August just outside of Tbilisi (Civil Georgia, August 27, 2015), will be able to substitute MAP as a "one way ticket into NATO." Countries that receive MAP are not simply Alliance aspirants, but official candidates for NATO membership.
In his recent visit with Georgian Foreign Minister Mikheil Janelidze, in Washington, US Secretary of State John Kerry reiterated Georgia's significant contribution to NATO's mission in Afghanistan (Civil Georgia, March 16). Yet, the Russian factor and the West's unwillingness to "tease" Vladimir Putin are the most commonly cited causes for NATO's "skepticism" toward Georgia's membership, despite the country's often lauded role as an important and loyal partner of the Alliance. The United States' ambassador to Georgia, Ian Kelly, said that too much NATO activity in Georgia could put the small country in jeopardy. Apart from that, Georgia has failed to resolve its territorial problems—conflicts in Abkhazia and South Ossetia (see EDM, March 11).
Yet, as some Georgian experts assert, foreign challenges and a difficult geopolitical situation are not the only factors blocking Tbilisi's smooth entry into the Alliance. Rather, domestic political instability, endless conflicts, public debates within the ruling Georgian Dream coalition about crucial foreign policy issues, as well as overly frequent replacements of ministers of defense also caution the West against welcoming Georgia into NATO.
According to analyst Vakhtang Maisaia, "During the rule of the Georgian Dream coalition in 2012–2015, two ministers of defense resigned. Now a third defense minister, Tinatin Khidasheli, is in office. This creates the sense of instability in Georgian politics among our partners, especially as the trend is similar to what happened during the previous administrations of Mikheil Saakashvili and Eduard Shevardnadze. Since 2004, Georgia has changed its minister of defense six times." The expert said that under normal conditions, such frequent replacements of the head of the Ministry of Defense is acceptable. However, Georgia's "defense system and the armed forces do not function in a stable form. Apart from that, Georgia is encountering existential threats, [thus] stability and predictability of the country are especially important for its partners" (Author's interview, March 19).
"Georgia is in the process of building its armed forces, not simply reforming them. This is especially important after the military conflict with Georgia in 2008. We are in transition, and frequent changes of the ministers of defense, each of whom had his or her own vision of building the army, does not help to build effective armed forces," Maisaia argued. And as other experts pointed out, such instability is not only plaguing the top officials of the defense ministry and the military, but also the middle- and lower-rank officers (Author's interviews, March 19).
The ongoing debate within the governing coalition regarding fundamental questions of foreign policy and the country's geopolitical orientation are also raising doubts among Georgia's Western partners. For example, two leaders of the ruling Georgian Dream coalition, Minister of Defense Tinatin Khidasheli and businessman Gogi Topadze, recently engaged in a public debate over Georgia's security alignment (Dfwatch.net, March 16). Topadze has repeatedly stated in the past that the United States was a harmful partner and that Georgia should improve its relations with Russia, instead of pursuing endless and futile attempts to join NATO (Vestnik Kavkaza, March 24, 2015). Apart from that, Topadze previously expressed his sympathies for Joseph Stalin and said that the Soviet tyrant set the right example for other politicians (Rustavi2, October 28, 2015).
Gogi Topadze's party colleagues often criticize him for such statements. Indeed, Georgian Dream parliamentarian and Soviet-era dissident Levan Berdzenishvili expressed his bewilderment at Topadze's statements and denounced the latter's "demands to hang the portrait of the Soviet dictator in every government office" (Author's interview, February 27). Still, Topadze remains one of the key leaders of the Georgian Dream coalition. Defense Minister Khidasheli has tried to publicly condemn Topadze's remarks about both Russia and Stalin, but Prime Minister Giorgi Kvirikashvili warned her that the head of the defense ministry cannot engage in on-the-record discussions with Georgian Dream coalition members and make political statements, because such behavior "politicizes the army" (Kommersant, March 4).
Such foundational differences between domestic elites regarding Georgian values and the country's geopolitical orientation raise doubts among Georgia's Western partners about this nation's willingness to move in the direction of building a Western-style society. And these concerns are especially legitimate when various leaders of the ruling coalition simultaneously articulate values that are entirely incompatible with each other.
Diplomatic Academy of Georgia Rector Joseph Tsintsadze thinks that for a small country under existential risk, a consolidated position by the authorities is especially important. "The Georgian government is not consistent toward Russia, either," he noted. "For example, while the prime minister and the foreign minister emphasize the need for building a partnership with Moscow without rejecting [Georgia's] course toward Euro-Atlantic integration, the minister of defense and the president make another round of militant statements about Russia," Tsintsadze said (Author's interview, March 19).
The Georgian authorities' publicly aired differences over core issues lead to particularly negative consequences. First, Western skepticism is growing about Georgia's commitment to the values it declares, thus raising questions about the wisdom of establishing closer ties with this South Caucasus country. But at the same time, Georgian-Russian relations are themselves degrading. Several days ago, Russia's Deputy Foreign Minister Grigory Karasin, who oversees Moscow's relations with other post-Soviet states, issued a warning to Georgia's president and defense minister, asking them to "slow down on their anti-Russian rhetoric" (Eadaily.com, March 17). "Russia's patience is not limitless," the Russian diplomat threatened (Accent.com.ge, March 17). Such worrying statements coming out of Moscow will only strengthen the positions of those in the West who are skeptical about Georgia's Euro-Atlantic prospects.