A Comeback for South Stream?
Publication: Eurasia Daily Monitor Volume: 13 Issue: 57
By: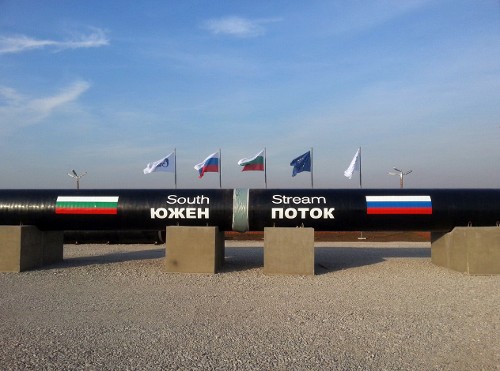 When Moscow abruptly terminated the South Stream natural gas pipeline project in December 2014 (see EDM, December 17, 2014), that decision left all of Russia's potential partners in the Balkans in the lurch. They had all made commitments to Russia and South Stream and, in some cases, serious financial if not political investments in the project, only to be abandoned without warning. Since then, many of these countries have been searching for new alternatives. Yet, despite Moscow's 2014 decision—and Sofia's own previous declaration that it would suspend its government's involvement until the project adhered to the European Union's Third Energy Package regulation—some Bulgarian politicians have continued to push for the revival of South Stream. Thus, Russia's Deputy Energy Minister Yuri Sentyurin has claimed that Bulgarian authorities were working to revive the pipeline project (RIA Novosti, Novinite, March 10). This move comes in the wake of other actions indicating that if Russia is not promoting South Stream it is trying to launch rather similar projects in Southeastern Europe.
It is worth noting that Bulgaria receives about 80 percent of its gas from Russia and has accurately been described as a battleground between Turkey and Russia (Novinite, February 25). The same description may also be applied to the EU-Russia struggle in Bulgaria and in the Balkans as a whole (see EDM, June 10, 2015; March 9, 2016). Certainly, Russian media have targeted Bulgaria for a long time, routinely broadcasting messages demonizing the North Atlantic Treaty Organization (NATO), for example (Channel One TV, Moscow, February 25, 2015). However the issue of South Stream received new traction in public discussions recently because Russia continues to seek another way to dominate Balkan and Central European gas supplies while bypassing and isolating Ukraine from Europe. When Russia's original idea for South Stream ultimately failed, Moscow approached Turkey, in 2014–2015, about building Turkish Stream—a pipeline across the Black Sea to Turkey that would end at the border with Greece. Since this proposed gas pipeline would entirely avoid EU territory, Brussels would have no authority over it and would not be able to block it as it had done with South Stream. But even before Turkey shot down a Russian plane that had violated Turkish airspace in November 2015, the Turkish Stream project failed because Ankara found its cost to be exorbitant (see EDM, November 20, 2015). Indeed, while it was still originally being considered, South Stream's projected price had also kept increasing, meaning it was quite unlikely that project was ever financially sound.
Nevertheless, Russia has persisted in trying to expand or develop new dependencies in Europe on its energy exports. More recently, it has proposed expanding the Nord Stream pipeline, which runs from Russia to Germany, under the Baltic Sea, by constructing a parallel line—Nord Stream II (see EDM, September 10, 14, 15, 17, 21, 2015). Moscow would like to be able to use this expanded trans-Baltic pipeline capacity to send more of its gas directly to Germany, which would then ship Russian gas throughout Central and Eastern Europe. But Nord Stream II has aroused a storm of protest from Central and Eastern European governments, nine of which—Estonia, Latvia, Lithuania, Poland, Hungary, the Czech Republic, Slovakia, Romania and Croatia—have recently signed a public letter of protest against it, addressed to EU President Donald Tusk (Tvn24bis.pl, March 18). Conspicuously absent from the list of signatories was Bulgaria. Undeterred in its quest for a pipeline route that would evade the EU and allow it to dominate the Balkans and Central Europe, Gazprom signed an agreement in late February with the Italian Edison company and Greece's DEPA to build an interconnector that would ship Russian gas from Greece to Italy, and utilize the previously proposed ITGI Poseidon pipeline project to connect Greece and Italy. Clearly, this agreement represents an effort to resurrect South Stream, albeit in a different guise (Neweurope.eu, February 28; Rtreend.az, March 3; see EDM, March 3, 4, 8, 9).
Evidently, these recent decisions have stimulated the perennial longing of some Bulgarian politicians for a share in South Stream. Of course, Gazprom and Moscow have long sought a mechanism by which Russia could ship large quantities of gas to Europe without having to comply with EU legislation and other protocols. But it cannot afford to openly pursue another South Stream and alienate Germany by ditching the Nord Stream II project, even though the latter makes no economic sense and is the source of so much criticism and consternation in the region. Therefore, Russia has had to announce that it is not considering a revival of South Stream and that it is committed to moving forward on Turkish Stream, dubious as that sounds under present conditions (Sputnik News, Interfax, March 18).
These maneuvers suggest that steady EU resistance to Russia's schemes to undermine its authority and forge bilateral deals with Germany or Balkan countries like Bulgaria can prevail, if such legal and political defiance can be maintained. But it also suggests that doing so will require a long struggle. And clearly, some pro-Moscow elements in the Balkans and Germany are committed to undermining the EU and securing Russian gas on what they wrongly believe would be advantageous conditions for themselves. Moscow's ambitions to isolate Ukraine and retain preeminence in Central and Eastern European energy markets have not gone away. However, the remorseless logic of economics may yet force Russia to accept the fact that the only sensible and realistic way to bring gas to Europe is through the existing Ukrainian pipeline network—by following purely commercial and not political means. Bringing Moscow to this realization will take a long time and steady nerves from Brussels. In the meantime, one can reasonably expect more gambits like this Bulgarian one to find ways to preserve Russia's way of doing energy deals in the Balkans.