Nord Stream Expansion Agreed, Wintershall Swapped to Gazprom (Part One)
Publication: Eurasia Daily Monitor Volume: 12 Issue: 162
By: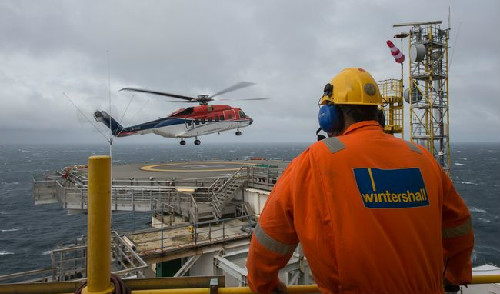 Germany is leading Western Europe's return to business as usual with Russia in the natural gas sector, notwithstanding Russia's war in Ukraine. On September 4, at the Vladivostok economic forum, with Russian President Vladimir Putin in attendance, two binding agreements were signed that will dramatically increase Germany's reliance on Russian natural gas for consumption, transit and storage. One agreement involves construction of the Nord Stream Two gas pipeline on the Baltic seabed, from Russia to Germany. The other agreement will see Gazprom's full takeover of Wintershall's gas marketing business and gas storages within Germany, in return for Wintershall acquiring minority stakes in a Siberian gas field.
These agreements' ramifications, however, extend far beyond the Russo-German bilateral gas trade.
Both agreements presuppose special derogations for Germany from the European Union's energy market legislation (Third Package) and EU competition policies. Underlying both agreements are two assumptions: that the European Commission's unfinished anti-monopoly investigation would ultimately not penalize Gazprom for its practices, and that the EU's economic sanctions on Russia would not affect the energy sector, irrespective of Russia's behavior in Ukraine.
The Nord Stream Two agreement means that Gazprom will bypass Ukraine's gas transit and storage systems by 2019, drastically reducing the transit flow through Ukraine, and potentially through several Central European countries as well. Conversely, Nord Stream Two will turn Germany into Russia's gas transit and distribution center for a large part of Western Europe's natural gas market. Politically, both agreements indicate that Western Europe's energy companies generally, and the German government in particular, are eager to return to business as usual with Russia, after a short-lived nuisance in Ukraine.
Russia's military intervention in Ukraine in the spring of 2014 had made it politically difficult for the German government and Wintershall to execute the agreement already concluded with Gazprom. Approved by Germany's regulatory agencies in December 2013, and signed by Gazprom with Wintershall that same month, the agreement was mothballed until further notice as a result of Russia's actions in Ukraine. Its validity remained intact, and the document signed in Vladivostok, on September 4, 2015, sets in motion the agreement's execution.
The agreement is based on a swap of assets purportedly of "equivalent value." For Wintershall, it looks almost like the end of an era as the company is "exiting the gas trading and gas storage business," in Germany and nearby. Gazprom takes over, turning what had been Wintershall-Gazprom 50-50 joint ventures into fully-owned Gazprom entities.
These include:
WINGAS, the gas trading company, with a market share of more than 20 percent in Germany, and market niches in Belgium, the Netherlands, Austria and the Czech Republic.
Wintershall Erdgas, natural gas trading companies in Berlin and in Zug, Switzerland, respectively (WIEH and WIEE, respectively; the latter, active in Eastern and Southeastern Europe).
Rehden and Jemgum underground storage sites (Rehden being the largest gas storage in Western Europe), both in Germany's northwest, dedicated to receiving Russian gas from the Nord Stream pipeline and its continuation NEL toward the Netherlands.
Haidach gas storage site near Salzburg, Austria, serving the German and Austrian gas markets, and grouped—with Rehden and Jemgum—under the management of Astora, operated by Gazprom.
Wintershall Noordzee, a Netherlands-registered oil and gas exploration company active in the North Sea (with low profitability—Kommersant, September 7).
According to BASF (Wintershall's parent company) board chairman, Kurt Bock, the Gazprom-Wintershall "partnership in gas transportation activities will continue," apparently meaning that gas pipelines jointly owned and operated by Wintershall and Gazprom in Germany would not be handed over into Gazprom's full ownership (BASF, Wintershall, and Gazprom press releases, September 4).
Wintershall had, in the last two decades, mainly existed by procuring and reselling Russian gas. With meager gas resources of its own, Wintershall became the object of a gradual takeover of its fixed assets and market share in its home country by Gazprom (see EDM, May 3, 2006; July 15, 2011; January 17, 2014).
For handing over all those assets and its market share in the highly lucrative home market ("in return" would seem an exaggeration), Wintershall receives 25 percent plus one of the shares in two blocs of Achimov, a gas field within the Urengoy area, where Gazprom is in control as the license-holder. The two blocs are highly challenging in terms of geological profiles and gas composition. They are estimated to hold a combined 274 billion cubic meters (bcm) of gas and 74 million tons of condensate, "according to the development plan confirmed by Rosnedra" (a slight hedge there). Production is expected to start by 2018, eventually reaching a plateau of 8 bcm per year. Wintershall's stake seems to be that of a financial investor, rather than a production-sharing agreement (Wintershall press release, September 4).
Wintershall president since 2009, Rainer Seele, became president of Austrian OMV in July of this year. OMV expects to acquire stakes in two blocs of the same Achimovsk field. Wintershall has acted as one of Gazprom's closest allies in Europe, and Seele was a vocal critic of the EU's economic sanctions on Russia following the war against Ukraine. The new president, Mario Mehren, until recently headed Wintershall's business with Russia, and has evidently been appointed president to continue that orientation.
Gazprom's full takeover of Wintershall's downstream assets would seem to be irreconcilable with the European Union's Third Package of energy market legislation. It looks like a clear case of a vertically integrated monopoly arrangement. Nevertheless, German regulators have authorized it; and Germany will probably use its political clout in the EU to protect this arrangement.