During Past 15 Months, Russians Register Over 21,000 Enterprises in Georgia
Publication: Eurasia Daily Monitor Volume: 20 Issue: 129
By: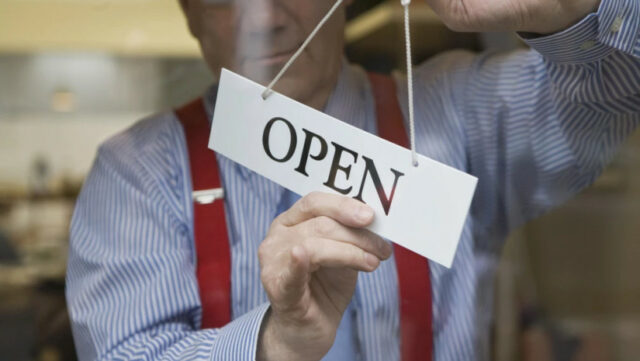 On July 25, influential nongovernmental organization (NGO) Transparency International published a new report on Russian citizens' recent activities in Georgia. According to the document, since February 24, 2022, after the start of Russia's full-scale invasion of Ukraine, Russian citizens have registered 21,326 enterprises of various types in Georgia. This is according to official data provided by the Georgian National Agency of Public Registry (NAPR) (Interpressnews.ge, July 25). The report notes that, since February 24, 2022, Russians have opened three times more businesses in Georgia than in the past 27 years combined—from January 1995 to February 2022. During that period, only 7,788 such enterprises were registered with the NAPR. Thus, according to these conclusions, after the start of the Kremlin's all-out war against Ukraine, Russians have registered an average of 1,300 enterprises in Georgia every month.
Since February 2022, from 100,000 to 130,000 Russians have moved to Georgia for permanent residence, some fleeing the "partial mobilization" order last fall. Many of them went into business, including by renting or establishing cafes and restaurants in Tbilisi and Batumi, as well as many other enterprises in the service and information technology sectors (Kommersant, July 25).
Georgia is rather comfortable for Russian businessmen for several reasons. First of all, after the reforms of President Mikheil Saakashvili that started in 2004, the country has a liberal tax code and the Georgian Revenue Service is mostly free from corruption, as many international actors have confirmed (Eurasianet, December 22, 2004). Businessmen in Georgia face far less bureaucratic problems than in many other countries in the post-Soviet space, and the country's tax rates are not that high as compared to other states.
Yet, the likely main reason for increased Russian activity in Georgia is that Russian citizens can stay in the country for 12 months without any registration or visa. After a year, such Russian "tourists" can leave Georgia for a few days then return, with the 12-month, "visa-free" period resetting (Civil.ge, August 4, 2022).
Russian President Vladimir Putin's government is seemingly doing everything to encourage the influx of Russians into Georgia. The Federal Agency for Air Transport Agency satisfied the request of a number of Russian airlines to operate up to 284 flights per week to Tbilisi, Kutaisi and Batumi. Most of the flights will be operated by Red Wings, Yamal Airlines, Rossiya Airlines and Azimuth—all of which are sanctioned by Ukraine (see EDM, May 10, 25; Kommersant, July 7).
Income from Russian immigration and tourism acts like a drug for the Georgian authorities. They cannot refuse the benefits that the domestic economy receives as a result. And the benefits are undeniable: In the first half of 2023, Georgia's total tourism income amounted to $1.7 billion, which is 48.8 percent more than in the first half of 2022. The total income from tourism for the first six months of 2023 amounted to $ 1.143 billion, according to data published by the investment bank Galt & Taggart. Meanwhile, the National Statistics Office of Georgia, or Geostat, claims that tourism revenues for the first quarter of 2023 increased by 102 percent as compared to the first three months of 2022, which amounted to $795 million. Over the past ten years, tourism has become the main backbone industry of Georgia, bringing the country an average of $3 billion annually (Kommersant, July 10).
In the first six months of this year, the National Bank of Georgia (NBG) bought $1.06 billion on the country's foreign exchange market. Thus, the NBG increased foreign exchange reserves to a historic high of $5.07 billion. This trend has been apparent since 2022, when, as a result of the inflow of a large amount of foreign currency after the resettlement of over 100,000 Russian citizens to the country, Georgia's financial authorities no longer risked depreciation of the Georgian lari by purchasing large volumes of the US dollar. After the start of Russia's military operation in Ukraine, the lari appreciated by almost 28 percent and the real estate market in Georgia grew significantly (Kommersant.ru, July 27).
Over the past year, the degree of penetration of Russian capital and business into various areas of the Georgian economy, including the real estate market, construction, the banking sector and tourism, has increased dramatically. This conclusion, based on a study of official information, including NAPR data, was made by experts from the NGO Institute for Development of Freedom of Information (IDFI). According to the IDFI report, from January to December 2022, Russian citizens' share in transactions for the purchase of primary and secondary housing increased from 0.9 to 5 percent in Tbilisi and from 5 to 17.6 percent in Batumi. The study notes that, from March to September 2022, citizens of the Russian Federation purchased 15,164 buildings (including 13,262 apartments) and 13,850 plots of land in Georgia. In 2022, the number of Russian tourists in the country rose to 1,087,257 people, which is 23 percent of the total number of foreigners who visited Georgia. According to the NBG, the revenue coming from the trips of Russian citizens to Georgia reached $891 million by the end of 2022, which is 25 percent of the total income received from all international visitors (Idfi.ge, July 6).
Nevertheless, Alexander Tvalchrelidze, vice president of Georgian Academy of Natural Sciences, said in a July 31 interview with this author, that Tbilisi exaggerates the importance of the Russian factor in the development of the Georgian economy: "21,326 enterprises is minuscule in comparison with two million Georgian enterprises," Tvalchrelidze underlined. He further argued, "Much more dangerous is the political influence that Russian immigrants and tourists can exert, for example, in the Adjara region, where they try to promote particular and even separatist sentiments and provoke the local population" (Author's interview, July 31).
The extent to which Tvalchrelidze is right was confirmed that same day, when on July 31, clashes broke out between the residents of Batumi, the Georgian police and Russian "guests" in the Adjara region (Interpressnews, July 31). In truth, this situation could be further exacerbated as Russian "tourists" continue to set up enterprises and buy land within Georgia in higher numbers—ostensibly providing increased influence for Moscow within the country.