Early Warning Brief: The Xi Administration Openly Challenges American Global Leadership And Takes Multiple Measures to Counter Washington's Containment
Publication: China Brief Volume: 21 Issue: 8
By: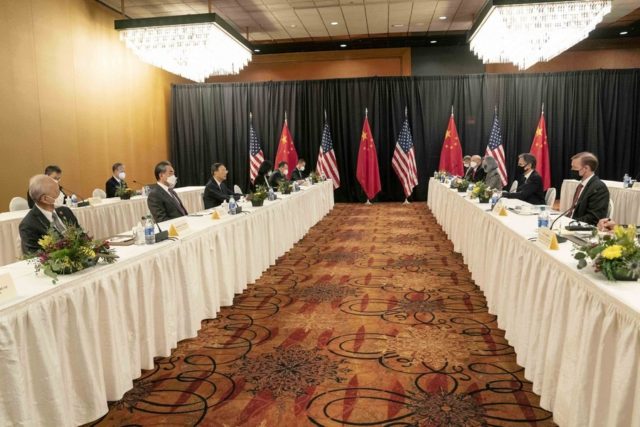 Introduction
The Chinese Communist Party (CCP) leadership has openly challenged Washington's role as global rule-setter. The administration of CCP General Secretary and state president Xi Jinping (习近平) has also taken multi-pronged measures to counter perceived efforts by a U.S.-led "coalition of democracies" to contain China.
At the first high-level diplomatic meeting between the U.S. and China in Alaska on March 18, Politburo member and director of the General Office of the Central Foreign Affairs Commission Yang Jiechi (杨洁篪) told Secretary of State Antony Blinken that "most countries in the world do not recognize that the U.S. values represent the international values…" Yang, a former ambassador to the U.S., added that "the U.S. is not qualified to talk to China in a condescending manner" (Xinhua, March 19). This tough talk followed instructions given by President Xi at the National People's Congress last month that powerful China can now treat with the world on an equal footing (平视世界, pingshi shijie). Implying that China will soon overtake the U.S., the CCP leadership "core" has claimed that "the East is rising and the West is declining" (东升西降, dongsheng xijiang). "Both the timing and the [developmental] trends are on our side," Xi said, adding that "our opportunities trump the challenges [facing us]" (Apple Daily, March 27; VOA Chinese, March 14; Xinhua, January 13).
These assertions contrast with often-repeated statements that China has no intention of disputing American "hegemony." At a talk in New York in late 2018, Foreign Minister Wang Yi (王毅) indicated that "China will not challenge or [seek to] displace the U.S." A 2019 government white paper on "China and the World in the New Era" (新时代的中国与世界, xin shidai de zhongguo yu shijie) similarly pointed out that "China has no intention to challenge the U.S.; nor does it want to replace the U.S" (China News Service, September 27, 2019; Ming Pao, September 30, 2018). And Xi said in his address to the United Nations last year that his country had "no intention to fight either a Cold War or a hot war with any country" (China Daily, September 23, 2020). Yet while fending off pressure from U.S. presidents Trump and Biden, the Chinese leader has recently also proclaimed a much more hawkish approach to foreign affairs. "We must uphold the bottom line of the core national interests of sovereignty, security and developmental interests," Xi noted late last year, adding that China would "guide the reform of global governance based on principles of equality and justice," and reiterated his belief in Beijing's leading role in building a global "community of common destiny" for mankind (CNR.cn, January 18; Seeking Truth, October 24, 2020).
Countering A "Coalition of Democracies"
The pugnacious statements of Chinese leaders seem geared toward countering Biden's initiative to consolidate a "coalition of democracies," which is aimed at reining in the PRC's combative hard and soft power projections. Washington has called upon its allies and friends to join America's "extreme competition" with China, which, Biden has said, is led by a leader who is "without a democratic, small D, bone in his body" (RTHK.hk, March 26). On March 12, Biden conducted a virtual summit with the Quadrilateral Security Dialogue (Quad)—comprised of the U.S., India, Japan and Australia. The group called for the Indo-Pacific Region to be "anchored by democratic values." It supported freedom of navigation (FON) trips in the South China Sea (SCS) and condemned China's perceived "coercion" and "aggression" (SCMP, March 13). Twelve days later, Secretary of State Blinken went to Brussels to strategize joint tactics with European Union and NATO officials to blunt what he called "China's aggressive and coercive actions, as well as its failures… to uphold its international commitments" (U.S. State Department, March 24).
In mid-March, Blinken and the U.S. Secretary of Defense Lloyd Austin met with their counterparts in South Korea and Japan during so-called "2+2" meetings, which Chinese media viewed as an effort to coordinate responses to China's rise (Global Times, March 15). Later on the same trip, Austin also visited India to firm up defense cooperation. Despite long-standing strategic tensions between Japan and South Korea, the U.S. secured some vocal commitments to cooperate against China. U.S. and South Korean senior officials committed themselves to "opposing all activities that undermine and destabilize the rules-based international order." (U.S. State Department, March 18; VOA Chinese, March 18).  A communique issued after the Tokyo 2+2 meeting was aimed squarely at the PRC: it stressed that "China's behavior, where inconsistent with the existing international order, presents political, economic, military, and technological challenges to the alliance and to the international community." Washington and Tokyo declared their support for "peace and stability" in the Taiwan Strait and contested Beijing's territorial claims in the South China Sea (SCS). The U.S. also reiterated its support for Japan's claim to the Senkaku Islands, which are administered by Japan but also claimed by China (Japanese Ministry of Defense, March 16).
The outcomes of the Biden administration's multi-faceted offensive have been impressive. Along with the Netherlands and Canada (as of the time of writing), the U.S. has declared that China's policies to repress Muslim minorities in the Xinjiang Uighur Autonomous Region (XUAR) amount to genocide. For the first time since the 1989 Tiananmen Square incident, the European Union (EU) levied sanctions against several Chinese cadres allegedly responsible for enacting said policies in the XUAR in late March. The U.S., UK and Canada have issued similar sanctions. (RTHK.hk, March 23; BBC Chinese, March 21). Western European countries including France, Germany and the U.K. are due to join America on FON trips in the SCS, and the U.S. has boosted the dispatch of naval vessels through the Taiwan Strait (Radio Free Asia, March 12; Sina.com.cn, March 11). Moreover, a number of EU countries have followed the U.S. initiative of cutting off the supply of microchips and other high-tech components to PRC tech firms. Japan has augmented its defense cooperation, including arms sales, to countries such as India, Indonesia and Vietnam, which all have ongoing territorial and economic disputes with China (Nikkei Asia, March 29; 21jingji.com, March 11).
In response, Beijing has levied counter-sanctions against government officials and others in the U.S. and EU. The People's Liberation Army (PLA) has increased the frequency of its "patrols" in the SCS as well as air force and naval incursions into Taiwan's air defense identification zone and surrounding waters. According to Yu Maochun (余茂春), a one-time advisor on China to former U.S. Secretary of State Mike Pompeo, the recent statements by Yang Jiechi and Wang Yi showed that "even top Chinese officials have adopted a wolf warrior diplomacy" (Central News Agency, March 21; Radio French International, March 20).
Xi played a pivotal role in trying to drive a wedge between the U.S. and the EU in late 2020, which culminated with the virtual signing in late December of the China-EU Comprehensive Investment Agreement despite the incoming Biden administration's concerns (Jake Sullivan via Twitter, December 22). Xi told the German Chancellor Merkel in an early April phone call that "China's development has been an opportunity for the EU." Without referencing the U.S., he urged Europe "to make correct judgment[s] independently and truly achieve strategic autonomy" (Global Times, April 7). China also shored up its quasi-alliance relationship with Russia. After holding talks with his counterpart Wang Yi in Guilin, Guangxi Province in late March, Russian Foreign Minister Sergey Lavrov affirmed the "comprehensive partnership" between the two neighbors. In an apparent reference to American pressure, Lavrov said: "We reject zero sum political games and the illegal unilateral sanctions, which our Western colleagues have been using increasingly more often." He added that Western nations' interference in other countries' internal affairs was "unacceptable to international life" (Russian Foreign Ministry, March 23).
Shoring Up Support Across the Middle East and Southeast Asia
Chinese Foreign Minister Wang also embarked on a marathon visit to the Middle East and meetings with his counterparts from the Association of Southeast Asian Nations (ASEAN)—countries outside the traditional Western alliance system. Wang began a six-nation tour of Saudi Arabia, Turkey, Iran, the United Arab Emirates, Bahrain and Oman on March 24. While the Middle East is not within China's usual sphere of interest, China-Arab trade during the first half of 2020 was valued at $115 billion, making the PRC the top trading partner of Arab countries (Chinese Foreign Ministry, December 25, 2020). China Daily reported that Beijing was "seeking the support of countries in the Middle East to counter the pressure being applied by the United States and its allies." At the beginning of his trip, Wang said that "outside forces in the region should put aside their self-calculation and stop treating the region as a chessboard in their strategic maneuvering" (China Daily, March 28).
Of particular significance is an agreement signed between Wang and his Iranian counterpart Mohammad Javad Zarif confirming the two countries' "strategic partnership" for the next 25 years. The Tehran government is set to break a Western sanctions embargo by supplying oil and gas to China. Beijing also noted its willingness to invest in "the up-and-downstream projects of the energy industries" in the Middle East country during press releases announcing the agreement. A plethora of potential cooperative ventures in areas ranging from banking and mining to infrastructure and space exploration were also raised. With possible finance from Chinese banks, Tehran has expressed interest in signing on to Belt and Road Initiative (BRI) projects in the region (BBC Chinese, March 29; Xinhua, March 28).
On the one hand, Beijing has urged the Biden administration to rejoin the 2015 Joint Comprehensive Plan of Action (JCPOA) regulating Iran's nuclear activities, from which former President Trump pulled out in 2018 (Xinhua, December 1, 2020). One the other hand, the special relationship cemented by Wang could boost China's influence in Iran at the expense of the U.S., demonstrating how China has continued to hedge its bets in the region. The state-run China Global Television Network ran an opinion piece saying that the China-Iran deal would "totally upend the prevailing geopolitical landscape in the West Asia region that has for so long been subject to U.S. hegemony" (CGTN.com, March 29).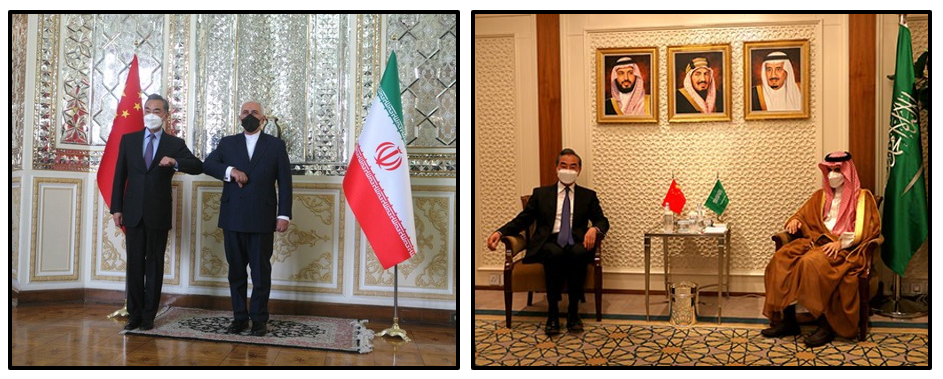 Beijing must ensure that the Islamic world does not decry its treatment of Muslims in the XUAR and elsewhere. During his meeting with Saudi Arabian Crown Prince Mohammed bin Salman, Wang repeated the time-honored principle of non-interference in other countries' internal affairs. The crown prince indicated that his country "firmly supports China's legitimate position on the issues related to Xinjiang and Hong Kong… [and] rejects the attempt by certain parties to sow dissension between China and the Islamic world" (HK01.com, March 30; Xinhua, March 25). Given the long-standing close relations between the U.S. and Saudi Arabia, it is unlikely that Beijing could weaken the two nations' ties. However, the CCP leadership is eager to secure reliable supplies of oil from the Middle East. Wang has also tried to erode "petrodollar hegemony" by persuading his Middle Eastern hosts to accept oil payments in renminbi (SCMP, April 3; Asia Times, April 2).
Perhaps more urgent is Beijing's anxiety to prevent the Biden administration from forming a united front with Asian countries to push back on China's occupation of disputed islets in the SCS. These mostly barren rocks are also claimed in parts by Vietnam, the Philippines, Malaysia, Indonesia, and the self-ruled island of Taiwan. Wang was also eager to push a China-ASEAN solution to the Myanmar crisis, another issue on which Washington has tried to rally the support of its allies. From March 31 to April 2, Wang met with the foreign ministers of Singapore, Malaysia, Indonesia and the Philippines at Wuyi Mountain in southeastern Fujian Province (China Daily, April 5; Asia Nikkei, April 2).
On the face of it, Wang and his guests seemed to agree that one solution to the SCS imbroglio could be to speed up the negotiation of a Code of Conduct for China and ASEAN to clarify the use of sea lanes around contentious spots in the vast ocean. In a joint press conference with his Malaysian counterpart Hishammuddin Hussein on April 1, Wang said, "China and Malaysia agree to strengthen dialogue and cooperation on maritime affairs and properly manage differences." He added that both sides should "promote offline consultations on the COC." Wang also implied that Western countries should not pressure the military junta in Myanmar by imposing sanctions: "Calling on all relevant parties to exercise restraint, China and Malaysia agreed that the international community should uphold the basic norm of non-interference in internal affairs, and create a good environment for domestic political reconciliation." Hussein agreed, stressing that "Malaysia and China are members of the same family." Turning to Wang, the Malaysian politician said, "you are forever my bigger brother." Although he did not mention Myanmar directly, Hussein was also quoted in the official readout as supporting non-interference in Asian countries' internal affairs. "Attempts by outside forces to divide regional countries will not succeed," Hussein said. This quote was repeated by Chinese media. (Chinese Foreign Ministry, April 1; Ming Pao, April 5; CGTN.com, April 2).
Conclusion
Will Xi's counter-encirclement policy succeed? One factor is whether China—whose total social debt amounts to more than three times its gross domestic product (GDP)—can afford to continue its generous financial support of BRI-related and other projects in regions such as the Middle East and the Indo-Pacific. Recent Chinese investment in BRI undertakings has shrunk due to the country's shortage of foreign exchange (Radio French International, December 12, 2020; Apple Daily, October 24, 2020). Of greater significance is whether the defensive elements of Beijing's "wolf warrior diplomacy" could trigger a military confrontation or even a hot war in powder-keg areas such as the Taiwan Strait and the SCS. In speeches over the past year to the PLA, Xi, who also holds the position of commander in chief of the Central Military Command (CMC), has emphasized the Chinese military's "readiness for military struggle" and ability "to fight and win wars" (Chinamil.com.cn, January 4; Xinhua, January 4). In early April, Beijing sent the Liaoning aircraft carrier battle group to drill in the SCS and the Taiwan Strait. The USS Theodore Roosevelt aircraft carrier battle group and the USS John McCain destroyer were in the area during the same period, raising the risk of possible escalation (Xinhua, April 8; U.S. Naval Institute, April 7). Given Xi's propensity to buttress China's power projection with military muscle, Beijing's measures to counter American "containment" could easily threaten peace and stability in the Indo-Pacific region. 
Dr. Willy Wo-Lap Lam is a Senior Fellow at The Jamestown Foundation and a regular contributor to China Brief. He is an Adjunct Professor at the Center for China Studies, the History Department, and the Master's Program in Global Political Economy at the Chinese University of Hong Kong. He is the author of five books on China, including Chinese Politics in the Era of Xi Jinping (2015). His latest book, The Fight for China's Future, was released by Routledge Publishing in July 2019.