Economic Diversification Key to Kazakhstan's Future Stability
Publication: Eurasia Daily Monitor Volume: 15 Issue: 38
By: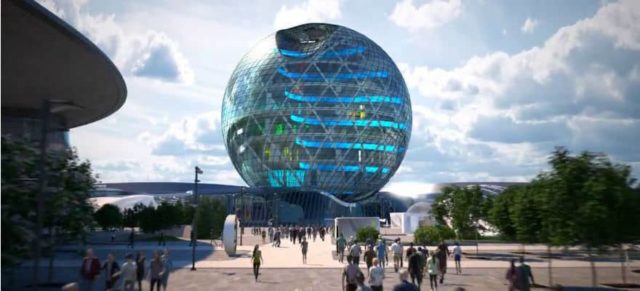 In January, Kazakhstan's Ministry of National Economy reported that oil production in the country had risen from 78 million to 86.2 million metric tons year-on-year, whereas only six months earlier, in July 2017, the annual forecast had stood at just 81 million. The giant Kashagan oilfield contributed 8 million metric tons to the 2017 total output and is expected to chip in another 10 million this year. Production from the deposit over time should exceed 13 million metric tons on an annual basis. The field was idle from mid-2013 to late 2016, after corrosion of the offshore pipelines had caused gas leaks and prompted the replacement of the entire pipe infrastructure. Kazakhstan's government pins much hope on Kashagan and on increased production from two other key deposits located off the Caspian coast—Tengiz and Karachaganak—to shore up its finances and spur economic growth. Nonetheless, economic diversification remains an officially proclaimed priority and has been at the top of the domestic agenda for more than a decade (Rambler.ru, February 8; Eadaily.com, January 12; Tengrinews.kz, July 10, 2017).
In October 2017, the Minister of National Economy Timur Suleimenov acknowledged his country's high dependence on hydrocarbon exports, albeit adding that the share of oil and natural gas had shrunk during the past eight years. He also said that insufficient investment in the non-energy infrastructure was the leading cause of Kazakhstan's failure to diversify away from the extractive industries. In January, the Kazakhstani capital saw the inauguration of the brand-new Astana International Financial Center (AIFC), whose aim is to attract additional foreign direct investments (FDI) into Central Asia's largest economy. AIFC Managing Director Kairat Kelimbetov, a former governor of the central bank, held a press conference earlier this year where he said that the AIFC should attract up to $5 billion in FDI by no later than 2023 and up to $40 billion in a decade or so. The government sees it among the top 20 financial centers of Asia by 2028 and among the global top 30 by 2033–2038 (Primeminister.kz, January 31; Bnews.kz, October 24, 2017).
The AIFC has its own stock exchange, which is currently co-owned by the government of Kazakhstan and two foreign partners—NASDAQ and the Shanghai Stock Exchange. It has concluded partnerships with Microsoft and IBM, among others, and has agreed to receive institutional support from the European Bank for Reconstruction and Development (EBRD). It nurtures the ambition to become a pole of attraction for Eurasian investment banking, green finance, Islamic finance and financial technology. The AIFC's activities are governed by a special statutory law, which has carved out a unique place for it in the general legislative and regulatory landscape. For instance, AIFC residents are exempt from taxes and visa restrictions for the next 50–60 years. The financial center's working language is English and court system is staffed with Western nationals. Two prominent British judges took the helm of the AIFC International Court and the Court of Appeals in December 2017 and February 2018, respectively (365info.kz, February 27; Kursiv.kz, December 11, 2017; Mir24.tv, December 6, 2017).
While Kazakhstan seeks to take a page from the books of Dubai and Singapore, both of which have well-developed financial services for non-residents, it is saddled with legacy problems of its own making. In a recent frank interview with the local media, Umut Shayakhmetova, the CEO of the country's largest financial institution, Halyk Bank, admitted that close to 80 percent of all Kazakhstani banks depended on the state or state-owned companies for survival. She criticized most banks' tendency to sit on a pile of cheap cash and to restrict lending to the real economy. Despite significant progress in cleaning up the post-2009 banking sector mess, Kazakhstan's financial institutions still face multiples deficiencies and a fair amount of structural fragility. Last year, the central bank had to intervene to save RBK Bank, whose shareholders President Nursultan Nazarbayev publicly accused of deliberate fraud. The matter has yet to be investigated. Several months earlier, Halyk Bank swallowed up its closest rival, Kazkommertsbank, paying one Kazakh tenge (less than one cent) for its net assets (Forbes.kz, March 3; Inform.kz, November 3, 2017; Informburo.kz, July 11, 2017).
With the domestic financial sector in tatters, Kazakhstan must make a strong case for the orderly privatization of its flagship companies to implement a robust diversification program. The authorities view the AIFC as the primary platform for listing such strategic enterprises as KazMunayGas, Kazakh Railways, Air Astana, Kazatomprom (uranium mining), Samruk Energy (power generation and distribution) or Kazakh Telecom. However, the situation here is far from certain. On the one hand, foreign investors are familiar mostly with Kazakhstan's energy riches and have little to no experience with venturing out into other sectors. Recent media reports suggest that Royal Dutch Shell, an oil major, is considering acquiring a minority stake in KazMunayGas, amid a total lack of interest from other multinational companies in the assets offered for sale. On the other hand, the present-day uncertainty surrounding the future of the Nazarbayev administration makes a direct bet on Kazakhstan's continued stability and prosperity a relatively risky affair (Kursiv.kz, March 6; Total.kz, July 13, 2017). Presdient Nazarbayev is 77.
Kazakhstan's economic diversification will undoubtedly remain a strategic priority for years to come. It is essential for the country's future stability as the volatility of oil prices is unlikely to go away in the context of electric vehicles' growing appeal and the ongoing disruption caused by the shale-oil production in the United States. But it is also a key to keeping the country as a safe and stable linchpin of regional security, at a time when Russia's geopolitical standoff with the West has had a distinctly negative impact on its immediate neighbors and trade partners. The Eurasian Economic Union (EEU) has yet to bear first fruit concerning economic integration, stretching beyond the near-term gains from lowered tariffs. Meanwhile, Russia itself is heavily handicapped by its own high level of dependence on oil exports and has mostly failed to make its economy more advanced technologically. The apparent failure of the Skolkovo innovation center—touted by former president Dmitry Medvedev (2008–2012) but then largely forgotten and ignored under Putin—is a good illustration of the strong correlation between growth and liberalization, both political and economic.